By Hawkeyesports.com
IOWA CITY, Iowa – Junior guard from the University of Iowa, Caitlin Clark, was named 2022-23 Big Ten Female Athlete of the Year, announced today by the Big Ten Conference Office.
Clark, from West Des Moines, Iowa, is the third Hawkeye student-athlete to win the award, joining Kristy Gleason (field hockey, 1994) and Megan Gustafson (women's basketball, 2019). She is also ninth women's basketball student-athlete to win the award, joining Gustafson, Purdue's Joy Holmes (1991), MaChelle Joseph (1992), Stephanie White (1999) and Katie Douglas (2001), Penn State's Kelly Mazzante (2004), Ohio State's Jessica Davenport (2007), and Minnesota's Rachel Banham (2016).
It is the eighth time a Hawkeye (men's or women's student-athlete) has earned the Big Ten Athlete of the Year award, and the third time in the past five seasons. Iowa's past winners include wrestlers Ed Banach (1983), Barry Davis (1985) and Brent Metcalf (2008), football player Chuck Long (1986), men's basketball player Luka Garza (2021), Gleason, and Gustafson.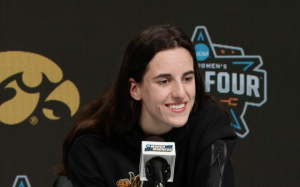 Clark won the 2023 Honda Cup on Monday, and was named Collegiate Woman Athlete of the Year as by THE Collegiate Women Sports Awards (CWSA). She also won the 2023 Naismith, Wooden and Wade Trophies along with the Associated Press and USBWA Ann Drysdale Player of the Year honors.
She is also a two-time winner of the Nancy Lieberman Point Guard Award and is the first-ever three-time winner of the Dawn Staley Award. She also won the Honda Sport Award for Basketball in April.
Clark led her team to its first-ever NCAA Championship game and helped post the Hawkeye's most wins in a single season. During the NCAA Tournament, she posted the first 40-point triple-double in NCAA Tournament history (men's or women's) and broke the NCAA single-tournament records for most 3-point FG made (24) and most points scored (191). This season, she is the only player in the nation with 1,000 points, 240 rebounds, 310 assists and 45 steals.
Overall, Clark became the first player in Division I women's basketball history to record more than 1,000 points and 300 assists in the same season and was fastest Division I player (men's or women's) to reach 1,500 career points over the last 20 seasons.
Off the court, she is a two-time First Team Academic All-American and was named the 2023 CSC Academic All-America of the Year.
The Big Ten Athletes of the Year are selected by a panel of conference media members from nominations submitted by each institution.