By Pat Harty
IOWA CITY, Iowa – In slightly more than two months, the Iowa football team will play its 25th season opener under head coach Kirk Ferentz.
Iowa should be heavily favored to defeat Utah State in the 2023 season opener on Sept. 2 at Kinnick Stadium, and a case could be made right now for Iowa being favored in all of its games except the Sept. 23rd Big Ten opener at Penn State.
So, with it getting closer to football season, now seems a good time to break out my first Big Ten power rankings for the 2023 season.
This season will mark the end of an era as USC and UCLA are both set to join the Big Ten in 2024. And with the conference expanding to 16 teams, the Big Ten will also eliminate its two divisions after this season.
And while there still could be some roster changes and injuries that might impact the rankings, right now at this moment, here is how I would rank the 14 teams from top to bottom.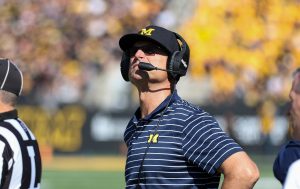 Michigan: The combination of talent and experience, especially at key positions, a weak nonconference schedule and facing Ohio State at home gives the Wolverines a slight edge in their quest for a third consecutive Big Ten title. The Wolverines have arguably the best one-two punch in the country at running back in Blake Corum and Donovon Edwards and they will have the luxury of running behind a talented offensive line. J.J. McCarthy also returns for his second as Michigan's starting quarerback, and seven starters also return on defense.
2. Ohio State: The Buckeyes are traditionally the most talented team in the Big Ten, and that could be the case again this season, especially at receiver.
However, Ohio State also has a new starter at quarterback and road games at Notre Dame, Wisconsin and Michigan.
There isn't much that separates Ohio and Michigan on paper, but the circumstances at quarterback, and with the schedules, is enough to give Michigan the slightest advantage at this point.
Michigan also has won two games in a row against the Buckeyes.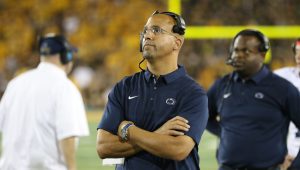 3. Penn State: If the Nittany Lions could just figure a way to beat Michigan and Ohio State, they'd be an elite program.
Unfortunately, for head coach James Franklin, that's a big if as Penn State has lost to both Michigan and Ohio State in five of his nine seasons as head coach.
Penn State also has to replace four-year starter Sean Clifford at quarterback, although, new starter Drew Allar is highly respected.
The Nittany Lions probably have the third most talented roster in the Big Ten, which seems par for the course.
4. Iowa: The Hawkeyes won the Big Ten West in 2021 despite having one of the worst offenses in the country, and they won eight games, and almost won the West last season, despite having an offense that finished ranked 130th out of 131 FBS teams in total offense.
Iowa gets the distinction of being the highest ranked team from the West Division because of its defense and special teams, both of which should be rock-solid again this season, because of Cade McNamara's presence at quarterback and because of a very favorable schedule that doesn't include Michigan or Ohio State.
5. Wisconsin: A new head coach, a new system and a new starting quarterback are just some of the changes with Badger football as Luke Fickell takes over in Madison.
Tanner Mordecai also takes over at quarterback after having combined for more than 7,000 passing yards in his previous two seasons at Southern Methodist University.
Eight starters return on defense and Fickell also has added some key pieces from the transfer portal.
It hardly would be a shock if Wisconsin would go on to win what appears to be a weak West Division, but there is just too much uncertainty at this point, whereas Iowa is loaded on defense and special teams, and appears to have upgraded the quarterback position.
Iowa will have to face the Badgers in Madison, so yes, a case could be made for ranking Wisconsin above Iowa.
6. Minnesota: P.J. Fleck has lifted Minnesota to a level where winning seasons can now be expected.
But he also has to replace the program's all-time leading rusher in Mohamed Ibrahim, three starters on the offensive line, including Rimington Trophy finalist John Michael Schmitz, and seven starters from a 2022 defense that finished last season ranked fourth nationally in scoring defense (13.8) and ninth in yards allowed (295.1).
Fleck also still hasn't defeated Iowa.
Sophomore Athan Kaliakmanis is now the full-time starter at quarterback after splitting time last season with Tanner Morgan, and how Kaliakmanis performs behind center should go a long way in determining Minnesota's level of success.
7. Illinois: Coming off their first winning season in 11 years, the Fighting Illini are moving in the right direction under Bret Bielema.
But to keep moving in the right direction, somebody will have to step up at quarterback and at running back where Illinois has to replace two standout players, including all-Big Ten running back Chase Brown.
This will be the third consecutive season that Illinois will have a new starting quarterback.
Tommy DeVito performed well last season in his only season as a graduate transfer, but he has since moved on, leaving a major void.
Ole Miss transfer Luke Altmyer was brought in to fill the void at quarterback.
Illinois should be strong again on defense where seven starters return, including star defensive lineman Keith Randolph.
8. Maryland: If these rankings were based solely on offense, the Terrapins, who are coached by Mike Locksley and led by star quarterback Taulia Tagovailoa, would be ranked near the top.
But it also takes defense to win games and that's where Maryland struggles, having allowed 25.7 points per game last season.
The defensive line and secondary are also being almost completely rebuilt.
9. Michigan State: Mel Tucker has gone from being a well-paid and rising star in the coaching ranks to still being well-paid, but now his rise has stalled.
Michigan State only finished 5-7 last season after having had a breakthrough season in 2021 when it won 11 games.
In November 2021, Tucker became one of the highest-paid coaches in college football history, receiving a guaranteed 10-year, $95 million contract from Michigan State, the third-largest contract ever given to a football coach at a public university.
Payton Thorne was expected to start at quarterback for a third consecutive season, but he has since transferred to Auburn, leaving Michigan State with hardly any experience at the most important position on the team.
10. Purdue: You know it's a new era at Purdue when there might be more concerns on offense than defense.
But that is the case as former Illinois defensive coordinator Ryan Walters takes over as head coach for offensive guru Jeff Brohm, who resigned late last season to become the head coach at Louisville, which is his alma mater.
Texas transfer Hudson Card is expected to replace Aidan O'Connell at quarterback, but for now Purdue's offense remains a mystery
11. Nebraska: Cornhusker fans probably would resent their beloved team being picked this low because they always over-react to the hiring of a new head coach, the latest being Matt Rhule, who returns to college after an unsuccessful stint in the NFL.
There just are too many questions, concerns and uncertainties on both sides of the ball to pick Nebraska any higher.
Nebraska has suffered through six consecutive losing seasons, so, it's hard to see Rhule building a winner in his first year.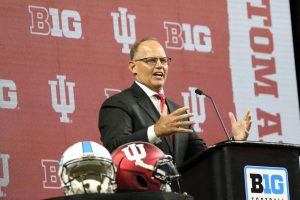 12. Indiana: If Tom Allen doesn't start winning again as the head Hoosier, he might prove right the old saying that says nice guys finish last.
Indiana has finished a combined 6-18 over the past two seasons, and now Allen has to develop a new starting quarterback.
Allen is a player's coach who isn't afraid to show his love and affection for his players.
At some point, however, every head coach has to win, and the pressure is building on Allen to start winning again.
13. Rutgers: Greg Schiano is being paid lots of money to rebuild the Rutgers program, but so far, there has been little to suggest that Rutgers is moving in the right direction.
In response to having one of the worst offenses in the country last season, Schiano has revamped his coaching staff.
But it still takes the Jimmys and the Joes to win football games, and Rutgers is suspect in that regard.
14. Northwestern: Pat Fitzgerald was once considered a star in the coaching profession and was often mentioned as a candidate whenever a prominent job became available.
But with Northwestern having finished 1-11 last season and 3-9 in 2021, Fitzgerald's reputation has suffered.
He now faces another rebuilding job in Evanston, but it's never easy rebuilding at Northwestern because of its high academic standards.
Fitzgerald's current team lacks explosive skill players on offense and there are also concerns at quarterback.
Northwestern has upgraded its facilties and has plans for a new stadium, but right now, it also needs an upgrade in talent.