By Pat Harty
IOWA CITY, Iowa – The latest episode of the Hawkeye Hot Spot podcast featuring Rob Howe and Scott Dochterman on Hawk Fanatic has some interesting conversation about Iowa offensive coordinator Brian Ferentz.
Dochterman, who works for the Athletic, recently had a one-on-one interview with Brian Ferentz for an article that was posted on the Athletic, and Dochterman talked about the interview during the podcast that was published Thursday.
It seems what Brian Ferentz said to Dochterman is similar in some ways to what Brian Ferentz said to a group of reporters in the spring.
Brian Ferentz isn't concerned about the outside noise and criticism, and he doesn't care about the outside noise and criticism.
And he isn't looking for any sympathy.
"No one's crying for me," Brian Ferentz said to the Athletic. "and no one needs to."
Outside of his family, that's probably true, if by no one, Brian Ferentz means the Iowa fans.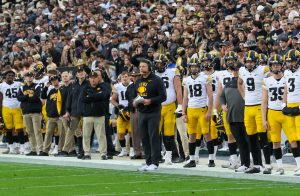 Brian Ferentz has a job to do – for his father – and that is his only concern, helping his father win football games.
It has reached the point where there isn't anything Brian Ferentz could say to switch the narratives, or repair his image.
So why bother?
His situation is what it is, and the only way that will change is if his offense performs better.
But even if Iowa shows marked improvement this coming season, how much of the credit would go to new starting quarterback Cade McNamara – assuming he plays in all the games, and plays well?
And how much of the credit would go to Brian Ferentz?
Fair or not, it might take two or three seasons in a row of having a competent offense for some fans to start believing in Brian Ferentz again.
The numbers from last season are stunning, but for all the wrong reasons.
Iowa finished last season ranked 130th out of 131 FBS teams in total offense, and had just seven touchdown passes, which matches the number of touchdown passes that former Iowa quarterback Chuck Hartlieb threw against Northwestern in 1987.
The numbers from last season are inexcusable and unacceptable, and Brian Ferentz seems to realize that.
His contract now has performance incentives, and his father raided the transfer portal in hopes of performing a quick fix.
The father-son narrative certainly can't be ignored because it's a unique situation that turns awkward during tough times like the present.
Kirk Ferentz has been accused of nepotism, and of turning Iowa football into a family business, and Brian Ferentz is at the center of that storm, but with little ability to strike back, or defend himself, because of how poorly the offense has performed.
It would be easy for Brian Ferentz to block out the media and not do interviews, but he'd probably be criticized for that, too, if word ever leaked that he was turning down all interview requests.
The Athletic has a wide reach, and the 2023 season is less than a month away, so, it makes sense why Brian Ferentz would agree to be interviewed.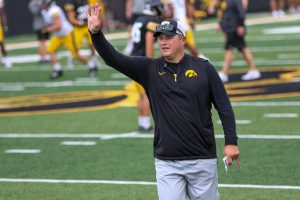 He used to do interviews much more frequently as a brash, young, and up-and-coming coaching star.
Brian Ferentz has a gift for gab, and very little filter, and the media has certainly capitalized on that over the years.
While Kirk Ferentz has always been very business-like and predictable with his approach to the media, Brian Ferentz has been a fresh alternative because of his outspokenness and unpredictability.
Brian Ferentz was credited for convincing his father to think outside of the traditional coaching box shortly after joining the Iowa staff in 2012, and fans were so excited about the transformation that they labeled it "New Kirk."
Fans also were excited when Greg Davis retired after the 2016 season after having been the offensive coordinator for five seasons.
And while there were some memorable moments under Davis, most notably the 2015 season in which Iowa won 12 games and played in the Rose Bowl, the offense never really sustained success under his watch.
Fans were ready for a change when Davis retired, and most seemed willing to overlook the family connection when Kirk Ferentz promoted Brian Ferentz to offensive coordinator.
There were certainly concerns about nepotism, and about Brian Ferentz receiving preferential treatment.
But the offense performed well enough in 2017, 2018, and especially in 2019, for those concerns to be somewhat tempered.
Brian Ferentz walked off the field following Iowa's 49-24 victory over the University of Southern California in the 2019 Holiday Bowl with reason to feel good about his offense, and about his future, alongside his father.
Brian Ferentz devised a brilliant game plan against USC, and his players executed the game plan at a high level.
However, the offense has mostly been in decline since then, and the play at quarterback has declined since Brian Ferentz became the quarterback coach in 2022.
It's hard to really judge the offense from the 2020 season in which Iowa only played eight games because of the global pandemic.
But there is no sugar-coating the performance of the offense in 2021 and 2022.
Fans probably thought the offense had hit rock bottom in 2021 when it averaged just 303.7 yards per game, but much to their dismay, they were wrong.
The struggles on offense in 2021 were easier to take since Iowa won the Big Ten West Division and 10 games overall.
Last season, on the other hand, was a gut punch for fans as they watched an 8-5 Iowa team fail to take advantage of having a rock-solid defense and special teams because the offense failed to do its part.
There is no other way to put it.
Brian Ferentz seems to understand what he is up against, and he is smart enough to realize at this point that the last thing fans want to hear are excuses, bold predictions or deflection.
Some probably don't even want to hear from Brian Ferentz right now, because they're at the point where it's either put up or shut up.
And fair enough.
But in fairness to Brian Ferentz, he is the offensive coordinator for a Big Ten team and with that comes a responsibility to work with the media.
Brian Ferentz isn't nearly as accessible to the media as he used to be – or so it would seem – and that's probably not a bad thing under the current circumstances.
You can't ignore everybody, but you also don't have to over do it from a media standpoint.
Brian Ferentz's interview with the Athletic is believed to be his first, or one of very few interactions with the Iowa media since spring practice ended in April.
He will also meet with the media during Iowa's annual media day event on August 11, and it seems likely that Brian Ferentz will push and promote the same narratives that he pushed with the Athletic, and with the Iowa media this past spring.
Brian Ferentz is holding firm in saying that he doesn't care about the outside noise and criticism.
But deep down, he cares because he's human.
Nobody wants to be criticized for not doing their job at an acceptable level.
Brian Ferentz is coaching for his father, and for his alma mater, so there is a strong emotional connection with his job.
Brian Ferentz knows that his only answer to the criticism is to make the offense better. And it's better that he ignore the criticism rather than whine and complain about it because fans have very little mercy or sympathy for him right now.
And though, he is certainly under pressure to perform, Brian Ferentz could take some solace in knowing that bar isn't set high on offense.
Should Iowa win the West Division and at least nine or 10 games, and finish in the middle of the pack on offense in the Big Ten, Brian Ferentz would go a long way in silencing his critics.
The middle of the pack would just be average, but average looks pretty good for the Iowa offense right now.
Some are under the belief that Brian Ferentz would be let go if he doesn't meet the performance incentives this season.
For Brian Ferentz to return to his previous two-year rolling contract, the Hawkeyes must average at least 25 points per game — by any means, including defense and special teams — in 2023. Additionally, the Hawkeyes must reach seven wins, which includes a potential bowl game
Brian Ferentz accepted a $50,000 salary decrease to $850,000 for the season. If he fails to meet either of the two incentives, his contract will officially terminate on June 30, 2024.
Kirk Ferentz was asked about Brian Ferentz's contract at Big Ten Media Days last week in Indianapolis.
"It is what it is," Kirk Ferentz said. "It's on record. It's really nothing to worry about. Our focus is going to be on winning games and playing the best we can.
"None of us are running from last year. We were not good offensively. You don't have to be a rocket scientist to figure it out if you just look at numbers."
Even even with the new contract, it still seems hard to believe that Brian Ferentz would be terminated if Iowa were to win the West Division, but only average 23 or 24 points per game.
Brian Ferentz is certainly backed up against a wall, and the pressure on him to perform is at an all-time high.
What he says to the media doesn't really matter at this point because now it's just about getting the job done.