By Pat Harty
IOWA CITY, Iowa – The Iowa football will host its annual media day event on Friday at its outdoor practice facility.
So here are 10 question for Iowa head coach Kirk Ferentz , which in most cases deserve to be asked, but most of them probably wouldn't get answered because it's still too early in preseason practice to have an answer, because some questions are off limits, and because the media doesn't have to know everything.
Have you learned if anymore of your players, besides defensive tackle Noah Shannon and kicker Aaron Blom, are linked to the ongoing investigation into sports wagering? And if so, can you identify the players and update their status with the team?
It seems pretty apparent that the Iowa coaches have been given little information about the details of the investigation based on what Iowa baseball coach Rick Heller said during the early stages of the investigation, and from what Kirk Ferentz said at Big Ten Media Days in late July.
Heller was hoping, and hearing rumors in late May, that the investigation could be close to being completed, while Ferentz said that he had no specific details explaining why Shannon is part of the investigation.
And when news broke that Blom had bet on Iowa football games, Ferentz said in a statement that he wasn't aware of it.
The investigation has lasted for over three months, and yet, only 20 of the 41 current or former student-athletes from Iowa and Iowa State that are linked to the investigation have been identified, and that's because at least 15 now faces legal charges, because four were members of the Iowa baseball team and the investigation was launched during their season, and because Shannon, who hasn't been charged, turned down a chance to represent Iowa at Big Ten Media Days due to his involvement in the investigation.
One current and two former Iowa players were charged on Thursday, so Kirk Ferentz will obviously be asked about the investigation at media day on Friday.
He probably won't say much, though, because it seems he and the other Iowa coaches don't know much about the details.
**********
2. Is Deacon Hill still the No. 2 quarterback behind Cade McNamara as you said on the final day of spring practice in late April?
Kirk Ferentz raised a few eyebrows when he said after the final spring practice that Deacon Hill had earned the backup spot behind McNamara.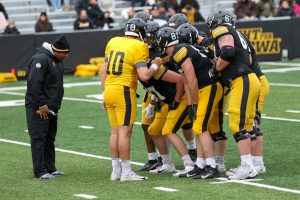 It was surprising because Hill had only been on the team for just a few months after transferring from Wisconsin at the semester, and because it was assumed that Joe Labas would be the backup after he had led Iowa to a 21-0 victory over Kentucky in the Music City Bowl.
Labas played just average against Kentucky, but he's entering his fourth year in the program, while Hill is a newcomer.
Kirk Ferentz will often answer a depth chart question by saying it's too early, or that it's still a developing situation, or that he likes both players and will just wait to see how it unfolds.
So, when he said that Hill was now the backup, yes, it raised a few eyebrows.
Now the question is whether anything has changed after one week of practice.
**********
3. Do you expect either of the two offensive linemen that you added from the transfer portal – Daijon Parker and Rusty Feth – to be in the starting lineup for the season opener?
This is one of those, it's still-too-early-to-know questions. And even if Kirk Ferentz already knows the answer, he wouldn't really gain anything by saying it publicly.
But with three weeks until the season opener, it probably still is too early for Kirk Ferentz to know for sure who the starting five will be on the offensive line.
Logan Jones at center, Mason Richman at left tackle and Connor Colby at left guard would appear to be locks to start, while the other two spots are still to be determined.
**********
4. What do you despise more; attending Big Ten Media Day or traveling to the West Coast to play night games?
Kirk Ferentz has made it known that he doesn't like either of these choices, so maybe he would answer this question.
**********
5. Is your son, Iowa offensive coordinator Brian Ferentz, coaching to save his job this season?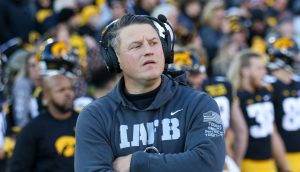 This is an uncomfortable, but a fair question under the unusual circumstances. However, Kirk Ferentz probably would resent it being asked and would decline to answer.
Instead, he'd probably say something similar to what he said at Big Ten Media Day when asked about the performance incentives that were added to Brian Ferentz's contract. Kirk Ferentz said it is what it is, and that his only concern is winning football games.
**********
6. Have you had to withstand other schools that were willing to pay large sums of NIL money to entice some of your best players to transfer? And if so, could you share the dollar amounts and what schools have tried the hardest to take from your roster?
This could be a case in which Kirk Ferentz would acknowledge the growing threat caused by NIL, but without mentioning any schools because that just isn't how he operates.
*********
7. Do you feel any added pressure to win a Big Ten title this year, because for one, it's been nearly 20 years since Iowa last won a Big Ten title, and because the path to a Big Ten title will become more difficult with the addition of four Pac-12 schools in 2024?
Most head coaches, including Kirk Ferentz, don't like to admit if they feel pressure because it could be perceived as a sign of weakness or as being vulnerable . Kirk Ferentz also would likely say that he hasn't given any thought to the changing landscape because he is only focused on this season.
**********
8. Assuming Hunter Dekkers doesn't play quarterback for Iowa State this season because he now faces charges related to an ongoing gambling investigation, how much less of a threat does that make Iowa State in week two?
Kirk Ferentz would dismiss this question immediately because he's too smart and too respectful to answer such a bone-headed question.
**********
9. Do you see any scenario in which Spencer Petras could play quarterback this season?
Petras recently told the Athletic that he doesn't expect to play this season. But what if Iowa were to have a rash of injuries at the quarterback position, and the only option was Petras, assuming he has recovered from his shoulder injury?
Iowa lost its top five quarterbacks during the 1994 season, so you never say never, although, it seems more likely that Kirk Ferentz would downplay any chance of Petras playing this season.
**********
10. If you could pick one band/performer to fill Kinnick Stadium, who would it be?
Kirk Ferentz was asked this question a couple years ago on KCJJ radio and he picked Bruce Springsteen, as did Iowa men's basketball coach Fran McCaffery.
Kirk probably would have the same answer on Friday.