By Pat Harty
IOWA CITY, Iowa – Beth Goetz still has the word interim attached to her job description, but that should only be a matter of time.
Goetz is the first women to lead the Iowa athletic department since the men's and women's departments were combined in 200o.
The late, great Dr. Christine Grant had to be looking down and smiling as Goetz addressed the media on Thursday in what was promoted as Goetz's introductory press conference.
Goetz answered questions for nearly 45 minutes on multiple topics, including Brian Ferentz's contract, the ongoing gambling investigation and the growing influence from name, image and likeness and the transfer portal, and the challenges that both present in today's changing landscape.
She also paid her respects to Christine Grant when asked about the legendary pioneer, who led the fight for gender equity in college athletics, and who has the distinction of being the only athletic director in the history of the Iowa women's athletic department.
"How special to have someone like that that paved a path that not only impacted people locally but across the country," Goetz said of Grant, who passed away on New Year's Eve 2021. "I had a chance to meet her once, and as a young administrator, you go to conferences across the country, and she was a "big draw. I still remember the first time I had a chance to listen to her speak and engage with her briefly, never knowing I'd actually have a chance to walk among the places that she had a part in developing.
"It's an incredible lesson, even now, to our younger athletes who feel so far removed from that time, about the advocacy that it takes sometimes to develop opportunities for sports and for young women and really across many areas of life. It's a privilege to be at the place that she started that legacy, and we certainly hope we continue to honor that as well as they have been going forward."
Goetz also confirmed that Brian Ferentz now reports to her as is required due to rules about nepotism after he had previously reported to Gary Barta, who served as the Iowa athletic director from 2006 until retiring at the end of July.
"That's correct. Brian does now report directly to me," Goetz said.
She also said the amendments to Brian Ferentz's contract, which include Iowa averaging at least 25 points per game, still are in place.
Brian Ferentz is the embattled offensive coordinator for the Iowa football team and the son of Iowa head coach Kirk Ferentz.
The final question asked to Goetz on Thursday was what would happen to Brian Ferentz if Iowa doesn't average 25 points per game.
"Let me lead with this: his goal, and I know because I've sat down with him, I've sat down with Kirk, and really the goal of every coach that we have here is to win games," Goetz said. "I'm 100 percent convinced I was going into those conversations, I was going out, that their focus is on how do we win football games? And how do we develop these young men?
"As we look at those types of things, just like we would in any sport, you're going to evaluate a season at the end and see how you did. But the goal is to win along the way, and I've won some ugly games as a coach and I never gave any of them back. I know they're excited. I know you all have now had a chance to see that team. We're excited about what they're going to do on the field, and we understand it's unique. We understand it's going to be talked about a lot.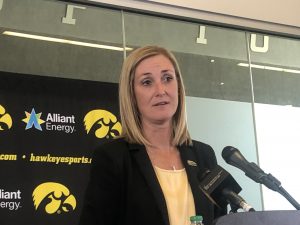 "But it's just not something we're going to be thinking about week in and week out. We're going to cheer for the team, support the program, support our coaches the way we always do, and we'll evaluate at the end of the season."
Some Iowa fans might roll their eyes when they read that answer because Goetz was very guarded in what she said about a delicate topic.
But in fairness, what is she supposed to say under the circumstances?
For Brian Ferentz, there is a new sheriff in town, and her name is Beth Goetz.
And while the setup is the same with Brian Ferentz still reporting to the athletic director, that doesn't mean Goetz will handle their relationship the exact same way that Barta did.
She was asked Thursday in what ways is her management style similar to Barta's, and in what ways might it be different?
"It's a hard question to answer about yourself, and so that might be a good question for some of the folks I get to work with," Goetz said. "But I think with all of us, and even though this component will be different, we all have to lead and manage in a way that's authentic to ourselves. You have to figure out how to do it in a way that you can build a trusting, respectful, personal and professional relationship with everyone around you. Certainly, that's what I had with Gary.
"But at the end of the day, it's really about people and it's about listening, it's about understanding who we are at Iowa. It's not about who's the best in some other league or the best in the Big Ten. It's about how do we be the best version of being a Hawkeye in each sport, and as you do that, understand that as a leader, understand what it means to each program, then you can support and help lead in that way."
Goetz could've easily passed over that question, and at first it seemed as if that was her intention.
But she stuck with it and what she said about being authentic to yourself is the sign of a good leader.
Goetz praised the coaching stability within the Iowa athletic department, and she even said that she still misses being a coach.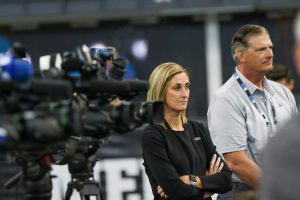 Goetz played soccer in college, and she also coached the sport for the University of Missouri-St. Louis, first as an assistant in 1996, and then as head coach from 1997 to 2008.
"I started in coaching first, and really that was because my college coaches said, 'hey, you're going to go to grad school anyway, why don't you try it out, and I just never left," Goetz said. "I truly believe, as simplistic as this might sound, that the opportunity to participate in sport is transformational, and it is an additive component of the educational experience that sets them apart long after their playing days are done, and I want more of our students to continue and have opportunities down that path because I want our doctors and our lawyers and our politicians to be former athletes.
"I think you learn something special when you have an opportunity to compete, whether that be in high school or Division III or Division I."
Goetz also served as the assistant athletics director/senior woman administrator at Missouri-St. Louis from 2001-08 and she has been climbing the ladder ever since with previous stops at Ball State, Connecticut, Minnesota and Butler.
She was the Ball State Athletic Director from 2018 to 2022 before being hired as the Deputy Director of Athletics and Chief Operating Officer for the University of Iowa.
Goetz has certainly paid her dues and proven herself as a leader, and as an administrator.
She now leads an Iowa athletic department that is strong is so many areas, but that also has been mired by controversy over the past decade, including having to pay some costly discrimination settlements.
Goetz was asked Thursday if she is comfortable with the image of the Iowa athletic department right now, and if it's where it needs to be, given everything that has happened?
Her answer was encouraging.
"I don't think we ever want to say we're where we need to be," Goetz said. "I know no one on our staff, whether you're talking about competitive success or the best version of who we are, I hope we're always a work in progress.
"Certainly we, just like any other institutions, have had trying moments. I think it's important, although I wasn't here for those, that I understand what those issues are, what those issues were like then and try and ensure and help support us in not making any repetitive mistakes.
"But it's always going to be a work in progress. I am incredibly proud of what I see here, the people that I see here, and the belief that we are really trying to serve people the right way, to serve our institution in the right way, and to support our student-athletes and anybody else in a manner that's going to be respectful and inclusive for everybody.
"But it doesn't mean we're not going to have places where we can grow and get better. The goal is to create that positive environment. If we see something that's not going well, we're going to address it. We're going to insert accountability, we're going to learn from it, and we're going to move forward."
As for the gambling probe, Goetz was asked if she had any idea when the student-athletes will learn what their suspensions might be.
"On the reinstatement process specifically, we have submitted all the requested information to date to the NCAA, and we're optimistic that we are just hopefully days away perhaps from getting some feedback at least initially on what that means for our student-athletes who currently are here and have remaining eligibility," Goetz said. "There's obviously some additional steps in the process once that decision is rendered, but we're optimistic that that might happen here in short order as opposed to a few weeks down the road."
Goetz also talked about a recent meeting that she had with Brad Heinrichs, who is the CEO of the Iowa Swarm Collective.
Heinrichs has been critical of Gary Barta, because according to Heinrichs, Barta did very little in helping the Swarm make contacts with potential donors.
"Yes, I've had an opportunity to sit down with Brad, really enjoyed that conversation," Goetz said. "He sent me some notes about some tips on today, too. One was to make sure I talked positively about the Swarm. That would be no problem.
"But it has been wonderful to at least start to build a relationship with Brad. I know many on our staff have already had an opportunity to do that, but when it comes to name, image and likeness, it's a critical, critical piece for our student-athletes and our success competitively, no different than the generosity that's coming in through NIL gifts and through the Swarm and in other ways. It's just as important these days as scholarships and facilities and any other needs.
"Really what Brad and his team have done is given us a chance to be successful, and the way that they did it if you look across the country, many of the other collectives didn't quite have the same success right out of the gate, and I think they've been very thoughtful there. His team is almost in daily conversations sometimes with ours and has been, but we're appreciative of his efforts, of all of those who have chosen to contribute there, and they're doing some exciting and fun things."