By Rob Howe
IOWA CITY, Iowa – Folks outside of the Iowa Football locker room called for true freshman Xavier Nwankpa to start last season. He arrived here with a strong pedigree that the Hawkeye faithful was anxious to witness.
The former Pleasant Hill (IA) Southeast Polk High star was looking through a different lens, however. He understood learning behind veteran starters Kaevon Merriweather and Quinn Schulte at safety. Instead of pouting, he soaked up their knowledge and stood out on special teams.
"It really wasn't hard waiting," Nwankpa said recently. "Coach (Phil) Parker, he's one of the best in the business. I knew I'd be ready when it was my time. When the opportunity presented itself, I wanted to be ready. I think I was.
"I'm really excited for this season, and I'm excited to go make some plays."
Nwankpa's apprenticeship behind Merriweather at strong safety began with an early enrollment. When the latter sat out December's Music City Bowl, the first-year player started and shined with a career-high eight tackles, a 52-yard Pick-6 and a pass breakup.
All of the offseason depth charts have shown Nwankpa (6-2, 210) as the starting strong safety with Schulte No. 1 at free safety. The youngster has felt like he belongs when running with the first team.
"The game has really slowed down. It really helps you see the little details, pick up on cues for what might happen, run or pass, stuff like that," Nwankpa said.
He credits the experienced players for helping him get to this point. From the start of last year's fall camp through the '22 season, he roomed with Merriweather, who is now in training camp with the Tampa Bay Buccaneers.
"He was a big influence on me with both of us trying to perfect the craft. He really helped me. I'm excited to see what he does in the NFL," Nwankpa said.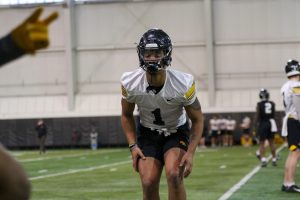 While Merriweather was a two-star recruit coming out of Belleville (MI) High in the '18 Class, Nwankpa carried a four-star ranking in the 247 Sports composite. It rated him as the No. 5 safety nationally in '22.
Nwankpa chose Iowa ahead of reported scholarship offers from just about every major program in the country. The list included Georgia, Alabama, Clemson, Michigan, Ohio State, Notre Dame, Texas and USC.
He appeared in all 13 games last season, playing an important role on special teams. The staff bestowed upon him the Team Hustle Award for special teams. He delivered four solo tackles running down on punts and kickoffs.
Like many prep standouts, much of Nwankpa's high school success resulted from natural talent. He's learned how important film study is for thriving in college, where a lot of opponents can beat you with ability.
"It helps you pick up on your keys, like receiver splits, O-Line stance. It's expecting what's going to happen instead of just reacting. You see everything coming at you clearer," he said.
Nwankpa is listed at the same 210 pounds that he was on the team's official roster last year. He said he might be a few pounds heavier than last fall, but isn't worried about what he weighs.
"I feel like I've gained some more muscle and got a little faster. So, hopefully I can go make some more plays this year," he said.
The Hawkeye staff worked extra hard in keeping Nwankpa home in hopes of him impacting the team early in his career. It had to best official visits to Ohio State, Notre Dame and Texas A&M along with aggressive pitches from legendary Alabama coach Nick Saban and others.
In the end, Nwankpa believed in what he saw growing up in the state – a Hawkeye program with a long history of developing secondary players for the NFL. Then there was the added bonus of his parents, Amy Erickson and Frank Nwankpa, being a short drive away.
"It's really huge for my family having the chance to come to every game. And it's super big for me just to see them from the sideline in the stands and knowing that I'm supported," he said.