By Pat Harty
IOWA CITY, Iowa – Barring a successful appeal, sixth-year defensive tackle Noah Shannon has played his final football game as an Iowa Hawkeye.
Iowa head coach Kirk Ferentz met with the media for about 20 minutes after practice on Wednesday and he confirmed that Shannon has been suspended for the entire 2023 season due from having gambled on sports.
"Noah has been a topic of conversation, and right now, he does have a year suspension, a season suspension" Kirk Ferentz said. "And we're definitely going to appeal that. The department will appeal, and I'm confident they'll do a great job in just reapproaching this with the NCAA."
The details of Shannon's betting history haven't been made public, but it seems obvious that he didn't bet on any Iowa football games based on how Kirk Ferentz has defended him.
"My personal feelings again, you can't negotiate the game integrity," Kirk Ferentz said. "So, if someone bets on our sport, it's tough to say much beyond that. But after that, I think it needs to be re-thought a little bit. I strongly believe that, and I'm hoping the appeal will let some people re-think some things a little bit.
"We're in a totally different world than two, three years ago. And in Noah's case, he has not committed a crime at all. So, I just feel like it's a little bit harsh. It's punitive, and I'm just hopeful that they'll reconsider his case."
Kirk Ferentz said he hasn't been given anything in writing that explains exactly what Shannon did from a gambling standpoint.
"I know he bet on one of our other sports teams here," Kirk Ferentz said without being specific. "And I understand that may be a bad thing. He bet for them, and I guess, he got caught up in the emotion."
Shannon is among several current and former Iowa football players that have been linked to the gambling investigation, which is believed to have been launched in either late April or early May.
It has previously been reported that 26 current or former UI student-athletes were linked to the investigation, along with 15 student-athletes from Iowa State.
Iowa also released a statement on Tuesday saying that it was "working cooperatively with the NCAA Student Athlete Reinstatement (SAR) to determine the eligibility of student-athletes that were involved in sports wagering. The institution has received the SAR determinations for the 11 individuals who are current student athletes."
"We have a handful of guys involved," Kirk Ferentz said. "And really, there's kind of three different levels if you will.
"You have a couple guys that I think will have serious consequences potentially. You've got a couple guys that are looking at suspensions, and then another guy who is in an appeal state. And I can't really comment because the other players haven't given me permission."
Shannon has been very outspoken about his involvement in the gambling investigation, including turning down a chance to represent Iowa at Big Ten Media Days last month in Indianapolis because he didn't want to be a distraction.
He also addressed his situation at Iowa media day on Aug. 11 and was hopeful that the NCAA would allow him to compete at some point this season.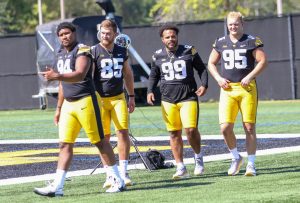 The loss of Shannon means that Iowa will be without one of its most experienced players on either side of the ball as he has started 27 games at defensive tackle.
The Illinois native chose to return for a sixth season by using his free Covid year, but now Shannon's season has ended before it even had a chance to start.
"I don't want to say I'm confident, but I would assume at some point they're going to reshape what they announced back in late April and early May in terms of the policies moving forward just as similar to the drug testing policies," Kirk Ferentz said of the NCAA. "It's radically different than it was two years ago, and our culture is radically different as a country. "So, I'm hopeful that they'll catch up maybe in their thinking a little bit as it pertains to Noah. I can't say enough about him.
"He hasn't committed a crime here. You commit crimes and get a lot less of a punishment, which seems kind of funny in some ways."
Kirk Ferentz then addressed the fact that right now only student-athletes from the University of Iowa and from Iowa State are linked to the gambling investigation.
"I still find it highly unusual or interesting that there's two major universities connected in the whole country on this topic," Kirk Ferentz said. "I can't imagine these are the only two universities that have students gambling. I can't imagine that.
"But I understand the rules. I get all that."
Kirk Ferentz then encouraged the media to investigate why the gambling probe has focused solely on Iowa and Iowa State.
"If you guys have got some time, maybe you want to chase that one down a little bit," Kirk Ferentz said. "I think it would probably be interesting.
"I guess it's just our bad luck because as far as I understand, it's a state thing. Why those two universities only were targeted when there are college students at all kinds of universities. It sounds like it's only athletes. That's just my impression, that it's only athletes. And that's an interesting question, too, an interesting dynamic.
"My guess is we could probably fill Kinnick (Stadium) with all the college student-athletes and students that have gambled."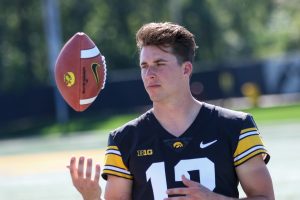 Shannon will be allowed to stay affiliated with the team, but he can't participate in games unless his suspension is overturned.
"I expect it to be multi games if they do rethink it," Kirk Ferentz said of Shannon's suspension. "So, I'm hopeful it will be because the guy is 23 years old and he's been giving his heart and soul and some body part to the program, too.
"So, I would just like to think he'd be allowed to finish out his career."
In other news, Kirk Ferentz said he is hopeful that quarterback Cade McNamara will return to practice later this week.
Iowa will face Utah State in the season opener on Sept. 2 at Kinnick Stadium.
McNamara has been out since he suffered what was described as a soft-tissue injury in the Kids Days practice on Aug. 12 at Kinnick Stadium.
"The bad news is guys not practicing like you would expect in week three of camp," Kirk Ferentz said. "But the good news is I think everybody realistically has a chance to start working at the end of this week, and certainly next Monday when we hit the field thinking about our opponent."
One exception, however, is sophomore defensive lineman and West Branch native Jeff Bowie, who will miss significant time according to Kirk Ferentz because of an undisclosed injury.
Kirk Ferentz also said Wednesday that junior long snapper Luke Elkin has been put on scholarship.
Elkin has handled long snaps in each of the past two seasons.
"He's been spectacular since he's got here," Kirk Ferentz said of Elkin. "Just consistent, dependable and a great team guy."
Ferentz also said defensive back A.J. Lawson has left the team, but he will remain in school and work towards earning his degree.
"We're committed to that and he's committed to that and we're going to continue to support," Kirk Ferentz said Lawson, who is from Decatur, Illinois.