By Pat Harty
IOWA CITY, Iowa – It's prediction time again.
With the Iowa football team's 2023 season opener in slighty more than a week, now seems a good time to make some predictions about what will happen during the 12-game regular season, and throughout the Big Ten.
Iowa will face Utah State in the season opener on Sept. 2 at Kinnick Stadium.
Here are 10 predictions for the season in no specific order:
Iowa will average somewhere between 28 and 32 points per game, and complete at least 15 touchdown passes.
This doesn't seem like much to ask unless you're the much-maligned Iowa offense under embattled offensive coordinator Brian Ferentz, whose contract now has performance incentives, including that Iowa must average at least 25 points per game.
There are many college football teams that could average 28 points during a bad season, but Iowa isn't like most teams when it comes to scoring points, at least recently.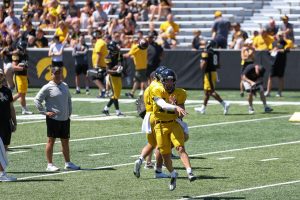 Iowa only averaged 17.7 points per game last season and that was with the defense scoring six touchdowns.
Iowa only had seven touchdown passes last season, which matches the number of touchdown passes that former Iowa quarterback Chuck Hartlieb threw against Northwestern in 1987.
But a lot has changed on offense since last season, thanks mostly to the transfer portal where Iowa has added former Michigan quarterback Cade McNamara and former Michigan tight end Erick All, along with two receivers and two offensive linemen.
Assuming McNamara plays in most of the games, for Iowa to average 28 points per game, and to throw 15 touchdown passes during the regular season, seems within reach, and should be reachable because those numbers really aren't that ambitious, especially against Iowa's schedule.
**********
2. Junior center Logan Jones will earn All-Big Ten recognition.
I'm not ready to go as far to say that the former defensive lineman will make first-team All-Big Ten, but he will be honored when postseason awards are handed out.
Jones showed flashes last season as the replacement for former All-America center Tyler Linderbaum.
But he also struggled as he adjusted to playing a new position.
With each game, however, Jones showed progress, and by the end of last season, he was holding his own at center.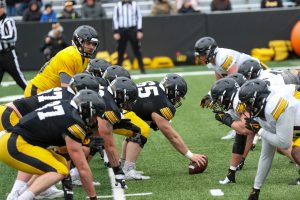 Linderbaum made the move from defensive tackle to center look incredibly easy as he became an instant starter on offense and would go on to become arguably the greatest center in program history and a first-round NFL draft pick in 2022.
But it isn't easy because some players need more time than others to successfully make a position switch.
And for some players, success never happens.
Jones still has plenty of room for improvement, and much to prove as a center.
But he also started all 13 games at center last season, gaining a wealth of experience.
And while it would be unfair to expect Jones to match what Linderbaum accomplished as the Iowa center, it is fair and reasonable to expect Jones to play better this season than he played last season.
**********
3. Over/under on the Iowa offense averaging at least 150 rushing yards per game and I'm taking the over.
This bold prediction comes after a 2022 season in which Iowa averaged just 94.9 rushing yards per game.
But it really isn't that bold of a prediction for a team that supposedly prides itself on being a power running team that stays ahead of the chains,
Wisconsin has had multiple seasons in which it has averaged 150 rushing yards in a half, so this really isn't setting the bar that high.
I thought about making 175 rushing yards per game the over/under, but that seemed too high, and too easy of a choice, considering Iowa has averaged at least 175 rushing yards per game just three times since 2004.
Iowa would seem to have enough quality running backs to help fuel a productive ground attack, but they will need help from an offensive line that is now a veteran group whose time has come to deliver.
**********
4. The heat index in the press box at Jack Trice Stadium in Ames will be somewhere between 95 and 105 degrees for the start of the Iowa-Iowa State game on Sept. 9.
This is yet another prediction in which I'm hardly going out on a limb since the Iowa State press box doesn't have air conditioning, and with the game starting at 2:30 p.m. in early September.
Some of the hottest and most miserable times I've experienced were in press boxes that didn't have air conditioning.
What I remember most about Iowa's game at Miami (Ohio) in 2002, besides that it was closer than expected, is that the press box felt like hell on earth.
It was not that uncommon in the 1990s and the early 2000s for press boxes, including the Kinnick Stadium press box, to be without air conditioning.
Kinnick Stadium has since moved into the modern age by having air conditioning, and speaking on behalf of the media, it is greatly appreciated.
My first experience with central air in a press box was when Iowa faced Kansas State in the 2000 season opener at Arrowhead Stadium in Kansas City, Missouri.
To say that it was hot and humid that day would be an understatment.
It was so miserable that some friends of mine who are known for downing a few beers while tailgating stopped drinking, or didn't even start drinking just because it was too hot and humid.
I still vividly remember opening the door to the press box and feeling a cold rush of air hit my sweat-soaked body.
It felt like a heaven on earth, although, I probably should have realized that an NFL press box would have air conditioning, even 23 years ago.
That game will be remembered for two things: the debut of Bob Sanders as a Hawkeye, and for the press box having air conditioning.
**********
5. Iowa senior receiver Nico Ragaini will have at least 50 receptions
Okay, this might be a reach.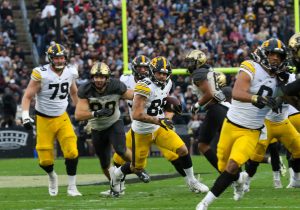 But with Iowa's tight ends drawing so much attention, and with an expected upgrade at quarterback, it still seems possible.
Ragaini had 34 catches last season in just 11 games and despite playing for an offense that was historically bad.
He will be a sixth-year senior this season, so, he should know how to get open.
And as more of a slot receiver, he should be open on underneath routes and they're easier passes to complete.
It would only take averaging slightly more than four catches per game over a 12-game schedule for Ragaini to hit 50 receptions.
**********
6. Cooper DeJean will win the 2023 Jim Thorpe Award
Iowa's junior cornerback was playing as well or better than any defensive back in the country at the end of last season, and he should only get better.
DeJean set a school record with three pick sixes last season, and he led all the Iowa defensive backs with 75 tackles.
His combination of size (6-1, 207), athleticism and preparation make the soft-spoken DeJean a play-making force as a cornerback.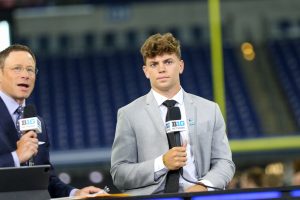 Perhaps the biggest concern with making this bold prediction is that opposing offenses might stay away from DeJean out of respect because his reputation preceeds him.
Former Iowa cornerback Desmond King sort of had that experience in 2016 after having won the Jim Thorpe Award in 2015 when he had eight interceptions.
King still performed at a high level in 2016, but he didn't have as many statistics to show for it because offenses stayed away from him.
**********
7.  Penn State will win the Big Ten East Division for the first time since 2016.
With all five starters returning on the offensive line, and with arguably the best one-two punch at running back in sophomores Nick Singleton and Kaytron Allen, and with six starters returning on defense led by star cornerback Kalen King, the Nittany Lions are built to have a special season, which would mean rising above Ohio State and Michigan for a change.
Penn State will face Iowa and Michigan at home, but has Illinois and Ohio State on the road.
The Nittany Lions also have a new starting quarterback in sophomore Drew Allar, who was a five-star recruit.
So, there certainly are concerns, but Ohio State also has a new starting quarterback, while Michigan has to play Penn State in Happy Valley, and with a target on its back as the two-time defending Big Ten champion.
This just feels like the season in which James Franklin will finally get over the two-headed hump.
**********
8. Weather permitting, the Iowa women's basketball team's exhibition game against DePaul on Oct. 15 at Kinnick Stadium will have a higher attendance than most, if not all of Northwestern's home football games.
There is talk that ticket sales could reach 40,000 to 50,000 for this much-anticipated charity event called "Crossover at Kinnick."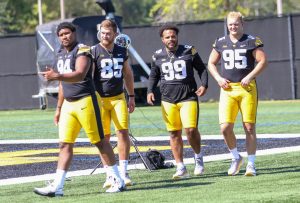 That would easily surpass Northwestern's home attendance average of 28,697 from last season and 30,796 from the season before.
**********
9. The Iowa defense will rally around suspended defensive tackle Noah Shannon and hold eight opponents to 14 or fewer points.
Iowa held 10 of 13 opponents to 14 or fewer points last season, so this prediction hardly seems unreasonable.
Because even without Shannon, and without Lukas Van Ness, who has moved on to the NFL, the Iowa defensive line should be rock-solid again this season.
Iowa's 2023 schedule, which doesn't include Michigan or Ohio State, or high-scoring Maryland, also factored into this prediction.
**********
10. Iowa will defeat Penn State 23-20 in the Big Ten championship game to win its first Big Ten title since sharing it with Michigan in 2004, but will fail to make the four-team playoff due from having two losses to Penn State and Wisconsin in the regular season.
The good news is that this kind of thing never will happen again with the college playoff set to expand to 12 teams in 2024.