By John Bohnenkamp
IOWA CITY, Iowa – The injury that Cade McNamara suffered was more aggravating than frightening, the Iowa quarterback said on Tuesday.
A muscle pull, he said, is a lot different than tearing a knee ligament, like McNamara did last year when he suffered a season-ending injury at Michigan.
So his recovery has been more about dealing with the frustration, McNamara said when he met with the media.
"I've dealt with some bigger adversity in my life," McNamara said. "Things like this that are kind of out of my control are just part of the journey."
McNamara, who suffered a pulled muscle in his leg during Iowa's Kids' Day scrimmage at Kinnick Stadium on August 12, missed practice time but has been back working with the team in the last week.
Whether that means he starts Saturday's season opener against Utah State remains to be seen.
Iowa coach Kirk Ferentz said McNamara is still "day-to-day."
"He's been cleared medically," Ferentz said. "That's the good news. Then the thing we have to judge as we go along is how effective can he be, and can he go out and perform in a way that's representative of the kind of player he is.
"(He) looked good in practice today. It's kind of day by day. We'll see how sore he is tomorrow and see how he's feeling. Obviously we'd love to have him out there, but we also want to make sure he can perform at a high level."
McNamara was also not specific on his status, because he said he knows the final decision comes down to Ferentz and the medical staff.
"Honestly, I'm just progressing every single day," McNamara said. "I'm feeling a lot better. Really, I'm excited to get out there with my teammates."
If McNamara can't go, Ferentz said Deacon Hill, at No. 2 on the depth chart behind McNamara, likely would be the starter.
"There's no right answers on these, and in all due respect, just about every guy on the team that's been practicing is a little bit sore and has issues," Ferentz said. "Nobody is at full strength.
"But what it boils down to is can he play effectively, and then second thing is,is that (injury) going to knock him out for three weeks if he does play. We have to be smart about that."
**********
SHANNON'S APPEAL: Ferentz said the appeal to the NCAA to change Noah Shannon's season-long suspension for violating the organization's rules on gambling has been filed.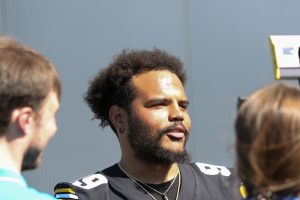 "As I've said all along, we support him right now," Ferentz said. "Nobody is claiming that he's not guilty of certain things, but I think really what the bottom line is, we're just hoping for a reconciliation on this whole thing or reconsideration, and I'm hoping when the committee looks at it, reasonable people will reconsider the punishment. I'm anxious to hear how that turns out."
Ferentz said he would like there to be common sense in the NCAA's judgement.
"In Noah's case, it's pretty obvious; they're talking about a full season," Ferentz said. "Again, nobody is in denial of what the facts are. It's just I the issue in my mind is just does the punishment fit what the violation was. Nobody is denying there was a violation. That's not the issue. But the issue is what's a just punishment, and I think that's a valid thing to think about and just give consideration."
**********
IMPRESSIVE JACKSON: Ferentz said he has been impressed with transfer Nick Jackson, who is listed as a starter at outside linebacker.
"He's just a really mature guy, operates at a high level," Ferentz said of Jackson, who transferred from Virginia. "He's playing catch-up, and there's a lot of communication that goes on. Looks like we don't do a lot on defense, but there's a lot of communication, a lot of intricate little things, and the linebackers are the switchboards for that, so he's really been playing catch-up on that since he wasn't here last spring.
"But he works at it. He's got a lot of pride, and he's an intelligent guy, so he really works at it.