By Pat Harty
IOWA CITY, Iowa – The Iowa football team will face Utah State in the 2023 season opener on Saturday at Kinnick Stadium, marking just the third time the teams have faced each other.
Iowa won the first two games in the series, both of which were played at home, by scores of 70-14 in 1957 and 48-7 in 2002.
Forest Evashevski apparently was in no mood to show mercy in 1957, while Iowa's 2002 team was coming off a devastating 36-31 loss to Iowa State the week before at Kinnick Stadium when it faced the Aggies.
Utah State was in the wrong place at the wrong time in both cases and would go on to take a thumping against two Iowa teams that would go on to have highly successful seasons 45 years apart.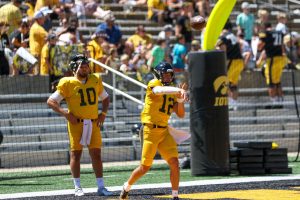 Iowa finished 7-1-1 in 1957, and was led by Outland Trophy winner Alex Karras, while the star-studded 2002 Iowa team finished undefeated in Big Ten play for the first time in 80 years and 11-2 overall.
The oddsmakers apparently believe that Iowa will deliver a third thumping in the series on Saturday, making the Hawkeyes a 25-point favorite.
Depth could be a factor since the temperature is expected to climb into the 90s on Saturday, and that should work to Iowa's benefit.
The season opener is always the most difficult to breakdown from a positional standpoint because there are no statistics and no games to rely on, and because rosters change from one season to the next.
Iowa has a new quarterback in Michigan transfer Cade McNamara, and several other key pieces on offense, along with Virginia transfer Nick Jackson, who will start at linebacker.
For Utah State, the changes from last season have been even more dramatic as third-year head coach Blake Anderson hit both the transfer portal and the junior college ranks hard, especially on defense, where opponents shredded the Aggies for almost 200 rushing yards per game last season.
Utah State has 59 newcomers on the roster this fall, which is tied for the sixth most in the nation, and six new coaches, including defensive coordinator Joe Cauthen.
The Aggies finished 6-7 last season, but are 17-10 overall under Anderson, and 2-0 in season openers.
Utah State won at Washington State 26-23 in the 2021 season opener. It was Utah State's first road win against a Power Five opponent since 1971.
Saturday's game at Kinnick Stadium will be another opportunity for Utah State to beat a Power Five opponent on the road.
However, it won't be easy as the following position matchups will show:
**********
Quarterback: Cade McNamara hasn't played in a game since injuring his knee in the third game of last season while playing for Michigan, and he's also been slowed recently by a soft-tissue injury that caused him to miss more than a week of practice.
Kirk Ferentz said this past Tuesday that McNamara is day-to-day, but McNamara has received medical clearance to play, and he's listed as the starter on the depth chart.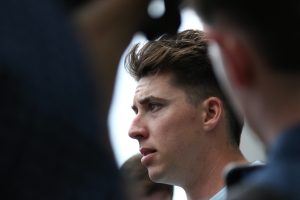 When healthy, McNamara has shown that he can make plays and lead an offense to great heights, both with his performance on the field, and with his leadership qualities.
He led Michigan to the 2021 Big Ten title, and to the college playoff, starting all 14 games and passing for 2,576 yards and 15 touchdowns and just six interceptions.
McNamara also endeared himself to Wolverine fans forever by defeating Ohio State, but that didn't keep him from losing his starting position early in the 2022 season.
The combination of being demoted and being injured convinced McNamara to enter the transfer portal, and with Iowa almost desperate to add an experienced quarterback, it proved to be a match made in Hawkeye Heaven.
At least on paper.
Utah State, meanwhile, is expected to start graduate senior Cooper Legas, who posted a 5-3 record in his first year as a starter last season.
Legas finished with 357 total yards in the 2022 regular-season finale against Boise State as he passed for 306 yards and ran for 51.
So, he does pose a dual threat.
Legas started eight of the last nine games last season and has appeared in 12 games overall for Utah State. He has 1,670 career passing yards.
McNamara, on the other hand, has appeared on the biggest stage in college football, which is the four-team playoff, albeit for Michigan where his supporting cast was top-notch.
Deacon Hill, a 6-foot-3, 258-pound sophomore and a transfer from Wisconsin, is listed as Iowa's backup quarterback, while junior Levi Williams is Utah State's backup.
Advantage: Iowa
**********
Running back: Iowa returns its top two rushers from last season in sophomore Kaleb Johnson and junior Leshon Williams, while the Aggies have to replace their leading rusher from a year ago as Calvin Tyler Jr. has moved on to the NFL after having rushed for 1,122 yards last season.
Robert Briggs and Davon Booth are listed as co-starters for Utah State. Briggs rushed for 353 yards last season and averaged 4.8 yards per carry.
Kaleb Johnson set an Iowa freshman rushing record last season with 779 yards on the ground. He also scored six of Iowa's 12 rushing touchdowns, and he averaged 5.2 yards per carry.
Leshon Williams rushed for 412 yards and scored two touchdowns as the backup last season.
Redshirt freshman Jaziun Patterson also could be a factor for Iowa this season as he came on strong at the end of last season, rushing for 23 yards in the Music City Bowl.
Advantage: Iowa
**********
Receiver
Utah State has eight newcomers at receiver, while Iowa has added two receivers from the portal in Seth Anderson and Kaleb Brown.
Iowa also has one of the oldest and most experienced receivers in the country in sixth-year senior Nico Ragaini, who finished second on the team last season with 34 catches for 386 yards and one touchdown.
The 24-year old Ragaini has 125 career receptions for 1,354 yards and five touchdowns.
He and fellow Connecticut native Diante Vines are listed as the two starting receivers, but Iowa could play as many as five or six receivers.
Vines missed the first six games last season with a broken wrist, but he is now healthy and ready to play a more prominent role. He had at least two catches in four games last season.
The Iowa defense will have to pay close attention to Terrell Vaughn, who finished second on the team last season with 56 catches for 624 yards and five touchdowns. Vaughn is only 5-7 and 175 pounds, but what he lacks in size, he makes up for with quickness and elusiveness.
This group of Utah State receivers could prove to be formidable, but with so many newcomers, it's just hard to judge right now.
Advantage: Iowa
**********
Tight end: This position has been a strength for Iowa throughout the Kirk Ferentz coaching era and that should continue again this season with junior Luke Lachey and senior Erick All, who transferred from Michigan.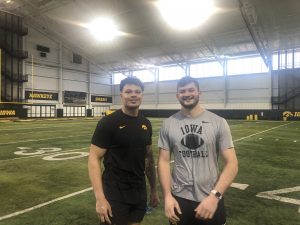 Iowa only had seven touchdown catches last season, but Lachey had four of them despite playing in the shadow of former All-Big Ten tight end Sam LaPorta. Lachey also finished second on the team with 398 receiving yards on 28 catches.
All had over 400 receiving yards for Michigan in 2021 with Cade McNamara throwing to him.
Josh Sterzer is listed as the starting tight end for Utah State. He appeared in 11 games last season and had 11 receptions for 129 yards and one touchdown.
Advantage: Iowa
**********
Offensive line: Iowa returns all five starters on the offensive line and has added two graduate offensive linemen from the portal in Rusty Feth and Daijon Parker.
The performance of the Iowa offensive line left much to be desired last season. But four of the five starters listed on this week's depth chart are upperclassmen, including junior left tackle Mason Richman, who has 25 career starts.
McNamara has gained most of the attention since joining the team, but the performance of the offensive line could ultimately determine Iowa's level of success more than anything else.
These guys aren't young anymore, so it's time for Richman and his cohorts to rise to the occasion.
Senior left guard Wade Meacham is the only returning starter on the offensive line for Utah State.
The Aggies also have eight newcomers on the offensive line.
Advantage: Iowa
********** 
Defensive line: Utah State has 31 newcomers on defense, including 10 on the defensive line. It was obvious that help was needed up front on defense after the Aggies allowed 194.2 rushing yards per game last season.
Tackles Hale Motu'apuaka and Poukesi Vakauta have appeared in 46 and 27 games, respectively. Motu'apuaka also has made 28 career starts.
Iowa, meanwhile, is loaded again at these positions despite having lost Lukas Van Ness to the NFL and Noah Shannon to a season-long suspension for gambling on sports.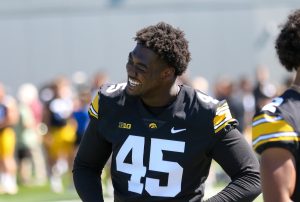 Another starter from last season, defensive end John Waggoner, also has moved on, and yet, the defensive line still should be a strength for Iowa.
Senior Logan Lee has made 27 career starts at defensive tackle and he made honorable mention all-Big Ten last season.
Junior defensive end Deontae Craig has yet to start a game for Iowa, but he still stuffed the stat sheet last season with 10 tackles for loss and 6.5 sacks.
Craig will team with sixth-year senior Joe Evans to give Iowa a productive one-two punch at defensive end. Evans made second-team All-Big Ten last season and finished the season with 8.5 tackles for loss, 6.5 sacks, four quarterback hurries and two forced fumbles.
Junior Yahya Black is expected to replace Shannon at one of the tackle positions. The 6-5, 315-pound Black has appeared in 26 games and has 11 career tackles.
Sophomore defensive tackle Aaron Graves also should play a more prominent role this season after appearing in 12 games last season. He had 5.5 tackles for loss and 2.5 sacks last season in limited duty.
Cedar Rapids native Ethan Hurkett will provide depth at defensive end. He had 15 tackles last season as a sophomore and has appeared in 16 games overall.
Advantage: Iowa
**********
Linebacker: Iowa was hit hard by graduation at linebacker, losing two of the best in program history, including 2022 Butkus Award winner Jack Campbell.
The other loss was three-year starter Seth Benson.
Kirk Ferentz doesn't normally rely on the transfer portal for help, but he made an exception this offseason by adding graduate transfer Nick Jackson from Virginia.
Jackson started 33 of the 46 games in which he played for Virginia and finished with 354 tackles, including 161 solo stops. The Atlanta, Georgia native also made second-team All-Atlantic Coast Conference last season.
Jackson is a proven commodity at linebacker and just what Iowa needed to make up for losing Campbell and Benson.
Junior Jay Higgins is also expected to start at linebacker for Iowa. The Indianapolis native saw action in 12 games last season and finished with 39 tackles.
Utah State also has some holes to fill at linebacker, but that isn't necessarily a bad thing considering how poorly the defense played against the run last season.
Senior MJ Tafisi returns as the starting middle linebacker. He finished third on the team with 69 tackles last season despite only playing in eight games.
Max Alford also moves into a starting position after posting 40 tackles as a freshman last season.
Advantage: Iowa
 **********
Defensive backfield: The Aggies return both starting cornerbacks from last season in seniors Michael Anyanwu and Ajani Carter, while Iowa returns arguably the top cornerback in the country in junior Cooper DeJean, who had five interceptions last season, including three pick sixes.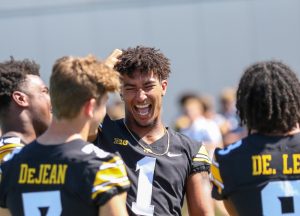 Junior Quinn Schulte started all 13 games for Iowa at free safety last season and has appeared in 28 games overall.
Sophomore and former five-star recruit Xavier Nwankpa will replace Kaevon Merriweather as the starter at strong safety for Iowa. Nwankpa made his first career start in the Music City Bowl and had eight tackles and a pick-six.
Junior Jermari Harris is expected to start at the other cornerback position opposite DeJean after having missed the entire 2022 season with an injury. Harris has appeared in 20 games with six starts.
Sophomore Ike Larsen will start at one of the safety positions for Utah State. He appeared in 11 games last season and had four interceptions and 33 tackles.
Advantage: Iowa
**********
Special teams: Iowa has arguably the best punter/kicker combination in the Big Ten, if not the country, in senior Tory Taylor and sophomore Drew Stevens.
Taylor enters this season with a 45.4 career average on 202 punts with 63 traveling over 60 yards. He set a school record for punting yardage in each of the past two seasons.
A native of Melbourne, Australia, Taylor is the 12th oldest player in college football at 26.
Stevens is coming off a freshman season in which he made 16 of 18 field-goal attempts. The 16 field goals are the most by an Iowa freshman.
He also handles kickoffs for the Hawkeyes.
Utah State also has a reliable punter in Stephen Kotsanlee, who averaged 43.4 yards on 67 punts last season.
The Aggies will have a new starting kicker with junior college transfer William Nesta listed as the starter for Saturday's game.
Cooper DeJean also gives Iowa an established punt returner, while Kaleb Johnson averaged 25.0 yards on 13 kick returns last season.
Kaleb Brown, who transferred from Ohio State, also could help in the return game.
Terrell Vaughn gives Utah State a dangerous returner as he averaged 26.5 yards on 19 kick returns last season. He returned one kick 100 yards for a touchdown.
Advantage: Iowa