By John Bohnenkamp
IOWA CITY, Iowa – The first touchdown pass of the season felt like a big moment for new Iowa quarterback Cade McNamara.
It was also an introduction to one of Iowa's newest receivers.
Seth Anderson, who transferred to Iowa from Charleston Southern in the winter, caught the 36-yard pass from McNamara for the first points in the Hawkeyes' 24-14 win over Utah State Saturday at Kinnick Stadium.
The touchdown came on Iowa's second offensive play, with Anderson beating his receiver down the left side for the score.
"It was electric," Anderson said. "It was such a great start to the game. It really got our team going."
Anderson's move twisted Utah State cornerback Michael Anyanwu and left the receiver wide open.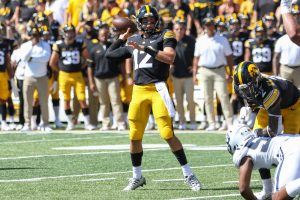 "I got inside, faked out and came back up," Anderson said. "I felt him fall behind me and I was like, 'Yeah, this is what I need.'"
"I was so fired up," McNamara said. "We had the exact look we wanted. To be honest, I was kind of surprised that play was called that early. I was expecting maybe a play-action or something, but when (offensive coordinator) Brian (Ferentz) called it and we got the look that we wanted, I was just so fired up to be able to hit that. Seth (Anderson) made a great play on it."
Anderson knew what was going to happen as soon as he heard the play call.
"When it was called, I was like, 'It's a touchdown,'" Anderson said, laughing.
Anderson was with the Hawkeyes in the spring, but didn't practice because of an injury.
"Transitioning into the program is a big part of it," Iowa coach Kirk Ferentz said of Anderson's adjustment. "He did that without any issues. To see him playing football — we finally got to see him in August actually running routes and doing things — I think he has tremendous upside."
**********
TAKING THE BALL: Iowa won the toss, but rather than deferring to the second half, took the ball to open the game.
It worked out with the early score.
"I'll speak in generalizations. We probably receive it more than most teams," Ferentz said. "I can think of one that might do a little bit. At least they do against us. I think it's a mind game.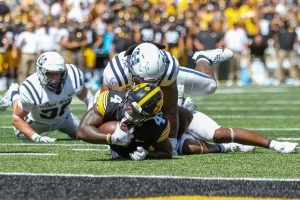 "We just tend to do that, but we had a discussion on it yesterday. Smart people would probably tell you to defer as the thing you should do. I think the book probably says that, but…"
**********
VIEW FROM THE OTHER SIDE: Utah State coach Blake Anderson lamented the Aggies' missed opportunities.
Utah State committed 10 penalties for 91 yards. The Aggies failed to recover two fumbles from the Hawkeyes.
That was unacceptable, Anderson said.
"Those are called self-inflicted wounds, unforced errors," Anderson said. "Things that require no talent. Those are the things that we have to find a way to master, and right now we haven't done a good job of that. Whether it's the experience, or lack of discipline, or lack of attention, or maybe the guys just don't understand how important it is. I am proud of how hard they played, but we have to play better.
The missed opportunities that could change the outcome of the game are the things that we have to capitalize on and avoid, and today we didn't. We played a really good team, and you are going to see an outcome like that basically every time, when you make those kinds of mistakes."
The Aggies got a late touchdown to make the game close after being down 24-6.
"Keeping it close and beating the spread doesn't fire me up a lot," Anderson said.
**********
UP NEXT: Iowa is at Iowa State next week. The Hawkeyes lost to the Cyclones last season, but Ferentz said it wasn't something that lingered with the team.
"Every time we play in this series — and it's a great series for the state — we expect them to be tough, whether we're home or there, here or there," he said. "It's going to be a tough game, tough, competitive game. The idea is to win. We came up short, but we moved on right afterwards."