By Pat Harty
IOWA CITY, Iowa – To rank the 14 Big Ten football teams from top to bottom after just one week of games might seem a little premature and silly, but I did it anyway because I must be a little silly.
And that's okay because I've been called worse.
One week didn't tell us much, unless you're talking about Nebraska's inability to win close games and Northwestern's inability to win a game in the United States, which it hasn't done since the 2021 season.
So, without further delay, my first Big Ten power rankings:
1. Michigan, 1-0 – One down and two go as the Wolverines seem determined to rally behind Jim Harbaugh as he serves his three-game suspension, and that could give them the emotional edge that will be needed to survive the three-game nonconference gauntlet of East Carolina, UNLV and Bowling Green.
**********
2. Penn State, 1-0 – James Franklin coached against West Virginia in the season opener as if he has a 35-point performance incentive in his contract, considering the Nittany Lions were leading 31-15 when they scored their last touchdown with just six seconds remaining.
**********
3. Ohio State, 1-0 – With Ohio State's 20-3 victory over Indiana in the season opener, Ryan Day now has a 46-6 overall record as the Ohio State head coach. But he also has lost back-to-back games to Michigan, and is now in his fifth full season as head coach, and yet, still hasn't won a national title. That's just unacceptable.
**********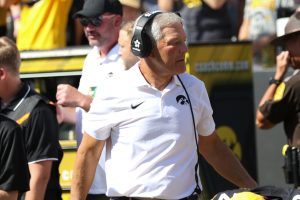 4. Wisconsin, 1-0 –  The Badgers under new head coach Luke Fickell defeated Buffalo 38-17 in their season opener and rushed for 312 yards. Wisconsin used to win the same way under Barry Alvarez, so now you have to wonder if Fickell will stop wearing socks.
**********
5. Iowa, 1-0 – Kirk Ferentz turned down a chance to kick a late field goal against Utah State that would have given Iowa 27 points. It was Kirk's way of showing that he won't be intimidated or influenced by the silly amendments in Brian Ferentz's contract. And good for Kirk.
**********
6. Illinois, 1-0 – Mr. Optimist: Illinois withstood Toledo's upset bid, winning 30-28 in Champaign against what is expected to be one of the top teams from the Mid-American Conference.
Mr. Pessimist: Illinois nearly lost at home to a team from the MAC and was led in rushing by quarterback Luke Altmyer with just 69 yards.
**********
7. Maryland, 1-0 – The Terrapins defeated the Towson Tigers 38-6 in the season opener for both teams. That's really all I have to say about this instate matchup.
**********
8. Minnesota, 1-0 – I'm hearing that P.J. Fleck tried to carry himself off the field after the big win over Nebraska.
**********
9. Rutgers, 1-0 – The Scarlet Knights after defeating Northwestern 24-7 this past Sunday are currently tied for first place in the Big Ten East Division. Who says adding Rutgers to the Big Ten was a mistake?
**********
10. Michigan State, 1-0 – The Spartans defeated Central Michigan 31-7 in their season opener, but just imagine what the score might have been if receiver Keon Coleman hadn't transferred to Florida State.
**********
11. Nebraska, 0-1 – With its 13-10 loss to Minnesota this past Thursday, Nebraska fell to 2-14 in one-score games since the start of the 2021 season. It's almost as if Bo Pelini has put a curse on the program that fired him for being a foul-mouthed bully who couldn't win more than nine games in a season.
**********
12. Indiana, 0-1 – Somebody should remind the Indiana players on offense that Tom Allen is probably coaching for his job this season.
**********
13. Purdue, 0-1 – The good news for reigning Big Ten West champion Purdue is that it scored 35 points against Fresno State in Ryan Walters' debut as the Purdue head coach. The bad news is that Fresno State scored 39 points and had 487 yards. Walters is learning the hard way what it's like to replace a head coach (Jeff Brohm) whose area of expertise is offense rather than defense.
**********
14. Northwestern, 0-1 – I'd like to thank Northwestern for making me feel young again because watching the Wildcats lose to Rutgers on Sunday felt like the 1970s and 1980s.