By Pat Harty
As Saturday's football game between Iowa and Iowa State played out in Ames, these three observations about the victorious Hawkeyes stood out.
The Iowa offense still is very much a work in progress, and the fact that Cade McNamara isn't fully recovered from a soft-tissue injury that he suffered nearly a month ago has made it harder to gain traction.
2. The Iowa defense, despite some significant personnel losses from last season, and from this season, looks solid yet again under Phil Parker, and opportunistic as the defense scored one of Iowa's two touchdowns in the 20-13 victory over the Cyclones.
3. The performance of redshirt freshman running back Jaziun Patterson was huge in the win as he provided a spark for an offense whose overall performance was below average.
McNamara made a few nice throws, and Iowa's one-two punch at tight end with Luke Lachey and Michigan transfer Erick All produced as expected.
But it was the breakout performance from Patterson that was perhaps the most impressive part of the offense.
The Florida native broke loose for a 59-yard run early in the first quarter,and he scored Iowa's only offensive touchdown on a four-yard run early in the second quarter. He finished with 86 rushing yards on 10 carries.
Patterson also showed that he is a complete running back when by himself he blocked two Iowa State defenders that were crashing down on McNamara in the pocket.
Iowa has what appears to be a dependable three-man rotation at running back with Kaleb Johnson, Leshon Williams and Patterson, whose playing time should only increase.
But Iowa still clearly has issues on offense, namely the inability to stay ahead of the chains with its running attack, and the failure, so far, to get the receivers the ball in space.
How much of it is due to McNamara's injury is hard to say.
He had some throws in Saturday's game that he wishes he had back, none more than his overthrow in the third quarter to Seth Anderson on a seam route in which Anderson had blown past his defender and was wide open down field.
Saturday's victory is similar to how Iowa won last season.
Ride the defense and special teams, and then get just enough offense to prevail.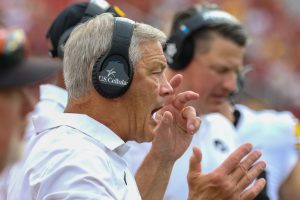 It basically came down to a 4th-and-1 for Iowa State with slightly more than one minute to play, and the Iowa defense came through yet again as defensive end Ethan Hurkett and defensive back Sebastian Castro combined for a tackle behind the line of scrimmage, with Iowa leading, 20-13.
Patterson could prove to be special, but it still was just one game in which he was pretty special. The challenge now for Patterson is to build off this performance.
Up next for Iowa is Western Michigan next Saturday at Kinnick Stadium, a game in which Iowa should have no business losing, and almost certainly won't lose.
Kirk Ferentz never would say that about an opponent, but it's the truth.
Speaking of Kirk Ferentz, he won his 200th game with Saturday's victory, and he did it in vintage fashion.
Ferentz is the 24th Division I head coach to win 200 games.
His current team, which is his 25th at Iowa, is 2-0, and that's all that matters to Kirk Ferentz right now.
However, the performance of his offense is a concern, because as last season showed, defense and special teams can only take a team so far.
Brian Ferentz made some nice play calls on Saturday, but the offense still only scored one touchdown and gained just 112 yards on the ground on 29 attempts, and only had 123 passing yards.
Those numbers just won't get the job done against elite competition.
Iowa is averaging 22 points per game after two games, and that wouldn't normally be something to dwell on, but one of the performances incentives in Brian Ferentz's revised contract is that Iowa must average at least 25 points per game.
McNamara has to play better because much is expected from him after what he accomplished at Michigan.
But it's hard to know where he is physically with his kind of injury.
Iowa built a three-score advantage when Castro anticipated a route in the flat, then made the interception and raced 30 yards to the end zone for Iowa's 25th pick-six since the 2013 season.
Drew Stevens converted the point-after kick, making the score 17-0 with 4:29 left before halftime.
The Cyclones, after having had four consecutive three-and-outs, finally mounted a drive late in the second quarter, but then had to settle for a 42-yard field goal by Nebraska transfer Chase Contreraz with four seconds left in the quarter.
Iowa led 17-3 at halftime despite McNamara only completing 5-of-12 passes for 64 yards.
Luke Lachey had three of Iowa's five catches in the first half for 58 yards.
Iowa had 80 rushing yards in the first half on 12 carries.
But take away Patterson's long run and Iowa only had 21 rushing yards on 11 carries.
So, the performance of the offense in the first half still left much to be desired, and yet, Iowa had a 14-point lead at halftime and would be on offense to start the third quarter.
The offense produced very little in the second half, but as Iowa often does under Kirk Ferentz, it found a way to win with the defense leading the way.
Iowa 3 14 3 0 – 20
Iowa State 0 3 0 10 – 13
I – Drew Stevens 28 FG
I – Jaziun Patterson 4 run (Stevens kick)
I – Sebastian Castro 30 interception return (Stevens kick)
ISU – Chase Contreraz 42 FG
I – Stevens 34 FG
ISU – Contreraz 46 FG
ISU – Jayden Higgins 16 pass from Rocco Becht (Contreraz kick)
Cade McNamara on where he believes the offense is after week two: pic.twitter.com/ZCgy2Wfkna

— Dallas Jones (@DallasJonesy) September 9, 2023
2️⃣0️⃣0️⃣#Hawkeyes pic.twitter.com/9H5DAKVXDd

— Hawkeye Football (@HawkeyeFootball) September 9, 2023