By Pat Harty
IOWA CITY, Iowa – The questions being asked were fair and timely, and all too familiar to Iowa receiver Nico Ragaini.
Here he was again, answering questions from the media about Iowa's inability to get the receiver position actively involved in the offense.
Ragaini addressed this same topic last season, and the season before because it has been an ongoing problem.
Iowa's receivers, which in the case from a statistical standpoint are Ragaini, Seth Anderson and Diante Vines, have combined for eight catches, 106 receiving yards and one touchdown in the first two games.
Ragaini, Anderson and Vines are the only receivers on the team that have at least one catch after two games.
Ohio State transfer Kaleb Brown still doesn't have a reception and barely has figured in the passing game.
Ragaini was told about all those statistics, and while you could tell that he didn't want to address this same topic again, it is a new season with a new quarterback that led Michigan to the 2021 Big Ten title, and to the college playoff.
There was hope that the addition of Cade McNamara at quarterback would lead to an increase in productivity from the receiver position.
But so far, it just hasn't happened, and Ragaini was asked to explain why at the weekly press conference on Tuesday.
"Obviously, I would like the ball on every single play, but we won the game, we're 2-0 and that's all that matters," Ragaini said. "We have our goals for the season and all we can focus on is getting the next win and if the ball comes my way, the ball comes my way.
"I'll just do whatever I can to make the play."
As a team-first veteran leader, Ragaini couldn't have phrased it any better.
Even if he is frustrated with not being targeted more, he wouldn't share that with the media.
It seems that every receiver wants the ball, and they're always open if you ask them.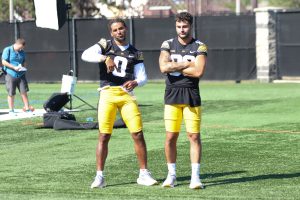 So, it's reasonable to assume that Ragaini might be a little frustrated with the lack of targets, but that he also truly puts the team first and above everything else.
And that is to be admired.
Ragaini was asked if there is something the offense could do as a unit to assure that he gets the ball more.
Again, a fair question, and a predictable answer from a savvy veteran that knows what to say under every circumstance.
"Just continue to get open and continue to build trust in practice, and when the ball comes your way, make the most of the opportunity, so that there's just more trust in yourself," Ragaini said.
Instead of pointing fingers or putting the responsibility on somebody else, Ragaini said what he could do rather than what others should do.
The Iowa offense certainly has some issues, but a lack of leadership isn't among them.
Ragaini was also asked about the outside noise, but he dismissed it just like previous times when asked.
"To be truthfully honest, I don't really care about other people's expectations of our offense, you know what I'm saying," Ragaini said. "If you watch the game, you can see how close we are to becoming what we think of ourselves. And if we just continue to work and push, I think it'll come. I feel like we've got a taste of what our offense can be like if we stay locked in the whole entire game.
"But that's only going to come with preparing one-hundred percent every single day and really focusing, which I think we'll see soon."
Ragaini is correct in saying the offense has been close on some potentially big plays.
McNamara missed a couple open targets in last Saturday's 20-13 victory at Iowa State that could have led to significant passing yardage.
"It's pretty crazy. People always make comments about our offense, but two years ago, we were in the Big Ten Championship and then last year, we were one game away from being in the Big Ten Championship," Ragaini said.
And while Ragaini brings up a good point, a cynic or naysayer would counter by saying the problems on offense kept Iowa from being elite in each of the past two seasons, and also wasted elite performances from the defense and special teams.
"I don't really talk to anyone about football besides the guys in the building," Ragaini said. "I don't look on Twitter and search things to see what people have to say. It's ridiculous on there anyway.
"So, I feel like the vibes are very high around the facility and that's the way I'm feeling as well."
That's what should matter the most, the vibe around the facility.
The season still is young with 10 regular-season games remaining.
Iowa faces Western Michigan (1-1) on Saturday with a chance to finish the nonconference portion of the schedule undefeated, and with another chance for the offense to grow with McNamara behind center.
His soft-tissue injury has complicated things because he appears less mobile, and more reluctant to throw on the run, or so it would seem.
The Iowa offense is a slow work in progress, which is often the case under Kirk Ferentz, who despite the problems on offense, still won his 200th career game this past Saturday.
Ragaini is in his sixth year in the program, so he's been through a lot.
He joined the team as a true freshman in 2018, and that was just one year after Brian Ferentz was promoted to offensive coordinator.
To say that Brian Ferentz's time as offensive coordinator for his father has been rocky would be an understatement.
Brian Ferentz is blamed mostly for the offensive woes and deficiencies, especially now that Spencer Petras isn't the quarterback anymore.
The performance incentives that were added to Brian Ferentz's contract has made him and the Iowa offense an easier target for criticism and ridicule than they were before.
McNamara said to the media on Tuesday that he has total belief in Brian Ferentz, and that's what you would expect him to say since McNamara chose to transfer to Iowa.
Nico Ragaini promoted the same narrative about the offense as a whole.
He could've made it about him on Tuesday with the media, but it's not about him and Ragaini is mature and unselfish enough to realize that.
His team-first mentality is embedded deep in the program, and that helps to keep a roster from splintering.
The performance of the Iowa offense leaves much to be desired after two games, but 2-0 is also the best a team can be after two games, and Ragaini would prefer to look at it that way.
And that's reason to believe the offense will improve.