By Pat Harty
IOWA CITY, Iowa – College football needs more student-athletes like Jay Higgins.
In addition to being a tough and talented linebacker for the Iowa Hawkeyes, Higgins is also an outlier in that he has been willing to wait for his opportunity rather than leave in search for instant gratification.
While many student-athletes enter the transfer portal at the first sign of hardship or frustration, Higgins was determined to stay the course at Iowa, even if it meant not being a starter until his senior season.
His parents raised him to finish what he started and to trust the process.
And now Higgins is being rewarded for his unselfishness, patience, and his loyalty as he leads Iowa with 23 tackles heading into Saturday's game against Western Michigan at Kinnick Stadium.
Higgins had a career-high 16 tackles in the 24-14 victory over Utah State in the season opener, and followed that with seven stops in last Saturday's 20-14 win at Iowa State.
"I remember the last time we were at Iowa State, and I had no shot at getting out there," Higgins said. "So, it's just fun to be out there and fun to lead the defense. It's just fun to play.
"That was probably the biggest thing I missed, just playing football and it's been a while. So, any opportunity I get, I'm going to make sure that I definitely don't take it for granted."
Higgins has appeared in 34 games as a Hawkeye, so he wasn't just watching from the bench during games prior to this season.
He contributed on special teams and helped to fill the void when former Iowa linebacker Jestin Jacobs transferred to Oregon after the 2021 season.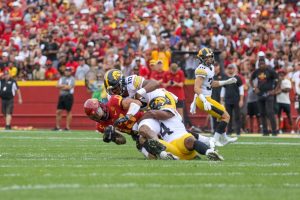 The problem for Higgins is that he came to Iowa one year after Jack Campbell had become a Hawkeye and two years after Seth Benson joined the team.
Campbell and Benson both would become three-year starters at linebacker for Iowa, and Campbell now ranks among the best linebackers in program history.
He was named the 2022 Butkus Award winner, which goes to the nation's top collegiate linebacker, and was also selected in the first round of the 2023 NFL draft by the Detroit Lions.
So, Higgins knew what he was up against, and that made being patient a little easier.
"When there's good guys in front of you, I wish nothing but success for those guys," Higgins said. "I was happy for those guys every time they had a good game.
"And I just knew that my time would come eventually. And I didn't want to be the guy that didn't learn from those guys while they were here."
Higgins, who is from Indianapolis, also appreciates how he was recruited because the Iowa coaches, primarily Kelvin Bell and Seth Wallace, were up front and honest with him. They told him what he needed to hear rather than what he wanted to hear.
They told him what to expect from playing for Kirk Ferentz, and from having Phil Parker as your defensive coordinator.
They told Higgins that if he were looking for instant gratification, or for an easy path to playing time, then Iowa probably wasn't the best fit for him.
They promised him that if he worked hard and was willing to stay the course that an opportunity to start would eventually come, but only if he deserved it.
That honest approach made a strong impression on the 6-foot-2, 233-pound Higgins, and is a big reason he never has considered transferring.
"I had too much respect for coach Wallace, and I understood the process with coach Ferentz and with coach Parker," Higgins said. "I understood what type of program I committed to. If we were a program that was all about the instant gratification, then maybe I would have left. But that's not what they sold me on when they were recruiting me.
"So, I just remember what they told me, and I remember what coach Bell told me when he recruited me. It's easy to say one thing but my opportunity and my circumstance, I actually had to live it and stay patient."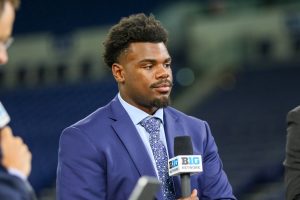 Higgins was one of three players that represented Iowa at Big Ten Media Day in late July.
It was a homecoming for him as the event was held in Indianapolis.
Higgins wasn't originally picked to attend the event, but defensive tackle Noah Shannon declined his invitation due to being linked to an investigation into sports wagering, which has since led to Shannon being suspended for the entre 2023 season.
Shannon suggested that Higgins should go in his place, and that says a lot about how his teammates feel about Higgins since he had only started one game before this season.
Higgins relished the opportunity represent Iowa in his hometown, partly because he knew how proud it made his father.
"He's always been one of my biggest supporters," Higgins said of his father. "Any opportunity I can to make him proud, I just love doing it for him."
Higgins plays alongside graduate transfer linebacker Nick Jackson, whose path to becoming a starter for the Hawkeyes is much different than how Higgins became a starter.
Jackson played four seasons for Virginia where he had 368 career tackles and made second-team All-Atlantic Coast Conference last season. Jackson also started 35 of the 48 games in which he played for Virginia.
Jackson stayed the course at Virginia, but he wanted a chance to play his final season somewhere else.
He wanted to play for a rock-solid defense, and where there was an opportunity to play a significant role.
Iowa certainly met those requirements.
"I'm still learning through all the ins and outs and just making adjustments every single day," said Jackson, who ranks fourth on the team with 14 tackles. "Coach Wallace and Jay have been really great in my development and doing the scheme. I think that every single day I'm just trying to be better for this team."
Higgins used to mostly be known, at least on social media, for being the son of Roy Higgins, whose presence on X, formally known as Twitter, has made him a favorite with Hawkeye fans.
Roy Higgins' phrase "Hawk, Hawk, Hawk" has become a rallying cry for Hawkeye fans.
Roy's influence goes far beyond social media, however, and his son is proof of that.
Roy and his wife, Shelley, taught Jay to appreciate hard work and they both set examples for him to follow.
Like any proud father, Roy wanted his son to play sooner, and it wasn't always easy waiting for that opportunity.
But Roy trusted the process, and the Iowa coaches, just like his son.
"My dad, he's a big fan," Jay Higgins said. "He was getting a little antsy my junior year, but he stayed calm.
"They just taught me to rust the process. They taught me what hard and sacrifice look like. So, I just felt comfortable staying here and working hard."