By Pat Harty
IOWA CITY, Iowa – Sometimes, you just feel compelled to recognize and pay tribute to sustained greatness.
You want to remind yourself, and your readers, that you are witnessing something special every time Cooper DeJean plays cornerback for the Iowa football team.
You're watching a gifted athlete perform at an extremely high level, and it's easy to take for granted as time passes.
DeJean was in the unusual position of having played a supporting role to Sebastian Castro's lead role in last Saturday's 20-13 victory at Iowa State.
Castro's pick-six in the second quarter was the biggest play in the game because it ultimately proved to be the difference.
He was named Big Ten Defensive Player of the Week on Monday, and then Iowa linebacker coach Seth Wallace raved about Castro during a zoom call with the media on Wednesday.
Iowa head coach Kirk Ferentz in his weekly press conference on Tuesday also spoke highly of Castro, a fifth-year senior defensive back who has worked his way up the depth chart.
"Some guys make the transition really quickly, then other guys it takes a little bit longer," Kirk Ferentz said. "The credit goes for a guy sticking it out and keep banging away. That's a fun part about Saturday. You think about all the time he was on the scout team, or the times he was playing special teams, not really out there defensively for us.
"Now for him, I don't want to call it a bonus or reward, but it's a nice play. I never scored a touchdown, I know that. Pretty cool for a defensive guy to score a touchdown."
DeJean, meanwhile, certainly knows how it feels to score a defensive touchdown as he is the master of pick-sixes after setting a school record with three of them last season.
Opponents are now reluctant to throw DeJean's way, so he might not have as many opportunities for pick-sixes this season. But a star player finds other ways to contribute and DeJean is certainly meeting that challenge.
Because somewhat lost in the well-deserved Castro hype is that DeJean had 10 tackles against Iowa State, his third game as a Hawkeye with at least 10 tackles.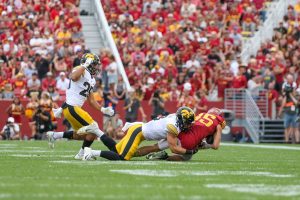 And they were sure tackles, with some coming on special teams and with most of them in space where if the tackle isn't made, field position changes significantly.
DeJean makes the hard look easy, much like Desmond King did as an Iowa cornerback.
But DeJean is bigger and arguably more athletic than King, who won the Jim Thorpe Award as the nation's top collegiate defensive back in 2015. King is now in his seventh season in the NFL, currently with the Pittsburgh Steelers.
DeJean's athleticism was well-documented before he became an Iowa football player as he was a multi-sport star in high school.
The Odebolt, Iowa native was a state champion in the 100-meter dash and the long jump in high school, and a star in basketball who often thrilled the fans with his rim-rattling dunks despite only standing about an inch over six feet.
Cornerback is an extremely difficult position to play because it requires responding and reacting to quick-twitch athletes on the other side who are trying to beat you in space, and it also requires the ability to be tough and physical in traffic when the circumstances call for it.
DeJean makes it all look easy, although, he would never say that because he is as humble as he is talented.
DeJean's physical ability is matched by his instincts, from his anticipation, timing and route recognition to his ability to track the ball, he is developing into the total package.
So, enjoy him while he lasts because the 6-foot-1, 207-pound DeJean now projects as a late first-round pick in the 2024 NFL draft if he should choose to enter.
He still has at least 10 games to play as a Hawkeye, with Western Michigan up next Saturday at Kinnick Stadium.
DeJean is also less than three years removed from high school as he played in seven games as a true freshman in 2021.
He also just turned 20 in February, so while he plays like a shrewd veteran, it wasn't that long ago that DeJean was just a kid.
And though two games is a small sample size, Iowa appears to have yet another top-notch secondary under Phil Parker despite having lost two multi-year starters from last season in cornerback Riley Moss and safety Kaevon Merriweather to graduation.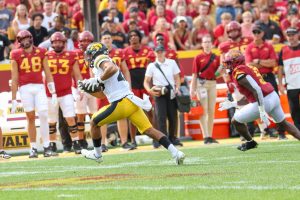 Sophomore Xavier Nwankpa, a former five-star recruit, continues to grow as the new starter at strong safety, while senior and former walk-on Quinn Schulte has 15 starts under his belt at free safety and now plays like it.
Redshirt freshman Deshaun Lee started the first two games this season at cornerback for Jermari Harris, and Lee held his own with 15 tackles and two pass breakups.
Harris, a junior from Chicago, is expected to return for the Western Michigan game, and with his addition, Iowa is gaining a player that has made six starts and appeared in 20 games overall.
"He's been great. He's had a great camp," Kirk Ferentz said of Harris. "Basically, he's been with our team. Was with us Saturday. Just didn't play the last two weeks.
"He's fully engaged, ready to roll. It will be good to get him back."
As for DeJean, he is without question Iowa's next great defensive back, along with being a dangerous and sure-handed punt returner.
He also plays on the punt team and makes that look easy when it's anything but easy.
DeJean's ability to race down the field and tackle the punt returner in space is extraordinary.
His best position might prove to be as a safety in the NFL, but for now Iowa needs DeJean to play cornerback because he does it better than anyone else on the team, and maybe better than anyone in the Big Ten.
And then just imagine if he also played on offense as some fans have requested.
If Iowa fans had their way, DeJean would never leave the field.