By Pat Harty
IOWA CITY, Iowa -After a slow and sluggish start against Western Michigan, the Iowa football team pulled away in the second half and cruised to a 41-10 victory on Saturday at Kinnick Stadium.
However, the victory came at a price as Iowa tight end Luke Lachey was helped off the field in the first quarter with an apparent right ankle injury.
Lachey did not return to the game, and he watched the second half from the Iowa bench with his right lower leg in a boot.
The fourth-year junior from Columbus, Ohio, entered Saturday's game as Iowa's leading receiver with 10 catches for 131 yards.
"Unfortunately, hate to lose Luke to an injury, and it's fairly significant," said Iowa head coach Kirk Ferentz. "So, we'll know more about that in a couple days. They're accessing that. That's the one downside right there."
Iowa also played Saturday's game without running back Kaleb Johnson, who was listed as being out on the pre-game medical report.
Junior Leshon Williams seized the moment by rushing for a career-high 145 yards, while true freshman Kamari Moulton saw his first action as a Hawkeye and finished with 50  yards on the ground and two short touchdown runs.
Iowa finished Saturday's game with 254 rushing yards, its highest total in four years.
"Offensively, we got it going with the running game and that felt good and it opened up a couple other things late in the game," said junior left tackle Mason Richman. "So, it was really exciting."
Moulton is the first freshman to score two touchdowns in his Hawkeye debut since Jewell Hampton accomplished it against Maine in 2008.
"We've just been working so hard for this and when it happened, it felt good," Moulton said.
Moulton stepped in for redshirt freshman Jaziun Patterson, who played sparingly after the game was stopped for 42 minutes in the first quarter due to a lightning delay.
Patterson was coming off a breakout performance in last Saturdays' 20-13 victory at Iowa State in which he rushed for 86 yards and scored Iowa's only offensive touchdown.
"We're always told by our coaches to stay prepared, so anything can happen," Moulton said. "So, when my name is called, I just want to be there for my team."
Iowa improved to 3-0 for the 11th time under head coach Kirk Ferentz, but now the competition will improve significantly with Penn State up next this coming Saturday in State College, Pennsylvania.
Penn State defeated Illinois 30-13 on Saturday in Champaign, Illinois.
Iowa also evened the series at 2-2 against Western Michigan.
"I'm just happy to be .500 now career-wise against Western," Kirk Ferentz said. "That hasn't exactly been a great series for me to be involved.
"So, I'm happy with where we're at, and tomorrow will be a real good opportunity to see some things we can get better at."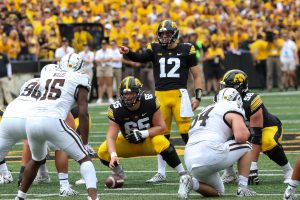 After struggling at times in the first half, the the Iowa defense played better in the second half as the Broncos failed to score in the third and fourth quarters and wee held to jsut 35 yars in the second half.
Western Michigan completed a long pass for what would have been a touchdown early in the fourth quarter, but it was erased by a penalty.
Iowa's special teams also made a significant contribution as usual, this time with a blocked punt by reserve defensive lineman Anterio Thompson that led to a safety in the third quarter, and with the punting of senior Tory Taylor, whose ability to shift field position was crucial in helping Iowa seize the momentum.
And while the Iowa running game played a huge role in Saturday's win, the Iowa passing game never really got on track as senior quarterback Cade McNamara threw two interceptions, including one late in the second quarter that was caught in the Western Michigan end zone.
Iowa's first offensive series of the game ended with McNamara throwing an interception in Western Michigan territory.
Iowa's second offensive series ended with McNamara being sacked for a minus-15 yards on third down.
Tory Taylor then pinned the Broncos at their own 4 with yet another perfectly placed punt.
Western Michigan quarterback Treyson Bourguet quickly erased any chance for a safety, however, as he gained 29 yards on first down.
Bourguet then connected with receiver Anthony Sambucci for a 64-yard touchdown pass with 5:40 left in the first quarter.
Sambucci slipped past the Iowa secondary and was wide open when Bourguet hit him in stride in front of the Iowa bench.
Kinnick Stadium fell silent as Iowa fell behind 7-0 against a 28 ½ point underdog.
Mother Nature then stepped in as the game was stopped with 5:33 left in the first quarter due to lightning, and with Iowa on offense.
The delay lasted for 42 minutes.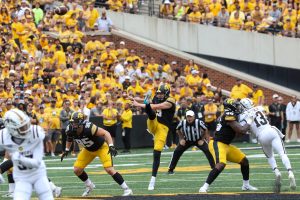 Iowa finally got on the scoreboard when McNamara connected with Diante Vines for a 3-yard touchdown with 8:26 left in the second quarter.
Leshon Williams helped to set up the score with a 53-yard run to the Western Michigan 8.
Iowa took its first lead of the game when Leshon Williams scored on a 25-yard pass from McNamara with 1:29 left in the second quarter.
Williams caught the ball near the line of scrimmage and then was escorted into the end zone by several blockers.
Drew Stevens converted the point-after kick to give Iowa a 14-10 lead.
Taylor helped to set up the go-ahead touchdown with a 44-yard punt that was downed at the Western Michigan 1.
After forcing the Broncos to punt late in the second quarter, Iowa took over at its own 41 with less than two minutes remaining in the half.
Western Michigan was called for pass interference on a deep throw to Diante Vines, giving Iowa a first down at Western Michigan 31.
However, the drive ended abruptly as McNamara was intercepted in the end zone by Bronco defensive back Keni-H Lovely.
Iowa led 14-10 heading into halftime, but there was an uneasy feeling from the score being so close and from Lachey having been injured.
Iowa rushed for 148 yards in the first half, including 127 yards by Leshon Williams, but still only led by four points at the break.
Western Michigan 7 3 0 0 – 10
Iowa 0 14 17 10 – 41
WM – Anthony Sambucci 64 pass from Treyson Bourguet (Palker Domschke kick)
I – Diante Vines 3 pass from Cade McNamara (Drew Stevens kick)
WM – Domschke 27 FG
I – Leshon Williams 25 pass from McNamara (Stevens kick)
I – Safety, Western Michigan punt blocked in the end zone
I – Kamari Moulton 3 run (Erick All pass from McNamara)
I – Moulton 1 run (Stevens kick)
I – Stevens 31 FG
I – Max White 3 run (Stevens kick)