By John Bohnenkamp
IOWA CITY, Iowa – Iowa coach Kirk Ferentz said on Tuesday that Luke Lachey's ankle injury is "most likely" a season-ending one.
Lachey, Iowa's leading receiver this season with 10 catches for 131 yards, injured his ankle when he was undercut on an incomplete pass in last Saturday's 41-10 win over Western Michigan at Kinnick Stadium.
Ferentz said Lachey, a junior tight end from Columbus, Ohio, had surgery on Tuesday.
"It's unfortunate," Ferentz said. "He's going to be fine, but (it's a) tough development."
Lachey is one of Iowa's captains.
"When you deal with injuries or things like that … taking a player off the field, it's tough because there's a human aspect of this, too," Ferentz said. "We all lose sight of that because, especially in football, guys have helmets on, they're like gladiators on the field. But these guys are college kids and they have feelings. When it pertains to any athlete in the Big Ten or anywhere across the country, they invest so much.
"And it's not who they are but it's such a big part of what they do, and they spend so much time working for it. I don't want to say have it robbed, but to miss out on something that they look forward to it's really tough."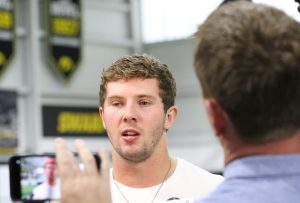 Lachey had a career-high 28 receptions for 398 yards and four touchdowns last season.
Lachey started all three games for the Hawkeyes this season, but Ferentz's offense deploys multiple tight ends, sometimes even using four in its formation.
Erick All, who transferred to Iowa from Michigan in the offseason, moves to No. 1 on the depth chart heading into Saturday's game at Penn State. Addison Ostrenga, who played in every game as a true freshman last season, is at No. 2, with Steven Stilianos, who played in eight games last season after transferring from Lafayette, at No. 3. Johnny Pascuzzi would be the fourth tight end, if needed.
"The good news is Addi is a guy we threw in there last year pretty much out of need and really responded well," Ferentz said. "He's been pretty consistent that way, and I thought he did a good job Saturday. He'll keep getting better the more he plays.
"Steve's a guy I mentioned in the spring who is starting to emerge. Coming from a small school, year two, there's a lot more confidence and a lot more competency. I thought he did a good job Saturday. And we'll use him more now just by pure numbers."
Still, Ferentz knows the Hawkeyes will miss Lachey.
"The group will be fine," Ferentz said. "We're better with Luke on a couple of levels, playing-wise and also his leadership."
Ferentz also said that running backs Kaleb Johnson and Jaziun Patterson won't play against Penn State because of injuries. Ferentz listed them both as being week-to-week.
**********
BLACK PANTS: Iowa will be wearing black pants on Saturday instead of its usual gold for road games.
The announcement of the change was subtle on social media on Monday before a better look at the combination with the white jersey was released later in the day.
The players seem to like the look.
"Those are cool unis," wide receiver Diante Vines said. "I'm glad we've got some swag to it. … Gives us a little motivation, makes us feel good going out there."
"It's good for the guys to change it up," defensive tackle Logan Lee said. "I don't know what it is, but look good, feel good. Feel good, play good, I guess. It's just a cool opportunity we took advantage of."
**********
PENNSYLVANIA MAN: Ferentz grew up in Pennsylvania, so he knows Penn State quite well.
He's 10-8 all-time against the Nittany Lions as coach at Iowa, including wins in the last two games. Five of the last six games have been decided by six points or less.
"I carry a chip on my shoulder because they didn't recruit me," Ferentz deadpanned during his press conference. "I always joke about that. Obvious reason was they were trying to win. They were trying to win then, trying to win now.
"They didn't recruit guys that ran 5-flat 40s at linebacker, that weighed 200 pounds. I've forgiven them. It's 50 years later. I'm over that, I think."