By Pat Harty
IOWA CITY, Iowa – Kirk Ferentz has had some great upsets as the Iowa football coach.
His first Big Ten win as the head Hawk was an upset as Iowa defeated Michigan State 21-16 in the sixth game of the 2000 season.
That game was played at Kinnick Stadium and the Spartans were ranked 25th nationally, while Iowa had lost 15 of its first 16 games under Ferentz.
Iowa would go on to pull off another upset four games later, winning 26-23 in double-overtime at Penn State, but then came an even bigger upset one week later as Iowa defeated 18th-ranked Northwestern 27-17 on Senior Day at Kinnick Stadium.
Iowa only finished 3-9 in 2000, but all three wins were upsets in conference play.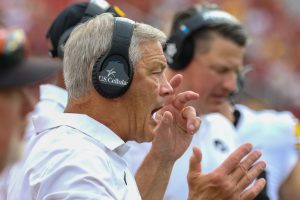 Iowa would go on to win seven games in 2001 and 11 in 2002, along with Big Ten titles in 2002 and 2004, and the program was off and running.
Iowa has earned 20 bowl game invitations under Kirk Ferentz, so the opportunity for upsets has been diminished due to that sustained success.
Iowa's stunning 55-24 demolition of Ohio State in 2017 at Kinnick Stadium ranks among the greatest upsets under Ferentz because the opponent was Ohio State and because of how the game played out with Iowa dominating the Buckeyes from start to finish.
Ohio State would go on to finish 12-2 that season, so it wasn't as if Iowa beat a sub-par Ohio State team by 31 points.
Shifting to the present, Kirk Ferentz has another opportunity to pull off an upset against Penn State on Saturday in State College, Pennsylvania.
The fact that Iowa is ranked in both polls might lessen the upset value for some.
But if you look closely at the circumstances, Saturday's game meets the criteria for an upset for multiple reasons, including the opponent as Penn State is ranked seventh in both polls, and some are saying this might be James Franklin's best team in his 10 seasons as Penn State's head coach.
Penn State will also be playing at home, and in the evening, and before a packed White Out.
On the flipside, Iowa will be without three of its best offensive players in tight end Luke Lachey and running backs Kaleb Johnson and Jaziun Patterson.
Iowa quarterback Cade McNamara also still seems bothered somewhat by a soft-tissue injury that he suffered more than a month ago in the Kids Day practice, so there is reason to be concerned about an offense that struggled in the first two games, even with the three injured players in the lineup.
So, take all those storylines into consideration, and a victory by Iowa on Saturday would be an upset.
It would also be a statement-win for Iowa, and for Kirk Ferentz.
The matchups at each of the positions will go a long way in determining the outcome on Saturday, and here is look at which team has the advantage at each position and it shows why Iowa winning on Saturday would qualify as an upset.
**********
Quarterback: If this decision was based just on body of work, Cade McNamara would have an edge because of what he accomplished as Michigan's starting quarterback in 2021 when he led the Wolverines to the Big Ten title, and to the college playoff.
McNamara's performance so far as a Hawkeye has been average at best, but Iowa is 3-0 with him behind center, and McNamara is 15-2 as a starting quarterback, including 12-2 at Michigan.
Penn State quarterback Drew Allar, on the other hand, is in his first season as a starter after having been Sean Clifford's backup last season.
But Allar is also a former five-star recruit and his performance in his first three games as a starter this season has been impressive.
He has passed for 737 yards and four touchdowns and is completing 67.0 percent of his passes.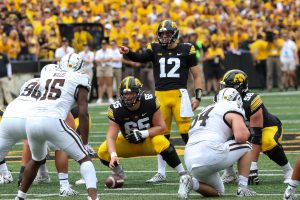 Allar passed for 325 yards and three touchdowns against West Virginia in the season opener, and he completed 22 of 26 passes against Delaware in the second game.
But he struggled at times in last Saturday's 30-13 win at Illinois, completing less than 50 percent of his passes (16 of 33) with no touchdowns.
McNamara has 417 passing yards, and four touchdown passes in three games this season, along with three interceptions.
He has made some ill-advised throws and has missed some open targets.
But he also knows what it takes to win at Penn State after having led Michigan to a 21-17 victory in 2021 by throwing three touchdown passes.
Of course, that was with Michigan players, and McNamara was healthy in 2021.
This was a tough decision between body of work and current performance as I shifted back and forth before finally making a choice.
Advantage: Penn State
**********
Running backs: Penn State would have an edge even if Kaleb Johnson and Jaziun Patterson were healthy enough to play Saturday.
And that's because the Nittany Lions have one of the best one-two punches in the country in sophomores Nick Singleton and Kaytron Allen.
They have combined for 462 rushing yards and seven touchdowns in the first three games and neither has carried more than 19 times in a game this season.
Singleton is also a receiving threat as he has five catches for 68 yards, while Allen has two catches for 24 yards.
As true freshmen, Singleton and Allen combined for 1,928 yards and 22 touchdowns.
Iowa has rushed for 454 yards in three games, but 254 of those yards came in last Saturday's 41-10 victory over Western Michigan.
The running game was mostly ineffective in the first two games.
Junior Leshon Williams rushed for 145 yards against Western Michigan last Saturday and he leads Iowa with 164 yards on the ground, and he is averaging 8.6 yards per carry.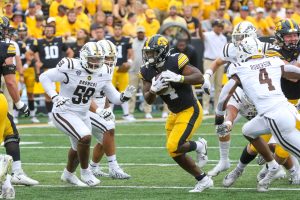 Patterson and Johnson are ranked second and third on the team in rushing with 104 and 91 yards, respectively, but neither is expected to play on Saturday.
That means true freshmen Kamari Moulton and Terrell Washington Jr., will move up two spots in the rotation, and at least one of them should figure in the game play.
Moulton scored two touchdowns and rushed for yard 50 yards against Western Michigan, while Washington gained 31 yards against the Broncos.
It was a successful debut for them both, but the defense they'll face on Saturday will present a much stiffer test.
Advantage: Penn State
**********
Receiver: With redshirt senior Dante Cephus, who transferred from Kent State, and junior KeAndre Lambert-Smith, Penn State is one of 18 Power Five teams with at least two players with 1,000 career receiving yards on its roster.
And though Cephus gained most of his yards for a Mid-American Conference school, to accumulate 1,000 receiving yards under any circumstances is impressive.
He has four catches for 71 yards this season, while Lambert-Smith leads Penn State with 13 catches for 220 yards and two touchdowns.
Lambert-Smith has started 29 games for Penn State, and he has 86 receptions for 1,268 yards and nine touchdowns.
Sophomore Harrison Wallace is tied for second on the team with 10 catches, and he has 98 receiving yards, while junior Malik McClain has six catches for 71 yards.
Sophomore Liam Clifford, who is the younger brother of former Penn State quarterback Sean Clifford, has five catches for 60 yards.
Meanwhile, sixth-year senior Nico Ragaini leads the Iowa receivers with five catches for 48 yards. Iowa's receivers have combined for two touchdown catches, one each by Seth Anderson and Diante Vines.
Advantage: Penn State
**********
Tight end: The injury to Luke Lachey will be felt in so many ways as he excels as a receiver, blocker and team leader.
Michigan transfer Erick All now steps into the featured role at tight end, and he has a history against Penn State as he made the game-winning catch against the Nittany Lions in 2021 in State College. All has seven catches for 81 yards and one touchdown in three games this season.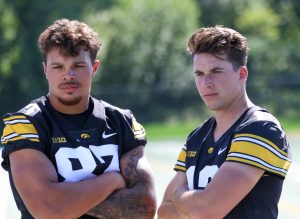 Senior Steve Stilianos and sophomore Addison Ostrenga will both likely play a more significant role as Iowa moves on without Lachey. They both have two catches in three games.
Penn State has a developing one-two punch in Tyler Warren and Theo Johnson.
Wallace has 10 catches for 81 yards and two touchdowns, while Johnson, a former Iowa recruiting target, has four catches for 46 yards.
Both teams are solid at this position, and even without Lachey, Iowa has considerable depth.
But the loss of Lachey, and its impact, can't be overstated.
Advantage: Penn State
**********
Offensive line: The Iowa offensive line dominated the line of scrimmage against Western Michigan, but the opponent should be taken into consideration.
Because against Utah State and Iowa State, the Iowa offensive line struggled to run block.
The Iowa offensive line looks better than it did last season, but that isn't saying much.
Penn State, on the other hand, has a veteran offensive line that ranks among the best in the Big Ten, if not the country.
Junior left tackle Olumuyiwa Fashanu, according to CoachesByTheNumbers, did not allow a sack and only allowed 10 pressures in 281 pass-blocking situations last season. He has picked up this season where he left off last season and is considered one of the best in the country at his position.
Senior tackle Caden Wallace has made 30 starts and played in 37 games overall, while senior guard Sal Wormley has started 16 games in 20 appearances.
Sophomore tackle Drew Shelton has five starts, while junior guard J.B. Nelson made his first career start against West Virginia and redshirt freshman Olaivavega Ioane made his first career start against Delaware.
Advantage: Penn State
 **********
Defensive line: This was a tough decision as both units are deep, talented and loaded with experience.
Iowa, even without suspended senior tackle Noah Shannon, can easily go six or seven deep on the defensive line and not suffer much or any decline.
Senior tackle Logan Lee has started 30 games for the Hawkeyes, while sixth-year senior defensive end Joe Evans has 16 starts and has appeared in 46 games overall.
Junior defensive end Deontae Craig has started all three games this season after having been a key reserve last season when he had 10 tackles for loss and 6.5 sacks.
Junior tackle Yahya Black has played in 29 games overall, and he has started all three games this season. He has 12 tackles in three games this season.
Sophomore tackle Aaron Graves and junior defensive end Ethan Hurkett both provide quality depth. Graves has 11 tackles this season, while Hurkett has 10 stops, including three for losses.
Penn State defensive end Adisa Isaac has played in 36 games overall, making 16 starts. He was named third-team All-Big Ten last season by the coaches, and he has 61 career tackles, including 17.5 for loss and 7.5 sacks.
Redshirt senior defensive tackle Hakeem Beamon has started 15 games and played in 27 overall, while redshirt senior tackle Dvon Ellies has played in 33 games, making three starts.
Junior defensive end Chop Robinson made his first career start against West Virginia in the season opener, and he has two tackles for loss.
Penn State is only allowing 96.7 rushing yards per game, while opponents are averaging 106.7 yards per game against Iowa.
These two units are even in so many way, but the loss of Noah Shannon was a factor in deciding who has the edge.
Advantage: Penn State
**********
Linebacker: This was another difficult choice as a case could be made for either unit having the advantage.
Penn State junior Curtis Jacobs has played in 35 games and made 26 starts. He has 134 career tackles, 16 tackles for loss, eight sacks, a forced fumble, two fumble recoveries and two inceptions.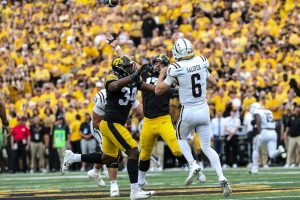 Sophomore Abdul Carter is an emerging star for Penn State as he has 63 career tackles, 11.5 tackles for loss, 7.5 sacks, two forced fumbles, one interception and four pass breakups as a Nittany Lion.
Carter had one of Penn State' four interceptions in last Saturday's 30-13 victory at Illinois.
He also led all Big Ten freshmen last season with 10.5 tackles for loss and 6.5 sacks.
Sophomore Kobe King made his first career start against West Virginia and recorded five tackles. He also had four tackles and recovered a fumble against Illinois.
As for Iowa's linebackers, seniors Jay Higgins and Nick Jackson rank first and second on the team in tackles with 32 and 23, respectively.
Higgins has started four games as a Hawkeye and played in 35 games overall.
Jackson has made 36 career starts with all but three of them coming for Virginia where he made second-team All-Atlantic Coast Conference last season. Jackson finished his Virginia career with 354 tackles, 20 tackles for loss and 10.5 sacks.
Advantage: Penn State
 **********
Defensive backfield: This is yet another case in which both units are formidable and picking one over the other was extremely difficult.
Saturday's game will feature two of the top cornerbacks in college football in Penn State junior Kalen King and Iowa junior Cooper DeJean.
King has 61 career tackles, four tackles for loss, three interceptions and 24 pass breakups. He led the Big Ten, and ranked third nationally with 18 pass breakups last season.
DeJean set a school record with three pick sixes last season and was a first-team All-Big Ten selection. He currently ranks third on the team with 19 tackles, with 10 of his tackles coming against Iowa State.
Senior free safety Quinn Schulte has made 16 starts and played in 31 games overall, while safety/cash Sebastian Castro has 11 career starts and has appeared in 30 games overall for Iowa.
Castro had a pick-six in the win at Iowa State and was named Big Ten Defensive Player of the Week for his performance in that game.
Sophomore strong safety Xavier Nwankpa, a former five-star recruit, has started all three games for Iowa this season and has played in 16 games overall.
Junior cornerback Jermari Harris returned to the lineup against Western Michigan after missing the first two games. The Chicago native has made seven career starts and he has four interceptions.
Penn State has another talented cornerback in Johnny Dixon, who has 75 career tackles, six tackles for loss, three sacks, four interceptions, 19 pass breakups, one forced fumble and one fumble in his college career. Dixon had one of Penn State's four interceptions against Illinois last week.
Cornerbacks Daequan Hardy and Cam Miller also has interceptions against Illinois.
Penn State led the nation with 85 pass breakups last season, including seven by senior free safety Keaton Ellis, who is a team captain.
Ellis has appeared in 46 games, making 22 starts.
Junior strong safety Jaylen Reed has appeared in 24 games, making three stars, while sophomore safety Zakee Wheatley has appeared in 20 games.
Penn State has recorded three or more takeaways in seven games over the past two seasons, which is tied for most among FBS teams.
Advantage: Penn State
 *********
Special teams: Iowa has one of the top punter/kicker combinations in the country in senior punter Tory Taylor and sophomore kicker Drew Stevens, while Penn State has rebuilt its kicking games via the transfer portal.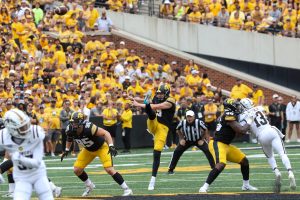 Penn State senior kicker Alex Felkins, who transferred from Columbia, has made 4-of-5 field-goal attempts this season, with the longest from 45 yards.
Penn State punter Riley Thompson, who transferred from Florida Atlantic, is averaging 42.9 yards on 10 punts this season.
Tory Taylor, meanwhile, is averaging 46.1 yards on 16 punts this season, and he has a 45.6 career average on 214 punts with 68 going over 50 yards.
Stevens has made 4-of-5 field-goal attempts this season after having made 16-of-18 attempts last season as a true freshman. He also handles kickoffs for Iowa.
Cooper DeJean gives Iowa a dangerous punt returner while Nick Singleton gives Penn State a big-play threat as a kick returner.
Advantage: Iowa