By Pat Harty
IOWA CITY, Iowa – Look at the statistics from Iowa's 20-14 victory over Purdue and it's easy to assume that Iowa offensive coordinator Brian Ferentz had yet another lousy performance as a play caller and strategist.
His quarterback, albeit a backup, only completed 6-of-21 passes for 110 yards, his offense only converted on 3-of-13 third-down plays, and his team failed to meet the 25-point performance incentive in his revised contract.
But in fairness to Brian Ferentz, his game plan and his play calling weren't the biggest problems for the offense. Brian Ferentz was aggressive as far as trying to throw downfield, and he had a nice mix of passing and running.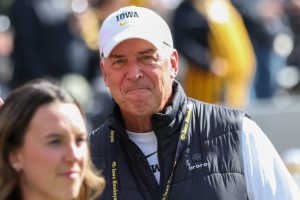 And as for the 25-point performance incentive, it's hardly worth mentioning because it's just silly and one of the dumbest things Gary Barta did as the Iowa Athletic Director.
Iowa rushed for 181 yards against Purdue, and there were multiple opportunities in the passing game, but most of them, at the risk of sounding like former Iowa men's basketball coach Steve Alford, failed to materialize due to a lack of execution.
From passes being overthrown, or thrown too hard, to receivers dropping passes, including some that were thrown too hard, Iowa's aerial attack against Purdue left so much to be desired.
Kirk Ferentz was asked after the Purdue win what caused the shortcomings in the passing game.
"Well, you guys saw him throwing," Kirk Ferentz said of sophomore quarterback Deacon Hill. "I'm certainly not an expert on quarterback play. From throwing baseballs, I know this: If you press or try to do too much, sometimes, the ball sails and I'm guessing that's probably what it was.
"But I thought he kept his composure, and a couple of them, we didn't help him on, again. Got to make the makeable plays and we didn't always do a great job of that. But he hung in there. Kept doing a good job, and the last one he threw down our right side, it looked pretty good to me. Was hoping that was going to be a little bit more open."
Brian Ferentz could've given Hill easier and safer throws to make since it was Hill's first collegiate start.
But if Brian Ferentz would've had a more conservative game plan that included a bunch of underneath and horizontal passing routes, and if Hill still would've struggled, Brian Ferentz probably would have been ripped and mocked for playing not to lose, and for being afraid to take chances.
Football is considered the ultimate team sport, so in good times or bad times, there is usually plenty of praise and blame to go around.
Kaleb Johnson's 67-yard touchdown run in the first quarter against Purdue was more a case of the players executing at a high level rather than Brian Ferentz making a brilliant play call.
Senior tight end Eric All also made a sensational leaping catch against Purdue that gained 33 yards, and that was more about his execution than about strategy.
But the play in which All scored on a 22-yard pass from Hill early in the fourth quarter was more about strategy than execution since Purdue was caught off guard.
Hill still had to make the throw and All still had to make the catch. But the play call helped to put them both in a favorable position.
And speaking of Erick All, imagine the passing game without him as he had all but 13 of Iowa's receiving yards against Purdue and five of the team's six catches..
It's time for other receivers to step up because defenses will now likely target All.
Brian Ferentz certainly deserves his share of the blame for the offensive woes that have festered, especially since the start of last season, as does his father because it's ultimately Kirk Ferentz's offense.
But it's so easy to get wrapped up in the anti-Brian Ferentz narrative that you automatically blame him for everything when in reality no one person or one player is to blame.
Brian Ferentz now faces the daunting task of preparing Deacon Hill to face his previous team when Iowa plays at Wisconsin on Saturday.
Hill transferred to Iowa from Wisconsin this past January.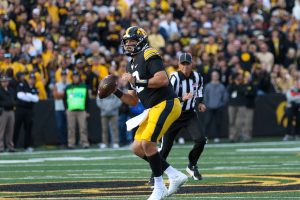 He had been committed to Fordham before switching his commitment to the Hawkeyes.
So, that's quite a leap from being committed to Fordham to now starting for a Big Ten team.
There were times this past Saturday when Hill seemed maybe not necessarily in over his head, but maybe not quite ready for prime time.
But Hill is Iowa's best option right now with Cade McNamara out for the rest of the season because of a knee injury, and Kirk Ferentz made that abundantly clear when asked if he considered switching to backup Joe Labas during the Purdue game.
"Why? During the game," Ferentz asked.
The reporter then said yes, which led to this answer from Kirk Ferentz.
"No. Deacon is our quarterback right now," Kirk Ferentz said. "And that's no offense to Joe, but that would be silly to make a change."
Hill has shown that he has a powerful arm, and that he is willing to take chances and make difficult throws.
He's also 6-foot-3 and weighs 258 pounds, so he's built to take a pounding.
Hill's biggest problem based on his performance in the past two games, besides accuracy, is that he sometimes throws the ball too hard.
It could be argued that a receiver at this level should be able to catch a ball that is thrown too hard.
But why make it more difficult than it has to be?
Former Iowa quarterback Spencer Petras, who started for most of the past three seasons, also had a tendency to throw the ball too hard on some shorter routes.
"The really good quarterbacks throw balls that are really catchable," said former Iowa offensive coordinator, and former Western Illinois head coach Don Patterson.
Learning to throw with more touch can't happen overnight, but it can happen over time, and with more repetitions in practice.
So again, Brian Ferentz is not without blame for the problems that occurred on offense against Purdue.
But to lay all the blame on him isn't fair, either.
Brian Ferentz certainly has to coach better, but the players on offense also have to play better.