By Pat Harty
IOWA CITY, Iowa – Heading into this season, I'm not too proud to admit that I had almost as many concerns about the linebacker position on the Iowa football team as receiver.
The addition of Virginia graduate transfer Nick Jackson helped to ease my concern somewhat. But having to replace one of the greatest linebackers in program history in Jack Campbell, and a three-year starter in Seth Benson, made it easy to assume that there would be some growing pains and a drop in production at the linebacker positions.
My assumption couldn't have been more wrong because midway through the regular season, it could be argued that linebacker has been the biggest strength for yet another rock-solid Phil Parker defense.
Senior Jay Higgins, who only had one start prior to this season, leads the team with 74 tackles, and he also leads the Big Ten and ranks third nationally with an average of 12.3 tackles per game, while Jackson is second on the team with 53 tackles. He also has 4.5 tackles for loss, one sack, two forced fumbles, two pass breakups and two quarterback hurries.
Higgins had a career-high 18 tackles against Penn State, 16 against Utah State, including 12 solo stops, and 12 tackles in last Saturday's 20-14 victory over Purdue, along with his first career interception.
The Indianapolis native was asked about his consistency at Tuesday's weekly press conference, and he attributed it to help from those around him, including linebacker coach Seth Wallace.
"I just try to do what I do every week, and that's just help the defense get off the field," Higgins said. "I think coach Wallace has made it really easy for me. And, obviously, having Nick Jackson next to me makes it really easy.
"And then when you play in front of a d-line like that, you kind of can just make the play when they need you to. When (the defensive linemen) are keeping guys out of my face, I feel like it's pretty easy to flow over top and make plays."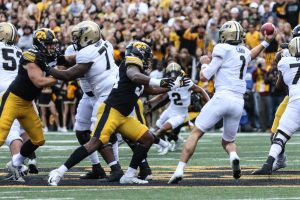 Higgins and his defensive cohorts will be tested on Saturday when Iowa (5-1, 2-1) faces Wisconsin (4-1, 2-0) at Camp Randall Stadium in a game that could go a long way in determining the Big Ten West Division title.
"Definitely a big game just because it's our next game," Higgins said. "But we know we're facing a good team and going into a hostile environment. And that's what you can expect out of the Big Ten.
"Obviously, they're a good team with a lot of offensive weapons and it's up us to make sure we do a great job of handling those guys."
Higgins and Jackson have traveled vastly different paths to reach this point.
Higgins is in his fourth season as a Hawkeye, and he had to wait until his senior season to become a starter.
Jackson, on the other hand, had 417 career tackles for Virginia and made-team second-team All-Atlantic Coast Conference last season. The Atlanta, Georgia native also had 24.5 tackles for loss, 11.5 sacks and 22 games with at least 10 tackles as a Cavalier linebacker.
To have to replace Campbell would have been hard enough, but when Benson decided not to use his free Covid year, the lack of proven depth and experience at linebacker had to be addressed, and Iowa addressed it by landing Jackson from the transfer portal.
And now midway through the season, linebacker instead of being a concern has lived up to the standard that was set by previous linebackers.
"I wasn't really expecting any numbers or tackle," Higgins said. "I knew the standard defensively. I knew how Campbell ran the defense last year.
"I know what coach Parker expects and I know what coach Wallace expects out of mike-backer, and I felt like it was easy for me just to focus on all those things, and whatever happens, happens."
Higgins could've easily bolted from Iowa in this age of the transfer portal when it became clear that he wouldn't start right away.
But instead, he embraced the grind, accepted his role and learned from the guys playing in front of him.
As much as he wanted to play more, Higgins understood why he wasn't playing more before this season.
He also was determined to finish what he started when he committed to Iowa defensive line coach Kelvin Bell in high school.
"I had too much respect for coach Wallace, and I understood the process with coach Ferentz and with coach Parker," Higgins said of why he chose to stay at Iowa. "I understood what type of program I committed to. If we were a program that was all about the instant gratification, then maybe I would have left. But that's not what they sold me on when they were recruiting me.
"So, I just remember what they told me, and I remember what coach Bell told me when he recruited me. It's easy to say one thing but my opportunity and my circumstance, I actually had to live it and stay patient."
Higgins gained inspiration from watching how Campbell and Benson approached each day.
Campbell won the 2022 Butkus Award as the nation's top collegiate linebacker, and the Cedar Falls native now plays for the Detroit Lions after having been selected in the first round of the 2023 NFL draft.
Campbell is engaged to be married and he recently reached out to his former Hawkeye teammate.
"I got his wedding invitation yesterday," Higgins said. "I have to send him my address."
The way in which Higgins and Jackson, and with help from fellow linebacker Kyler Fisher, have maintained a level of consistency at linebacker this season is an example of Iowa reloading on defense instead of having to rebuild.
The bar was set extremely high when Campbell and Benson moved on, and so far, Higgins and Jackson have met the challenge in impressive fashion.