By Pat Harty
MADISON, Wisconsin – The team that sometimes just has trouble completing a forward pass, and whose most valuable player is probably its 26-year-old punter from Australia, now controls its own destiny in the Big Ten West Division.
The Iowa Hawkeyes, despite only having 37 passing yards, edged Wisconsin 15-6 on Saturday at Camp Randall Stadium in a game that could go a long way in deciding the Big Ten West Division title.
Senior punter Tory Taylor was spectacular as usual, punting 10 times for a 50.6 average, while junior running back Leshon Williams rushed for 174 yards and scored the game's only touchdown on an 82-yard run with 11 minutes, 49 seconds left in the second quarter.
"We wanted to take the heart out of them today and that's what we did," Williams said of the Badgers.
Iowa finished with 200 rushing yards, while the Badgers were held to 104 yards on the ground, and without a touchdown.
It marked the seventh time since the start of the 2022 season that Iowa has held an opponent without a touchdown.
"You do what it takes to win and that's kind of our deal," said Iowa head coach Kirk Ferentz. "So, it's all good.
"But certainly, if we rush the ball better it's going to give us a better chance of being successful."
Iowa improved to 6-1 overall and 3-1 in Big Ten play and will return home to face Minnesota next Saturday at Kinnick Stadium.
Wisconsin fell to 4-2 overall and 2-1 in the conference under first-year head coach Luke Fickell.
"We knew that this game meant a lot and luckily for us, we've just been taking it one week at a time," said Iowa senior linebacker Jay Higgins. "It doesn't mean anything if we start going downhill from here.
"So, we understand that every game is just as important as the next one."
Higgins led Iowa with 13 tackles, including seven solo stops, while senior safety Sebastian Castro also had seven solo tackles, two tackles for loss and an interception in the closing seconds of the game.
For Castro, it was the perfect way to celebrate his 23rd birthday.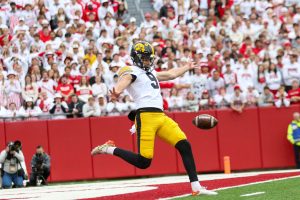 "That's our standard, so it doesn't surprise us," Castro said of the performance on defense. "That's how we practice. It's just like another day. We practice hard and it was just another day."
The Iowa defense was determined to set a physical tone against a team that is also known for being physical.
"I feel like this game was going to come down to physicality," Castro said. "I felt we came out and we did just that.
"I don't know if it was just me, but I could definitely feel it in the air. I just felt like we were more dominant today."
Saturday's victory didn't come without price, however, as senior tight end Erick All suffered what appeared to be a right knee injury in the first quarter.
The Michigan transfer was helped off the field and didn't return to the game.
So, Iowa is now down to its third, fourth and fifth-team tight ends, and yet, still found a way to prevail on the road.
"It's not good," Kirk Ferentz said of All's injury. "We'll know early next week, but it's tough.
"It's like everybody that has been hurt this year, it's just really tough for the individual."
Sophomore quarterback Deacon Hill wasn't asked to do much against his former team as the Wisconsin transfer only completed 6-of-14 passes for 37 yards in his second career start.
Iowa also had eight 3-and-outs on offense, but Hill and his cohorts still came away victorious.
"It feels pretty good," Hill said. "There were a lot of dark days in the portal here, so obviously, it feels good to be part of a team again.
"That's the biggest thing, I love my team and I wouldn't want to be anywhere else."
Football is often called the ultimate team sport and it took a total team effort for Iowa to win on Saturday.
Sophomore kicker Drew Stevens made both of his field-goal attempts, including one from 48 yards, while the Iowa offensive line controlled the line of scrimmage for much of Saturday's game as Leshon Williams pointed out afterwards.
"They were making holes, and my job was just to run through them," Williams said.
The Badgers cut the deficit to 7-6 on a 52-yard field goal by Nathanial Vakos with 3:58 left in the third quarter.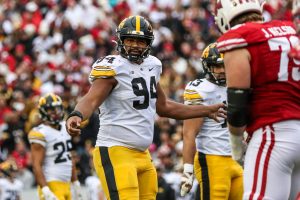 Iowa then went 3-and-out on its next offensive possession, but it could have been worse as Hill's pass on third down was deflected at the line of scrimmage and nearly intercepted.
Taylor then struck again as he booted a 60-yard punt that pinned Wisconsin at its own 6 with 2:15 left in the third quarter.
Iowa expanded its lead to 10-6 on the 48-yard field goal by Stevens with 13:08 left to play.
A four-point lead in this game felt almost like a double-digit lead, and with time slipping away on the Badgers, Journey's "Don't Stop Believing" was blasted on the loudspeaker at Camp Randall Stadium.
The song didn't work, however, as Wisconsin backup quarterback Braedyn Locke fumbled in the end zone on the Badgers' next possession. Wisconsin recovered the fumble, but Iowa still recorded a safety, expanding the lead to 12-6 with 12:15 left to play.
Both teams were impacted by injuries in the first half as Iowa lost All to an apparent leg injury in the first quarter, while Wisconsin lost starting quarterback Tanner Mordecai to an apparent hand injury late in the second quarter.
Mordecai slammed his helmet to the ground in frustration after leaving the field. He did not return to the game.
Wisconsin defensive lineman James Thompson also left the game in the first half with an upper-body injury, while Badger running back Braelon Allen missed some time in the first half with an upper-body injury.
Allen would return to the game, and he finished with 87 yards on 18 carries.
The Badger only had 35 rushing yards in the first half, while Iowa had 133 yards on the ground, with a big chunk coming on Williams' 82-yard touchdown run the second quarter.
It was the longest touchdown run for a Hawkeye against Wisconsin and the longest since Tavian Banks scored on an 82-yard run against Iowa State in 1997.
Williams made a cutback at the line of scrimmage before blasting through an opening and racing untouched to the end zone.
The Badgers, under Luke Fickell, have abandoned the ground-and-pound offense that Barry Alvarez used to rebuild the program in the early 1990s, and that had been successful for most of the past three decades.
Wisconsin attempted 23 passes in the first half, while running just 10 times.
Iowa had 28 rushing attempts in the first half, while attempting just 10 passes.
The Wisconsin fans showed their displeasure by booing their sputtering offense throughout the second quarter.
While neither offense was highly effective in the first half, Iowa at least played to its identity as a running team, while the Badgers played like a running team that insisted on passing.
Iowa also had no turnovers and held to Badgers to just 2-of-17 conversions on third down.
"Football is still you've got to play defense, it starts there," Kirk Ferentz said. "And you can't be sloppy with the football. And we didn't do that today.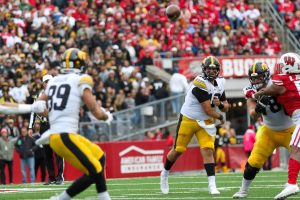 "And if you play good in the kicking game, and if you run the ball successfully, it gives you a shot. So, those are basics and it's been that way for 100 years, typically if you look at big games. That really is kind of what it still gets down to."
The Iowa players, from the sounds of it, had a wild post-game celebration in the locker room in which the song "Jump Around" was played.
The song has been synonymous with Wisconsin football for nearly a quarter century.
But on this day, the song belonged to the visiting Hawkeyes.
"I'm just extremely proud of our players and our coaching staff, but mostly our players," Kirk Ferentz said. "It was outstanding. I think they showed a lot of toughness throughout the game and I'm just really happy about that.
"We were tested numerous times during the course of the game and the guys didn't flinch. They stayed calm, poised and hung together, which is what you have to do in those tough situations."
It also helps, of course, to have a punter that continually shifts field position as Taylor did Saturday.
"Iowa football is kind of special teams, defense and things like that," Taylor said.
Even with all the problems on offense, Iowa still has won 11 of its last 13 games dating back to last season.
"I'm just really proud of everyone on the punt unit and everyone on the team," Taylor said. "We came in, and I'm sure many (of the media) in this room didn't think we were going to win.
"But we've just got belief in that room and coach Ferentz gets us ready every week."
Iowa 0 7 0 8 – 15
Wisconsin 0 0 6 0 – 6
I -Leshon Williams 82 run (Drew Stevens kick)
W – Nathaniel Vakos 36 FG
W – Vakos 52 FG
I –  Stevens 48 FG
I – Yahya Black, safety
I – Stevens 40 FG