By Pat Harty
IOWA CITY, Iowa – First it was Luke Lachey, followed by Cade McNamara and Erick All, and now Cooper DeJean.
Injuries to key players continue to plague the Iowa football team, which plays host to Illinois on Saturday with a chance to win the Big Ten West Division for the second time in three years.
DeJean, according to multiple sources, suffered a lower leg injury in practice on Wednesday. The junior cornerback and punt returner is expected to miss the rest of the regular season, but there is hope that he might play in a bowl game.
DeJean's injury occurred on the same day it was announced that he is one of five finalists for the Bronko Nugurski Trophy.
DeJean has played nearly 400 snaps in coverage this season without giving up a touchdown. He leads the Hawkeyes in pass break-ups (5), is second in interceptions (2) and seventh in tackles (41) this season.
DeJean and the Hawkeyes rank third in the country in scoring defense (12.3), fourth in passing efficiency defense (100.1), sixth in red zone defense (0.682) and eighth in total defense (281.5). Iowa is the only team to have allowed one rushing touchdown in 2023.
On special teams, leads the Big Ten and ranks 13th nationally with an 11.5 punt return average and he is second nationally in punt return touchdowns.
He also had a punt return for a touchdown in the final minutes against Minnesota on Oct. 21 erased because of an invalid fair catch signal. The Gophers would hang on to win 12-10 at Kinnick Stadium.
A native of Odebolt, Iowa, DeJean was a midseason first-team All-America selection by the Associated Press, The Athletic, ESPN and FOX.
Redshirt freshman Deshaun Lee will likely replace DeJean as one of the starting cornerbacks against Illinois on Saturday. Lee started the first two games this season when junior cornerback Jermari Harris was serving a suspension.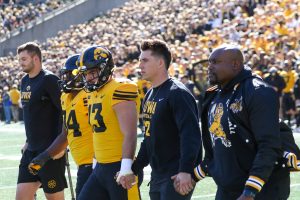 DeJean's injury means that Iowa's vaunted defense will be without one of the top cover cornerbacks in the country.
His loss will also be felt on special teams as DeJean is one of the Big Ten's top punt returners.
The threat of injury always looms and there really is no way to guard against it, especially in a contact sport.
Lachey and All were developing into one of the top tight end tandems in the Big Ten when Lachey suffered a lower leg injury against Western Michigan in the third game.
McNamara was the next to go down as the senior quarterback and Michigan transfer suffered a season-ending knee injury in the first quarter against Michigan State in the fifth game.
All then suffered a season-ending knee injury in the seventh game at Wisconsin.
The Michigan transfer still leads Iowa in catches (21), receiving yards (299) and touchdowns catches (3) despite missing the last three games.
Phil Parker's defense had mostly avoided any serious injuries until DeJean's injury on Wednesday.
Iowa takes pride in its next-man-in mentality, and that is being tested to the extreme this season.
Running backs Kaleb Johnson and Jaziun Patterson also have missed three games apiece this season because of injuries.
And yet, despite all the injuries, Iowa is 8-2 overall and 5-2 in the Big Ten with two games left in the regular season.
A victory over Illinois on Saturday, or against Nebraska on Nov. 24, would give Iowa the Big Ten West Division title outright.