By Pat Harty
IOWA CITY, Iowa – Twenty years ago this summer, the making of a Hawkeye legend was about to happen.
An undersized and unheralded defensive back from Erie, Pa., named Demond "Bob" Sanders was part of the Iowa football team's 2000 recruiting class, but there was little reason to expect greatness from him.
Sanders barely stood 5-foot-8 and he had picked Iowa over just one other scholarship offer from Ohio.
And it took some convincing from Kirk Ferentz's mentor and close friend, Joe Moore, before Iowa finally offered Sanders a scholarship.
That decision has to rank among the two or three best decisions that Kirk Ferentz has made as the Iowa head coach.
Sanders would go on to become arguably the greatest defensive back in program history before also achieving stardom in the NFL.
He is credited by many with having changed the tempo of the Iowa program more than any other player under Kirk Ferentz, and the culture in some ways.
That same culture is now being placed under a microscope as a Kansas City law firm conducts an independent review in response to allegations of racial disparities and bullying by former Iowa players, most of whom are black.
Chris Doyle already has reached a $1.3 million separation agreement, abruptly ending a 21-year reign as the Iowa strength and conditioning coach.
Kirk Ferentz also told the media that an advisory group consisting of 11 former Iowa players was close to being formed, and that an announcement would come soon, although, Ferentz said it nearly a month ago.
The reason for forming an advisory group is to give a voice and some influence to former black players, and to help spread awareness that Iowa football recognizes that it has to fix its culture.
However, the delay in making an announcement makes you wonder if forming the group has presented more obstacles than expected.
It also has caused me to think about who I would pick for the advisory group.
Sanders would be my first pick, assuming he would be willing to do it.
He is a very private and family-oriented person and he rarely speaks publicly or makes public appearances.
While multiple former players have released statements on social media accusing Iowa football of racial disparities and bullying, Sanders has remained silent.
I'm not suggesting that his silence is a reflection of how Sanders feels about the controversy that is unfolding at Iowa because that would be reckless and presumptuous and unfair to Sanders.
All I'm suggesting is that if Sanders is willing to help change the culture at Iowa for a second time, then make him a part of the advisory group.
It was announced a while ago that former Iowa defensive lineman and current NFL free agent Mike Daniels would be the leader of the advisory group, but no other information has been provided and Daniels hasn't spoken publicly about his role.
So it makes you wonder what is happening behind the scenes.
Why the delay?
Daniels as the group's leader makes sense.
Other names that makes sense to me would be Colin Cole, Desmond King, Greg Mabin, Jordan Lomax, Brad Banks, Ladell Betts, Ronnie Harmon, Anthony Herron and James Daniels.
That's 11 players overall, including one from the Hayden Fry era (Ronnie Harmon) and one who played under both Fry and Kirk Ferentz (Anthony Herron).
The selection of Harmon might raise a few eyebrows due to him having little contact with the Iowa football program, but that's part of the reason I picked him.
The advisory group should include a wide range of players who have different stories to tell and different experiences that help shape their thoughts.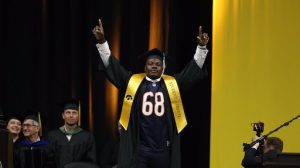 James Daniels being part of the group seems like a no-brainer, considering his tweet in early June helped to expose the flaws in Iowa's culture.
The former players should have the final say in who is picked for the group, because it wouldn't be good optics for Iowa to have final say.
Kirk Ferentz could pick the leader for the group, and the leader could then pick the other former players to be a part of the group.
It can't just be Kirk Ferentz and Iowa making all the choices for the group because that would defeat the purpose in having an advisory group in the first place.
Kirk Ferentz has to show that he is willing to loosen his grip on the program, and he could show it by allowing the former players to have final say on who is picked for the advisory group.
That seems like a small sacrifice under the circumstances.