By Tyler Devine
IOWA CITY, Iowa – Despite not being able to meet with coaches in person due to the COVID-19 pandemic, 2022 four-star defensive back Xavier Nwankpa has remained in close contact with Iowa.
Iowa was among the first to extend a scholarship offer to the Pleasant Hill, Iowa, native in October.
"I talk to Iowa once a week," Nwankpa said. "And I also talk to Iowa State and Missouri once a week."
The 6-foot-2, 175-pound Nwankpa said he has also been in contact with Colorado, Michigan, Notre Dame and Kansas State, but is not ready to name any favorites.
But Nwankpa said that Iowa being among the first to offer will always stand out to him.
"It's pretty big since they saw potential in me earlier," Nwankpa said. "They really don't start recruiting my grade – they haven't really started recruiting that much – so it's a big deal to me."
Since allegations of racial disparity surrounding the Iowa football team surfaced in early June, Nwankpa said he has been close contact with his former high school teammate and freshman Hawkeye running back Gavin Williams.
The allegations mostly centered around former strength and conditioning coach Chris Doyle, who reached a separation agreement with Iowa on June 15.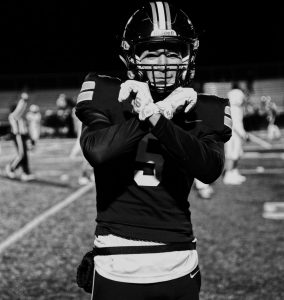 "I've just been talking to him, seeing what he's going through there and saw his point of view," Nwankpa said. "Mostly, he just said how he likes it there but there has been stuff that's gone on, obviously, but he just thinks it'll make them better, so I supported his decision."
Nwankpa also has been in frequent contact with assistant defensive line coach Jay Niemann.
Despite the allegations, which are currently under independent review by a Kansas City law firm, Nwankpa said he never thought about cutting ties with Iowa.
"I just figured they would do the right thing and hopefully get it all turned around," Nwankpa said. "I'm just excited to see how they've changed.
"I've talked to coach Niemann a few times. He's just been open about everything. If I have any questions about anything he's the first one to tell me exactly, straight up what's going on down there."
Summer is an important time for high school recruits with camps and campus visits, but with concerns over the ongoing pandemic halting those opportunities, Nwankpa said his exposure to schools has been limited.
"Honestly, I feel like it's slowing down a little bit," Nwankpa said. "Going out to camps would have gained me more exposure and stuff like that. But really I'm not too worried about it, so I'll just see where everything folds out."
Some recruits have taken it upon themselves to make their own visits to college campuses, but Nwankpa said he hasn't considered doing so.
As a sophomore last season, Nwankpa had 52.5 tackles and three interceptions, two of which he returned for touchdowns.