By Pat Harty
IOWA CITY, Iowa – This press conference was all about moving forward and pushing a narrative that the Iowa football program has experienced a sudden and dramatic change in its culture due mostly to the removal of one person.
Chris Doyle is gone, and with him, according to Iowa, goes a flawed culture that was demeaning and disrespectful to black players.
The 25-page report from the Husch Blackwell law firm was released on Thursday, and it pretty much echoed what the Diversity Task Force report said about Hawkeye football in 2019 – that black players were being stripped of their identify and forced to conform to a "mold" as part of the Iowa Way, which basically meant acting white.
The investigation included 111 interviews, including 45 current players and 29 former players, along with 36 current and former employees.
Iowa then responded to the release of the report by holding a press conference on Thursday at Carver-Hawkeye Arena that lasted well over an hour and featured both Iowa Athletic Director Gary Barta and head coach Kirk Ferentz.
Barta started the press conference by making a long opening statement in which he once again acknowledged that the football culture needs fixed. But Barta also said the challenge of fixing the problems is being dealt with in a number of constructive ways, and so far, producing positive results.
Barta also announced that there would be no other personnel changes on the coaching staff, or any significant punishment for the other coaches who were accused of mistreating players, which would be offensive coordinator Brian Ferentz, who is Kirk Ferentz's son, and assistant defensive coordinator Seth Wallace.
That hardly came as a surprise because it seemed obvious before Thursday's press conference that Iowa would push a narrative in which almost all of the blame would be directed at Doyle, and that his removal as the strength and conditioning coach was key in building a new and better culture for all of the players.
And that is exactly what transpired.
Kirk Ferentz said Thursday that he knew shortly after responding in early June to the multiple accusations of players being mistreated that Doyle had to go.
"I couldn't envision Chris being able to go in the room that Monday and being effective with our players, and then that judgment as I looked down the road further and just based on where we're at as a program in this period right now, I didn't think it was in anybody's best interest," Kirk Ferentz said. ". Chris is an outstanding coach. I know with his next opportunity he's going to do a fantastic job, but everything is based on where you're at as a program."
Iowa wasted no time in cutting ties with Doyle, agreeing to a separation in mid-June, and before the independent review had even started.
Ferentz made an opening statement on Thursday in which he apologized to any player who feels he was mistreated as a Hawkeye.
"While we've always prided ourselves in running a program based on discipline and accountability, based on my former player conversations and this review, it's shown that many of our black players felt like our program did more than that," Ferentz said. "I want to apologize to those players for any pain, any frustration that they felt at a time when I was trusted to help develop them as a better player, better person."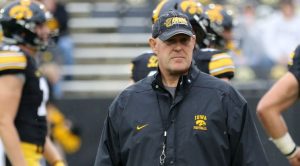 Nobody is denying that the Iowa culture has serious flaws that were finally exposed in early June when former Hawkeye center James Daniels on Twitter accused the Iowa program of having racial disparities.
Daniels posted his tweet barely a week after George Floyd was killed on May 25th in Minneapolis. Floyd's death ignited a civil rights movement that eventually seeped into the Iowa football program due to Daniels' tweet.
But now you have to wonder if any of these recent changes would've happened without Daniels having shed light on the problem.
Because remember, Kirk Ferentz and Barta already had the damaging results from the Diversity Task Force report for over a year, and yet, still didn't cut ties with Doyle until they really had no other choice.
Ferentz also didn't follow through on his promise to meet with his players more than once to address the complaints in the Diversity Task Force Report.
"I did say I dropped the ball," Kirk Ferentz said. "I never met with that group in December, and in retrospect, first of all, we should have met, but I'm not sure these things would have come about, quite frankly, and I really think the turning point took place at the end of May, started at the end of May and then certainly carried over to the meeting that Gary referred to."
The meeting to which Barta referred was the June 8th team meeting in which the players and coaches aired their grievances. The meeting was described as raw, emotional, powerful, and heated at times.
It also was described as the beginning of the turning point.
That team meeting, followed by the separation agreement with Doyle helped to form a narrative that Iowa's culture is now more receptive, more aware and more sensitive to the needs of the black players.
Hopefully, that is the case. But only time and results will tell.
Kirk Ferentz was asked on Thursday if this controversy has been a learning experience for Brian Ferentz.
"I think if there's anybody in our program right now that's not changed from two months ago then they're just not paying attention, like they're not paying attention," Kirk Ferentz said. "I'll say this: During these two months it's been really challenging for everybody involved. I would say this: I think we have a really good staff, and we've got a good coaching staff, support staff. I'm appreciative of the support we've gotten institutionally, and I have every confidence we're going to move forward and do fine.
"But I'd like to think everybody has been affected. I would like to think that. If anybody feels they didn't have any role, even if it was one player not feeling good about their experience, then that's one too many. We've got to try to do a better job."
Brian Ferentz and Seth Wallace both should consider themselves fortunate to have avoided any serious penalties because an argument could be made that both were deserving of being punished to some extent.
Utah defensive coordinator Morgan Scalley recently had his salary cut in half and was stripped of his title of head coach-in-waiting due a text message that he sent in 2013 that included racial language.
This isn't to suggest that Brian Ferentz or Wallace deserved a similar punishment, but they both seem to have made it through this controversy relatively unscathed.
The fact that Brian Ferentz is Kirk Ferentz's son adds another layer to a delicate and potentially awkward situation.
It has been widely assumed that Brian Ferentz is being groomed to replace his father as head coach, and Barta was asked on Thursday, with Kirk Ferentz standing about 10 feet away, if he still would be comfortable hiring Brian as a head coach.
Barta, not surprisingly, avoided answering the question.
"I certainly have opinions about all of our staff; it's fine for you to ask, but I'm not comfortable sharing," Barta said. "I've watched Brian grow from being an offensive line coach, I've watched him grow into being an offensive coordinator, and I have appreciated a lot of that growth, but that's probably as far as I'll go right there. But he and I have talked a lot about his future over the years."
Fair enough, both the question and the answer.
I'm not here to say that Brian Ferentz was let off easy, or that he feels entitled as the head coach's son.
What I am saying is that Brian Ferentz has to change some of the ways he expresses himself, or risk having this happen again at the expense of his father.
His father's once-proud legacy has been tainted, probably forever.
If Chris Doyle truly is to blame almost exclusively for the unraveling of the Iowa culture, and for making black players feel uncomfortable, then he has been punished accordingly and Iowa is moving in the right direction.
But if Doyle isn't solely to blame, you wonder if the path moving forward will be more challenging than what we're being led to believe right now.