By Pat Harty
IOWA CITY, Iowa – I wasn't sure where this column was headed at the start.
The purpose of the column was to finally put in perspective what has happened to the Iowa football program since former center James Daniels said on Twitter in early June that there were racial disparities in the Iowa program.
Daniels' tweet launched a movement that will impact the Iowa program for years to come.
His tweet also put Kirk Ferentz in the highly unusual position of having to defend himself and the culture within his program.
Iowa's culture has long been considered perhaps the best part of the environment under Ferentz.
Iowa is a place where many unheralded recruits have exceeded expectations after having embraced the daily grind and team-first mentality.
Iowa is a place where substance means more than style, where humility means more than hype, and where the only magic formula for success is hard work, sacrifice and commitment.
But sadly, Iowa's culture under Kirk Ferentz also has allowed racial disparities and bullying to go mostly unchecked until there was no other choice but to react to it.
Everything changed the moment Daniels tweeted and the fallout has been quick, extreme and costly.
Chris Doyle has gone from being the highest paid strength and conditioning coach in the country to being unemployed in a span of about two weeks in June.
Iowa deserves credit for acting swiftly and decisively in Doyle's case.
Most of the accusations centered on Doyle and it was apparent that he couldn't perform his duties any longer in a workable environment, so he had to go after 21 years on the job.
Doyle played a huge role, perhaps the biggest role, in helping Kirk Ferentz become Iowa's all-time winningest football coach and a Hawkeye legend.
Doyle spent more time around the players than anybody, but that was also part of the problem because his relationship with some of the players, especially some of the black players, left much to be desired as evidenced by the multiple former black players who have accused Doyle of racial disparities and mistreatment.
It was disappointing to learn about that side of Doyle because the media had always held him in such high regard and praised his tough-minded culture and work ethic.
So much of what has transpired since Daniels tweeted has been disappointing.
Never have I felt that Kirk Ferentz should be fired because of the accusations, but I have been disappointed in him.
I'm disappointed that Kirk Ferentz turned a blind eye to Doyle and let him become too controlling, too powerful and too secure.
I'm disappointed that Ferentz didn't react more strongly to the 2018 Diversity Task Force Report that documented numerous cases of racial disparities within the football program.
I'm disappointed that Ferentz allowed his son, Iowa offensive coordinator Brian Ferentz, to mistreat some of the players. It makes you wonder if Kirk can look at his son objectively.
I'm disappointed that Iowa assistant defensive coordinator Seth Wallace reportedly poked fun at a former player for his academic shortcomings, going as far as to post the player's grade-point average on the white board for his teammates to see.
I'm disappointed that some have accused the media of trying to get Kirk Ferentz fired when that hasn't been the case at all.
I'm disappointed that some former Iowa players have lashed out at each other on social media because they feel differently about the accusations and how they should be handled.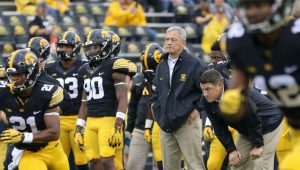 That's the word that keeps coming up as I react to what has happened – disappointed.
However, it goes beyond just being disappointed in Kirk Ferentz and those who were accused of mistreating players in the report.
I'm also disappointed that some former Iowa players, or those close to some former players, have tried to hijack this movement for their own personal gain, or as an act of vindictiveness.
And I'm disappointed in myself for not seeing what now looks obvious with hindsight.
I remember wanting to ask Kirk Ferentz if it bothered him that 16 of the 18 players on Iowa's 2017 Leadership Group were white, but I couldn't bring myself to do it at the annual media day event in Chicago, or at Iowa's annual media day event that year.
I also thought it was peculiar that no black players were available for comment for a story I had planned to write in February 2019 about former Iowa players, who after making it in the NFL, still would choose to train under Doyle during the offseason.
And yet, again I did nothing except not write the story.
It hurts when somebody that you have held in such high regard isn't quite as perfect as you were led to believe.
Kirk Ferentz has flaws just like the rest of us do.
But Kirk Ferentz is also a good person in many ways and deserves a chance to fix things and to steer the ship back in the right direction.
I might feel differently if more players had accused Kirk Ferentz of wrongdoing instead of just a few.
Many of the players who said they were mistreated also made sure to point out that Kirk Ferentz wasn't the problem.
The parents of many of the Iowa players also have voiced their support for Kirk Ferentz, and that means a lot.
It will be interesting to see how Kirk Ferentz handles this new way of life since Daniels tweeted because the circumstances will never be like they were before Daniels tweeted.
The players have gained more power, while Kirk Ferentz has lost some power and control.
The players are now allowed to be on Twitter, and it wouldn't surprise me if first-year players will be allowed to be interviewed by the media once the circumstances with football coverage return somewhat to normal whenever that might be.
The fact that the Big Ten Conference has cancelled fall football due to concerns about the Coronavirus is disappointing because the playing field is one place where the focus is solely on football.
It's easy to forget that Iowa has combined to win 47 games over the past five seasons, which is the most wins during a five-year stretch in program history.
Iowa has also won three consecutive bowl games and stayed clear of any NCAA wrongdoing.
There is so much to like about Hawkeye football under the 65-year old Kirk Ferentz.
That's why it is was so disappointing to finally hear about what bad been festering within the culture for years.
I meant to write this column a while ago, but kept putting it off in order to gain more perspective, and because it's an uncomfortable and polarizing topic.
Some might accuse me of beating a dead horse or rehashing old news, but this is the first time that I've tried to put this controversy in perspective.
And it's the first time that I've said how I truly feel about Kirk Ferentz since this story broke.
Kirk Ferentz has accepted responsibility and is determined to fix what needs to be fixed.
He deserves a chance to turn disappointment into redemption.
It's now time to move on and let this story evolve.