By Pat Harty
IOWA CITY, Iowa – A question that I often get asked these days is do I agree with the Big Ten Conference's decision to cancel the fall football season.
My answer is always the same; I don't know.
I don't know if it's safe enough to play football this fall, or too risky from a health standpoint due to the COVID-19 global pandemic.
I don't have enough data or privileged information or intelligence to answer that complicated and polarizing question.
My hope is that the Big Ten decision makers made the decision for all of the right reasons, beginning with player safety.
That is also my hope for the three Power 5 conferences – the Big 12, the Southeastern Conference and the Atlantic Coast Conference – that still plan to play football this fall.
I'm in no position to say that either decision is right or wrong at this point. Nobody, including the medical experts, has that answer right now.
However, if the three conferences make it through the fall season with little trouble, and without any serious health problems, it'll be hard to defend the Big Ten's decision not to play this fall, and the Big Ten will have a bigger public relations problem than it already has now.
Big Ten Commissioner Kevin Warren will also have some explaining to do, even though, he didn't make the decision to cancel fall football.
My hope is that the three conferences will succeed in playing this fall because to feel otherwise would be disgusting, selfish and evil.
The conspiracy theory in which the media, especially the national media, is being accused of not wanting football to be played this fall for political reasons is just nonsense.
I hoped and prayed throughout the spring and summer that football would be played this fall, because for one, my livelihood depends on it, and because of its impact on the Iowa City economy, and because Hawkeye football is so deeply rooted in my life, and in the lives of thousands of fans.
It is estimated that Iowa's seven home games help raise about $100 million for the local economy on an annual basis.
The Iowa Athletic Department is also facing huge financial shortfalls, and already has cut four sports in response to decision to cancel fall football, a decision that was made less than a month ago.
So who in their right mind would wish this misery on anybody?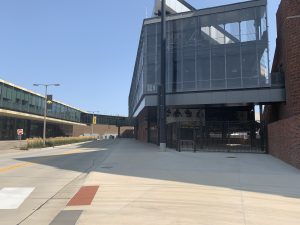 I don't normally speak for the Iowa media, but I will this time because it's silly to think that any of us are pleased about the decision to cancel fall football.
It seems that for some, if the media doesn't outwardly disagree with the Big Ten's decision to cancel fall football, or if it reports on information that supports the Big Ten's decision, then that must mean the media agrees with the decision.
But why can't there be a middle ground to this debate because that's where I am right now.
I can't criticize the Big Ten's decision because it's too early to know if it's the right or wrong decision.
I can criticize the way in which the Big Ten has handled its decision from a transparency, and from a consistency standpoint, as I have multiple times because it leaves much to be desired.
But to go beyond that would just be guessing, or making assumptions, about something whose conclusion is uncertain.
While I hope that the three conferences make it through the fall season, I'd be less than truthful if I said I was confident it'll happen.
The on-campus college environment is just too vulnerable right now with the highly contagious coronavirus having killed nearly 190,000 in the United States, and with it still spreading in some states, including Iowa.
Some will argue that college players are at low risk of becoming seriously ill, and while that is true, the numbers are driving this narrative, along with fear about the long-term medical uncertainties.
The Big Ten has put its reputation on the line with its controversial decision. But it isn't alone with the Pac-12 also having canceled fall football.
Both conferences, in addition to facing a financial crisis, would face a public relations nightmare if the other three Power 5 conferences make it through the fall season.
There wouldn't be anything that Kevin Warren could say or do if that happens that would appease the disgruntled Big Ten fans, or the Big Ten players, or the parents of the current Big Ten players.
Warren already is in the awkward position of having a son who plays football for Mississippi State in the SEC. Warren is allowing his son to play this fall, so to his critics with Big Ten ties, he is being hypocritical and adhering to a double standard at the expense of Big Ten football.
I won't go as far as to call Warren a hypocrite because the Big Ten's presidents and chancellors made the decision to cancel fall football. But the optics look horrible, and would look even worse if the three Power 5 conferences make it through the season.
The fact that the five Power 5 conferences aren't unified in this decision shows that college football has a problem with leadership and direction.
Each of the five conferences has its own medical and legal experts who are advising on what decisions should or shouldn't be made.
It has been reported that concerns about long-term effects on the heart was a key factor in the Big Ten's decision to cancel fall football.
That certainly seems logical and acceptable, but critics accuse the Big Ten of overreacting and with twisting data to push a narrative.
They also wonder why it's safe to play high school football in Iowa, but not safe for the Iowa football team to play in the same state.
That is a fair question because of the lack of consistency.
Why is it safe for the high school kids in Iowa to play football this fall, but not safe for the Iowa Hawkeyes to play?
Again, I don't know who is right or wrong at this stage because we need more time for the story to develop.
I hate life without fall football, though, because it feels empty and sad, and because so many are suffering from not having it, including the media.