By Hawkeyesports.com
IOWA CITY, Iowa — Luka Garza and Ryan Kriener are co-winners of the Chris Street Award for the 2019-20 University of Iowa men's basketball season. The duo are two of eight players who garnered team recognition.
The Chris Street Award is presented annually to a Hawkeye player, or players, who best exemplify the spirit, enthusiasm, and intensity of Chris Street. Street was an Iowa basketball player who died in an auto accident in 1993, midway through his junior year.
Garza had a historic season leading the nationally-ranked Iowa men's basketball team to 20 victories and a likely NCAA Tournament berth if not for the COVID-19 pandemic. A unanimous consensus first-team All-America selection, the native of Washington, D.C., became the first UI men's basketball student-athlete to earn National Player of the Year distinction (Sporting News, Basketball Times, ESPN, FOX, Stadium, Bleacher Report). The junior center was also named the Pete Newell Big Man of the Year, Kareem Abdul-Jabbar Center of the Year, USBWA District VI Player of the Year, and Big Ten Men's Basketball Player of the Year.
Garza finished the 20-game conference schedule averaging a staggering 26.2 points per game last season, becoming the first player to average at least 26 points in Big Ten play since Purdue's Glenn Robinson in 1994 and first true center since Minnesota's Tom Kondla (28.3 ppg) in 1967. Garza scored a school-record 740 points, breaking the program's 50-year old single-season record previously set by John Johnson in 1970. Garza became one of three Big Ten players to ever to total 740+ points and 300+ rebounds in a single season. He scored 20 points or more in a school-record 16 straight Big Ten games, the longest streak by any player in the Big Ten since Ohio State's Dennis Hopson (16) in 1987. Garza produced against top competition all season long, averaging 26.7 points, 11.1 rebounds, and 1.7 blocks in 12 contests against AP ranked opponents, including recording 11 straight 20-point performances.
Garza also earned the team's Best Rebounder Award, pulling down a team-best 9.8 rebounds per contest, which ranked fourth best in the league. He grabbed 12 boards or more in 10 contests in 2019-20, including twice recording a career-high 18 rebounds (Nebraska, Wisconsin).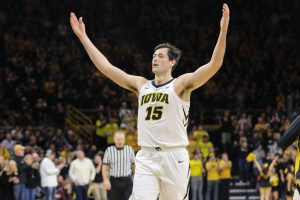 Kriener, a senior co-captain, was Iowa's leading scorer off the bench, averaging 7.7 points. The Spirit Lake, Iowa, native provided productive minutes in every game. The versatile center led the team in blocked shots six times and did not miss a field goal attempt in three games in 2019-20 (DePaul, Cal Poly, Kennesaw State). Kriener made 16 straight field goals over a span of three home games (Kennesaw State; Maryland; Michigan).
Kriener also was co-winner of the team's Most Improved Award with Joe Wieskamp. For the third straight season, Kriener boosted his production in nearly every statistical category from the previous season. Wieskamp was a third-team All-Big Ten and USBWA All-District selection as a sophomore in 2019-20. He ranked second on the team in points per game (14.0) and rebounds (6.1), and tied for 13th in the Big Ten in 3-pointers made per contest (1.7). The native of Muscatine, Iowa, ranked first in the Big Ten in free throw accuracy (.856) and made his last 22 straight free throw attempts dating back to Feb. 13. Wieskamp posted three double-doubles, led the team in steals 10 times, and scored 15 points or more 13 times this past season. He posted career highs this season in scoring (30 vs. Nebraska), rebounds (11 vs. Maryland), assists (4 vs. Rutgers), blocked shots (2 vs. Minnesota), and free throws made (9 vs. Michigan).
Other Hawkeyes recognized include Michael Baer, Bakari Evelyn, CJ Fredrick, Connor McCaffery, and Joe Toussaint.
McCaffery was honored with the Top Playmaker Award, as well as sharing the Academic Excellence Award with Baer for a second consecutive season. McCaffery led the Big Ten and country in assist-to-turnover ratio (4.6). The redshirt sophomore saw action at four different positions throughout the season. He posted 193 points, 124 rebounds, a single-season high 124 assists, 35 steals, and 27 turnovers. McCaffery is the only Division I player, dating back to 1993, with 175+ points, 120+ assists, 120+ rebounds, 25+ steals, and 27 or fewer turnovers in a single-season. He was the only player in the nation with more than 120 assists and less than 30 turnovers and only player nationally to average at least six points, four rebounds, four assists, and less than one turnover per game.
McCaffery was chosen as Iowa's Male Big Ten Sportsmanship Award honoree for 2019-20. The finance major also excelled in the classroom being named a Big Ten Distinguished Scholar and to the NABC Honors Court, CoSIDA Academic All-District First Team and Academic All-Big Ten selection, and Fall and Spring Semester Dean's List laurels. Baer, a junior, was a Big Ten Distinguished Scholar and named to the NABC Honors Court, while also earning Spring Semester Dean's List accolades.
Fredrick earned the team's Newcomer of the Year Award. Fredrick was a regular in the Hawkeye lineup as a rookie, starting all 25 games played, and earning All-Big Ten Freshman Team accolades. The native of Cincinnati, Ohio, led the conference in 3-point field goal percentage (.461, 47-of-102) and ranked third on the team in points per game (10.2). Fredrick was one of only three players nationally — and only player from a major conference dating back to 1993 — to total 65+ assists, 32 or fewer turnovers, and shoot 46 percent or better from 3-point range. In his first month of competition, Fredrick was voted to the Las Vegas Invitational All-Tournament Team, averaging 13 points on 60 percent shooting from the field (9-of-15) and 3.5 assist per game in the two tournament contests.
Evelyn and Toussaint were the recipient of the Kenny Arnold Hawkeye Spirit Award. This award is presented to the Hawkeye(s) who exemplifies Arnold's spirit of leadership, character, courage, determination and poise. This player inspires his teammates to be their very best in spite of the odds.
Toussaint competed in all 31 games as a true freshman, including starting the final 20 contests. He averaged 6.5 points, 2.9 assists, 2.0 rebounds, and a team-best 1.2 steals. Toussaint scored in double figures seven times, led the team in assists nine times and steals eight times. He tied for seventh in the Big Ten in steals per game (1.2), while his 2.9 assists per game tied for the 16th most in the conference and the second most by Big Ten freshmen. He was named Big Ten Freshman of the Week (Jan. 6) after recording personal-best 18 points against No. 21 Penn State behind a 16-point outburst in the second half.
Evelyn, joined the Hawkeye roster for his redshirt senior season, playing a pivotal role in Iowa's success. He saw action in all 31 games off the bench. He netted a season-high 15 points, bolstered by draining three 3-point field goals, in win over Cincinnati at the United Center in Chicago. Other highlights from his redshirt senior year include scoring all seven points, including making all four free throw attempts, in the final 7:42 of the second half to help Iowa pull away from Penn State, setting a season high in field goals made (5) and tying a season high in points (15) and 3-pointers (3) in victory over #25 Ohio State, and sinking two clutch free throws in the final minutes in a comeback win at Minnesota.
Iowa posted a 20-11 overall record in 2019-20, including an 11-9 mark for a fifth place finish in the Big Ten. The Hawkeyes were ranked for a majority of the season; finishing the season ranked No. 25 in the AP Poll.
2020 IOWA MEN'S BASKETBALL TEAM AWARDS
CHRIS STREET AWARD: Luka Garza, Ryan Kriener
TOP PLAYMAKER: Connor McCaffery
NEWCOMER OF THE YEAR: CJ Fredrick
MOST IMPROVED: Ryan Kriener, Joe Wieskamp
BEST REBOUNDER: Luka Garza
ACADEMIC EXCELLENCE AWARD: Michael Baer, Connor McCaffery
KENNY ARNOLD HAWKEYE SPIRIT AWARD: Bakari Evelyn, Joe Toussaint
BIG TEN, NATIONAL PLAYER OF THE YEAR: Luka Garza
BIG TEN FREE THROW PERCENTAGE LEADER: Joe Wieskamp
BIG TEN 3-POINT FIELD GOAL PERCENTAGE LEADER: CJ Fredrick
BIG TEN, NATIONAL ASSIST-TO-TURNOVER RATIO LEADER: Connor McCaffery