By Pat Harty
IOWA CITY, Iowa – Aaron Mallett is proof of what can happen when somebody is surrounded by good people who they admire and trust, and who they want to make proud.
The former University of Iowa star hurdler was reminded of that after having won the 110-meter hurdle event at the IAAF Diamond League last Friday in Doha, Qatar with a personal-best time of 13.15 seconds.
Mallett's time is the fastest in the United States in that event in 2020, and the third fastest time in the world this year.
Word quickly spread of his achievement and then Mallett started hearing from those close to him, including former Iowa track and field coach Larry Wieczorek, who texted Mallett shortly after the race to congratulate him.
"Just giving me congratulations and he just told me how proud he was; it just made me think of how they were when they came to recruit me, him and Joey Woody," Mallett said of Wieczorek and of Iowa's current Director of Track and Field and Cross Country, Joey Woody. "The nicest people ever, just some people that you didn't want to let down if that makes sense.
"That's another reason I came to Iowa. I just felt like they invested so much into me and into the program that it was going to push me to go as far as I can because I just didn't want to let those guys down."
Wieczorek and Woody both made Mallett feel special during the recruiting process, and they convinced him that Iowa was a place where a talented hurdler like him could thrive.
Woody had been a world class performer in the 400 hurdles, and an NCAA champion in that event at Northern Iowa in 1997. His success made a strong impression on Mallett during the recruiting process.
Mallett, who grew up in St. Louis, was a high school state champion in the 110 hurdles and he ultimately picked Iowa over Purdue, largely because of how he felt about Woody and Wieczorek, and because of Iowa's recent history of developing star hurdlers.
Woody was Wieczorek's top assistant at the time, and then was promoted after Wieczorek retired shortly after the 2014 outdoor season.
"For me it came down to Purdue and Iowa, and I think what really set me apart was that Iowa had a significant amount of great athletes that had come to the program, and then especially for me, they had a great amount of hurdlers, especially in recent years, and a bunch of really good guys that had just come up and we're on their way kind of out," Mallett said. "And I was like, well, these guys came in and they got that good, then I feel like I can get just as good."
Mallett was right to feel that way based on what he would go on to accomplish as a Hawkeye from 2014-17.
He was a three-time Big Ten champion in the 110 hurdles and a two-time Big Ten champion in the indoor 60-meter hurdles.
He also holds the school records in both of those events, and now at the age of 26, Mallett is emerging as one of the top 110 hurdlers in the world.
His goal is to make the United States Olympic Team, and should that happen, Mallett will have Woody and Wieczorek to thank for helping to pave the way.
The 47-year old Woody has almost been like a father figure to Mallett.
It isn't easy being a professional track athlete, on or off the track, and Woody has helped Mallett stay on the difficult course.
"Joey Woody has taken the program to even higher heights and him and his wife, and his family, have helped me along this journey," Mallett said. "I didn't have a sponsorship or anything like that so they allowed me to coach kids and he would help me financially a little bit, just so I could get by because he understood what it took to get to the level that I was trying to get to because he was a professional athlete for a while. It was really just the best decision I ever made."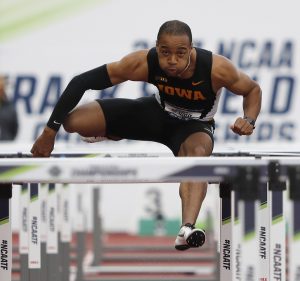 Mallett didn't even take an official visit to Iowa.
Instead, his high school coach suggested since Mallett lived relatively close to the Iowa campus that they drive up together from St. Louis and just check it out to see what Mallett thought.
"I was like, okay, cool, and when I came up here I loved it," Mallett said. "Joey Woody was great. At the time, coach Wiz was here, coach Larry Wieczorek was the head coach at the time, and everybody was just awesome. So I kind of just fell in love with it and then the more that I look back at that decision it was really the best decision that I've made in my life."
Wieczorek was a star distance runner at Iowa in the 1960s and then became an assistant coach at his alma mater in 1984 under former head coach Ted Wheeler.
Wieczorek replaced Wheeler as men's track coach in 1997, and in 2008-09, Iowa's men's and women's programs were combined under Wieczorek.
Both programs having been steadily on the rise with the Iowa men's program winning the Big Ten outdoor title in 2011 under Wieczorek and in 2019 under Woody.
And though Mallett wasn't a part of either Big Ten champion team, Woody made him feel like he was a part of it.
"I was just so happy for those guys and I knew how much they deserved it," Mallett said of Iowa's 2019 Big Ten champion team. "And I remember (coach Woody) telling me it wouldn't have been possible without me, and I was just in my head thinking, what is he talking about?
Woody was talking about the impact that Mallett still has on the Iowa program. Mallett still lives and trains in Iowa City, and that combined with his success as a Hawkeye, is something Woody can sell to recruits.
Former Iowa track stars Erik Sowinski and Brittany Brown also still live and train in Iowa City.
"Coming back and training at Iowa where it feels so natural and comfortable, I know where everything is and people know my faith and stuff like that," Mallett said. "It just makes you feel that you've got an entire city behind you, and you have like an extended family. So it's great."
Mallett has taken his performance to a higher level despite all of the obstacles caused by the COVID-19 global pandemic.
There was a time in the spring when it was hard for Mallett just to find a place to train when most of the United States was in lock down.
"It was weird," Mallett said. "I started to notice it when tracks that I would train at were shut down. I would train at the University of Iowa, so I still had access to all of their facilities thanks to Joey Woody. I noticed it was weird when I couldn't use the track or the weight room or stuff that I would normally use.
"And then my next options would be try to go to high schools, but high schools were trying to combat the virus and they were closing down their tracks for public use. So it kind of made it really difficult to even jut train, which is another why the season was so weird for me because for a long time I didn't have a place to train."
Mallett now has places to train again, but the track meets in which he participates still look and feel differently due to health concerns with the coronavirus.
"Once I got a chance to run overseas and get in a few meets, there were a lot of different protocols that were in place," Mallett said. "So I had to test when I got over to Europe, provide documents to let them know I was cleared to come into the country."
Stadiums that are normally packed with fans are now mostly empty, but Mallett hasn't let that affect him.
He is so locked in and focused in the moments leading up to his races that he doesn't pay attention to the surroundings.
Mallett is currently taking about three weeks off from training to sort of refresh before he starts gearing up for what he hopes is a year to remember in 2021. He also works at Scheel's in the Coral Ridge Mall to help pay the bills.
"You kind of need that to let the body bounce back and recover and things of that nature," Mallett said of taking a break from training. "So I've got a few weeks of not doing anything and then from there, with the virus, you still don't know how things are going to play out as far as if there will be an indoor season, which usually starts around December and January and goes until about March.
"So we're not sure if there is going to be much of an indoor season. But I'm going to train as if there is, because even if there isn't, then hopefully, there's still going to be the outdoor season, and ultimately, the Olympics."
But just thinking about maybe the pull he can get from saying we still have Aaron training here