By Pat Harty
IOWA CITY, Iowa – Alaric Jackson seems determined to finish his Hawkeye football career on a high note.
In fact, the Detroit native is so determined to excel as a senior left tackle that he has made a dramatic change with his diet.
Jackson is now a vegan, which means he no longer consumes any animal products.
He no longer eats steak or pork chops or chicken or any of those tasty meat products that so many crave.
That might surprise some, considering the 6-foot-6 Jackson relies heavily on his size and strength to perform in the trenches.
"I'm still 320 (pounds)," Jackson said Tuesday on a zoom conference with the media. "Nothing has changed, just lost some body fat. That's all."
Actually, a lot has changed, but Jackson feels the changes he has made with his diet will make him even more effective.
Iowa offensive line coach Tim Polasek already has noticed a change.
"I don't think I've coached a vegan before," Polasek said. "He no longer appreciates my pictures of meat and the jerky I smoked. He's not interested in that.
"He's quicker. He's more sudden. I see a change in the morning. He's got a little more energy, so maybe there is something to this, maybe we all should take some notes."
Jackson already has set a pretty high standard as a three-year starter at left tackle for Iowa. He is on course to become the only four-year starter at left tackle in program history, and the chance of making an NFL roster seems well within his reach.
Jackson probably would have been selected in the 2020 NFL Draft if he had declared as a fourth-year junior. And you couldn't have blamed Jackson if he had skipped his senior season, because for a while, it looked as if he wouldn't have a senior season due to the COVID-19 global pandemic.
But Jackson chose to finish what he started at Iowa, and his decision is huge from a personnel standpoint.
Iowa will face Purdue on either Oct. 23 or Oct. 24 in the season opener in West Lafayette, Ind.
"I was looking forward to the season for the most part," Jackson said when asked if he considered opting out of the 2020 season. "Just wait and see what happens from football aspect, just because there was no deciding factor."
Together, with Indiana graduate transfer Coy Cronk, Iowa now has two players who have combined for over 70 starts at offensive tackle.
Combine Jackson and Cronk with sophomore center Tyler Linderbaum and Iowa has a solid nucleus to build around up front.
Linderbaum is now considered one of the top centers in the Big Ten, and the same could be said for Jackson as a left tackle.
Jackson made second-team All-Big Ten as a sophomore in 2018 and was poised to have a solid junior campaign until he suffered a knee injury in the 2019 season opener against Miami (Ohio).
The injury caused Jackson to miss three games and he said he was only about 70 percent healthy after he returned to action.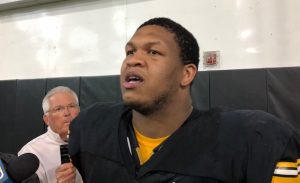 It was easy to overlook Jackson last season with Tristan Wirfs playing at such a high level as Iowa's other starting tackle.
Wirfs would go on to be named the Big Ten Offensive Lineman of the year last season as a third-year junior and he now starts at right tackle for the Tampa Bay Buccaneers after having been selected with the 13th pick overall the in the 2020 NFL Draft.
But with Wirfs having moved on, Jackson is now the anchor for Iowa's offensive line, and one of the most experienced offensive lineman in college football as a fifth-year senior.
The fact that Jackson was willing to change his diet because he thinks it'll make him better is a positive sign for the Iowa offense because it shows that Jackson is fully committed to reaching his vast potential.
Jackson was a multi-sport star in high school, and basketball was actually his first love. He also participated in soccer, baseball and track and field in high school.
But Jackson also knew that football was his best path to college, and by picking Iowa, he joined a program that has a long history of developing standout offensive linemen under head coach Kirk Ferentz.
Part of be a college football player is making sacrifices, and Jackson is willing to do that with his diet.
He gave up a lot in order to accomplish a lot.
And that's just what a team needs from a leader.