By Pat Harty
IOWA CITY, Iowa – Even with eight former black Iowa players demanding his removal as head coach, Kirk Ferentz isn't coaching to save his job right now.
He's coaching to save his once-proud legacy.
Steps already have been taken in response to allegations of racial disparities by multiple former black players.
That includes the removal of Chris Doyle as strength and conditioning coach, and the creation of an advisory board consisting of multiple former Iowa players who will address racial issues and act as a liaison for the current players.
Iowa's 2020 Leadership Group is more than 50 percent black for the first time, with 12 of the 21 players picked for this year's group being black.
The Iowa players also will be allowed to either stand or kneel during the National Anthem in the moments before Saturday's season opener at Purdue, and some of the players, including receiver Tyrone Tracy Jr., said they will kneel.
So there is noticeable progress, but there is also no quick fix for Iowa's problems because it takes more than two or three months to change a culture
The focus now finally shifts to the playing field where Iowa hasn't been for nearly 10 months, and where Kirk Ferentz is most comfortable.
What happens on the field won't change what already has happened off the field during this tumultuous offseason. But a successful season would help to push the racial controversy further down once the story about Kirk Ferentz's legacy is written.
Right now, the racial controversy would be in the first two or three sentences about Ferentz, and deservedly so, because it's timely, and because it's serious.
Winning won't cure what is ailing Iowa right now, but it would help to create a nice distraction, and would help to repair Ferentz's legacy to a point.
Some might wonder why Ferentz at age 65 still wants to subject himself to this kind of pressure and scrutiny under the current circumstances.
Ferentz does it because he loves coaching football, he loves being the Iowa head coach, he loves working with his son, Iowa offensive coordinator Brian Ferentz, but also because he doesn't want to leave under these difficult circumstances and have the racial controversy be one of his final chapters.
Some will say that Kirk Ferentz still is trying to create a succession plan for Brian Ferentz to succeed him as head coach.
And while that might be true, it's hard to see that happening under the current circumstances.
That could change if Iowa wins a Big Ten title or two over the next few seasons. But that's also hard to envision since Iowa hasn't won a Big Ten title since 2004.
Kirk Ferentz just needs to win football games, and it starts with a tough task at Purdue on Saturday, although, the circumstances for a road game could be much worse.
Purdue will be without head coach Jeff Brohm, who tested positive for COVID-19, and without some assistant coaches, and without dynamic receiver and return specialist Rondale Moore.
Purdue will also be without fans for the most part, so there are several key intangibles working to Iowa's advantage during this new normal, which previously caused the Big Ten season to be canceled in August before being reinstated about a month later.
"Good news right now is it is game week and I don't know if any of us ever thought that was going to happen," Kirk Ferentz said. "So certainly we're excited about the fact that's going to take place.
"I think for all of us, not only in sports, but just in life, it's been an interesting path for sure, a strange path. And the bottom line is I think as we move forward it's going to stay abnormal for sure and everybody is just going to have to stay very diligent in the program and outside."
One of the more intriguing matchups in Saturday's game will involve two former Iowa players with Iowa offensive coordinator Brian Ferentz, a former offensive lineman under his father, matched against Purdue defensive coordinator and former Iowa linebacker Bob Diaco.
Brian Ferentz has gone from calling a masterful game plan during Iowa's 49-24 victory over the University of Southern California in the Holiday Bowl this past Dec. 27th to recently apologizing publicly to any player who felt mistreated or disrespected by him.
Brian Ferentz made the apology after having been accused of mistreatment by a few former black players.
So much like his father, Brian Ferentz also has a chance to repair his image by helping Iowa to win games.
Brian Ferentz has arguably the best group of receivers ever assembled under Kirk Ferentz, a dynamic running back in sophomore Tyler Goodson and an experienced offensive line to help pave the way.
The pieces are certainly in place for the offense to be productive and explosive, assuming the quarterback position delivers.
Third-year sophomore quarterback Spencer Petras will make his first start for Iowa on Saturday, and he doesn't have to win the game. He just has to avoid losing it.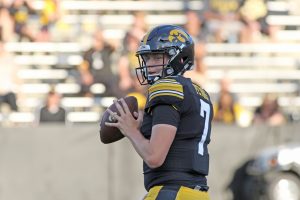 "I'm sure I'll have nerves," Petras said. "Coach Ferentz puts it well; anyone that has a heartbeat will have some nerves the first game. But something we talk about here is the story of the captain of the ship that has tied all of its knots correctly. When the waters get choppy and the storms are coming, he expects to get through because he's prepared to the best of his ability. And I kind of take pride in that.
"As long as I prepare to the best of my ability this week, and I know I have this offseason and in camp, when my head it's the pillow Friday night I'll be able to sleep. And I have faith in the fact that we prepared the best we can. We just have to go out and play."
Some might call it an overreaction to say that Kirk Ferentz's legacy is on the line, but it is to an extent.
Imagine the response should Iowa struggle this season. Some would undoubtedly, fair or not, blame it on the racial issues, saying it has divided the team.
Kirk Ferentz still appears to have the full support of the Iowa administration, but it's also reasonable to think that Ferentz has lost some leverage and bargaining power in the wake of the allegations.
The best way to move forward, besides making the necessary changes within the culture, is to win football games. A successful 2020 season would shift the focus away from the racial controversy, and would show that the Iowa program still has a solid foundation, and that Kirk Ferentz's message still is being heard.
You just hope there is a full nine-game season, because with COVID-19 still spreading in multiple states, there is no guarantee that Iowa will play a full schedule.
Winning doesn't cure everything, but it would provide a huge boost for a head coach, who has been suffering from a public relations standpoint since early June.
Prediction: Iowa 30, Purdue 27