By Pat Harty
IOWA CITY, Iowa – Sometimes, it's subtle things that might speak the loudest and offer hope during tough times.
And these are without question tough times for anybody associated with or loyal to the Iowa football team.
The strain and uncertainty from having to deal with a highly contagious virus is bad enough.
But combine that with the accusations of racial disparities that were made against the Iowa program in the summer, and with Saturday's gut-wrenching 24-20 loss at Purdue and you have a recipe for misery.
It just seems recently that what could go wrong for Iowa football has gone wrong, and yes, much of it has been self-inflicted wounds, on and off the field.
Iowa only has itself to blame for the racial issues, and for Saturday's loss in which the Hawkeyes fumbled twice in Purdue territory and had 10 penalties.
And while it's only one game, this abbreviated nine-game season is being played during a global pandemic where hardly anything is guaranteed, and where one loss is more costly.
Any loss stings.
But it's how Iowa lost to Purdue on Saturday, and the circumstances surrounding the game, that made it worse.
Purdue was without head coach Jeff Brohm after he tested positive for COVID-19, and without several assistant coaches, and star receiver and return specialist Rondale Moore, and yet, still prevailed.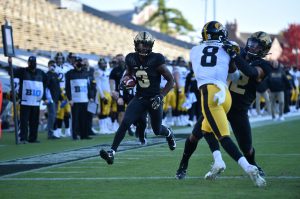 Sophomore receiver David Bell torched Iowa again with 13 catches, with three resulting in touchdowns, including the game-winner late in the fourth quarter on a play in which Iowa had a breakdown on defense.
It appeared that senior cornerback Matt Hankins expected help from a teammate on the inside, but it never came, and Bell was wide open, and now Iowa is 0-1 and preparing to face what appears to be a rejuvenated Northwestern squad that is now being led by Indiana transfer Peyton Ramsey at quarterback.
The Wildcats dismantled Maryland 43-3 on Saturday, and looked in mid-season form while doing it.
At this point, you probably assume that this column will continue down misery lane because it's so easy to kick Iowa while it's down.
But you'd be wrong, although, it is worth saying before making a transition to something more positive that Iowa can't afford to have another game in which senior receiver Ihmir Smith-Marsette has no catches.
It's incredible that Iowa had 460 yards against Purdue, but without the explosive Smith-Marsette having any receiving yards.
As for the more positive perspective, you could start with the success of the Iowa running game, which produced 195 yards and averaged 5.4 yards per carry.
If Tyler Goodson and his offensive cohorts keep doing anything close to that, and if they do a better job of protecting the football and stop having so many false starts, then something positive will happen.
Iowa has three proven running backs in Goodson, senior Mekhi Sargent and junior Ivory Kelly-Martin. They rushed for 77, 71 and 29 yards, respectively, against Purdue, but Goodson and Sargent also lost fumbles, with Sargent's coming in the fourth quarter.
"We've got total confidence in all three of the guys," Kirk Ferentz said after Saturday's loss. "Ivory didn't play quite as much, maybe. All of those guys, Tyler is a good football player, I thought Mekhi was playing great, quite frankly, in his quiet way. But he was really being productive, running strong, running tough. It's a shame, because he does a good job with that ball, he's not a sloppy player by any stretch.
"So, we plan on playing all three of those guys during the course of the year. Shadrick Byrd has done a good job, I think he's really improved, played special teams today. That'll be the plan moving forward. I don't see any reason to change that. It's just a really unfortunate break and I'm sure he's sick over it, that's the kind of guy he is."
A person whose glass is half empty will focus on Goodson not having any carries or receptions in the fourth quarter against Purdue, while a person whose glass is half full will focus on Goodson finishing with 136 yards, including 59 receiving yards on five catches, and that Iowa offensive coordinator Brian Ferentz tried to get Goodson the ball on a screen pass on Iowa's final offensive possession, but it just didn't work.
The glass-half-full narrative would also mention how Goodson ran with more power and authority against Purdue, and with more anger, compared to last season. There were several plays in which the Iowa offensive line created an overpowering surge that allowed Goodson to accelerate through the hole, and it almost looked like vintage Wisconsin.
A person whose glass is half empty will focus on why Iowa couldn't stop Purdue's running game in the second half, and why David Bell always seemed to be open, while a person whose glass is half full will express confidence in defensive coordinator Phil Parker to fix things because he usually does.
Sophomore quarterback Spencer Petras struggled early in his first career start, and he struggled some near the end. But he also made some big-time throws while passing for 265 yards, and he was hurt by the turnovers and penalties.
Iowa didn't lose because of its quarterback.
More than anything, though, it was the attitude of the Iowa players, and the many subtle examples of leadership and togetherness that should inspire hope and optimism.
It was apparent from the start of the Purdue game that the Iowa players were locked in and seemed unified.
Fifth-year senior left tackle Alaric Jackson, who is now a vegan, has been described as having more energy and being more active, and that was apparent from the beginning of Saturday's game as the 6-foot-6, 315-pound Jackson repeatedly ran down field to congratulate an offensive teammate for making a play.
Iowa didn't lose on Saturday because of a lack of leadership, or a lack of hustle, or a lack of toughness or energy. It lost because it self-destructed at the worst times.
"Penalties and turnovers changed the game," Goodson said. "We beat ourselves today."
To lose by self-destructing is bad enough, but the situation would be more concerning if Iowa had shown little emotion or a lack of leadership, but that wasn't the case.
I'm sticking with the belief that the next two games against Northwestern and Michigan State are must-wins if Iowa hopes to turn this surreal season into something special.
Both games will be played at Kinnick Stadium, albeit without fans, but then it's back on the road for games at Wisconsin and Penn State.
The last thing Iowa needs is to be 1-2 heading into two road games in which it'll almost certainly be the underdog.
Is it time to panic?
Not yet, but a 1-2 record probably would cause some to push the panic button.