By Tyler Devine
IOWA CITY, Iowa – For the second consecutive game, turnovers at crucial times plagued the Iowa football team, this time in a  21-20 loss to Northwestern on Saturday.
Sophomore quarterback Spencer Petras, making his second career start, threw three interceptions, all of which came in the second half, with two coming on Iowa's final three possessions.
"The big theme after last week was making sure I go through my progression and not force anything," Petras said. "I'll have to wait to see the tape, obviously, but I thought I did a better job of that today. I just think the theme, for all of us – on offense and the whole team – is we're really close, it's just better execution. Back to the drawing board this week. But we're close. Game of inches, obviously. It's very competitive, very close."
The 6-foot-5, 231-pound Petras finished 26-of-50 passing for 216 yard and threw his first career touchdown pass.
The sophomore San Rafael, Calif., native seemed calm and collected in the first half, but appeared to force throws and scramble more in the second half.
Petras' second interception was a bullet that bounced off the hands of sophomore tight end Sam LaPorta and into the hands of a Northwestern defender just three plays after Wildcats quarterback Peyton Ramsey threw an interception.
The third came with just over a minute to play with Iowa making a last ditch effort at victory.
Petras was asked after the game if he felt he threw the ball too hard on the second interception.
"I think I just put it a little too far out in front of him," Petras said. "Again, I'll have to see it on tape. It's a game of inches, it's close. It was just a little too far out in front."
Head coach Kirk Ferentz said there is always concern about an inexperienced quarterback pressing things early in their careers, but is confident Petras has what it takes to bounce back.
"The bottom line is Spencer is a two-game quarterback right now, so he's a very young guy," Ferentz said. "This was not a fun experience certainly, wasn't a great experience for him in that second half, but he'll grow from this because he's so conscientious and he works well. He'll be better for it, but boy, it's hard in the process, we all know that.
"It's just part of the game sometimes, so he'll get back up on his feet, we'll go back to work tomorrow and I'm confident he'll be a better player moving forward, but yeah, that's certainly something we always worry about."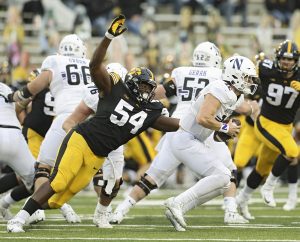 Nixon not satisfied: On a positive note for Iowa, junior defensive lineman Daviyon Nixon continued his dominant, disruptive play, compiling a career-high 11 tackles, 1.5 sacks, three tackles-for-loss and a forced fumble.
Through two games, Nixon is tied for the team lead with 18 tackles, and has a team-high 5.5 tackles-for-loss.
But without a victory, the statistics don't mean much to the Kenosha, Wis., native.
"It wasn't enough," Nixon said. "It just wasn't enough. If we don't get the win, I never feel like I did enough from a defensive standpoint."
The 6-foot-3, 305-pound Nixon's dominance persists despite facing frequent double teams by opposing defenses, something that Nixon grew accustomed to even before came to Iowa.
"I did get double teamed a lot this game," Nixon said. "It's something I'm used to now. Growing up with my stature and my size, I'm always getting double teamed. I've had it, in high school, where teams will watch film and change the whole game plan because of me. I've still just got to be productive as much as possible."