By Pat Harty
IOWA CITY, Iowa – Chuck Long is widely regarded as the greatest quarterback in the history of the Iowa football program, and one of the best in Big Ten history.
But even he started slowly from a work standpoint compared to how current Iowa quarterback Spencer Petras is being used.
Long as a redshirt freshman in 1982 averaged 19 pass attempts per game as a first-year starter under Hayden Fry, while Petras as a third-year sophomore is currently averaging nearly 45 attempts per game, with 89 attempts in his first two starts against Purdue and Northwestern, including 50 against the Wildcats this past Saturday.
The fact that Iowa lost both games has some fans questioning the game plan, and whether Petras is up for the task.
Long has a message for those fans.
"If there is any year to be patient with a quarterback, this is the year," Long said Thursday in a telephone interview. "This is going to be a growing year for Spencer. And with the growth, there's going to be a lot of growing pains. And the fan base has to understand, he had nowhere near the repetitions he would have if there wasn't Covid.
"I think from the fans' standpoint, you've got to realize this kid hasn't had a lot of reps. He didn't have any spring reps. He barely got through the summer, and fall training camp was off and on again. I would tell the fan base he doesn't have the rhythm with his receivers yet. He doesn't have the time with his receivers yet. It's very important. That's the stuff you develop in the spring and in the summer."
Iowa will look to avoid starting 0-3 for the first time since 2000 when it faces 1-1 Michigan State at 11 a.m. on Saturday at Kinnick Stadium.
The Spartans also have a first-year starting quarterback in junior Rocky Lombardi, who graduated from West Des Moines Valley.
It isn't easy being a first-year starting quarterback in the Big Ten under normal circumstances.
But to do it during a global pandemic takes the challenge to a whole different level, physically, mentally and emotionally.
"We don't have an experienced quarterback," said Iowa coach Kirk Ferentz. "That is one thing that's a little bit different I've referenced. We've had a lot of first-year quarterbacks have a lot of success. Those guys all had spring ball and a normal camp going into the season, and they had the month of September to kind of build up to Big Ten play but that's not the case.
"So we are right in league play. Spring ball, nobody had it, or at least not many people had. I shouldn't say nobody."
The fact that Petras attempted 50 passes against Northwestern, while Iowa's running backs combined for just 18 carries had some questioning the play calling of offensive coordinator Brian Ferentz, who is Kirk Ferentz's son.
Iowa led 17-0 after the first quarter, but instead of relying on its running game to move the chains, to control the clock and to set tempo, Petras just kept throwing passes, but with little success.
Long thinks that pass-happy approach should change for Saturday's game against the Spartans, for the sake of the offense, and to help Petras.
"I would reverse that," Long said. "I would go 51 rushes and 20 (pass) attempts."
Long understands the desire to get Iowa's receivers heavily involved in the offense because this year's group of receivers is deep and talented.
But the situation with Petras also has to be taken into consideration to avoid putting him in difficult spots that are maybe beyond his capabilities at this point.
"I know wide receiver is a good group, but everything flows through your quarterback and what he's able to handle is what he can handle," Long said. "Regardless of the talent around you, you always have to game plan through the quarterback and what he can handle.
"I would like to see them just force that running game. They're not scoring a lot of points anyway throwing it. So you might as well go back to the run game and try to use clock-ball and then some play action off of that."
Iowa has three experienced running backs in sophomore starter Tyler Goodson, senior backup Mekhi Sargent and junior Ivory Kelly-Martin.
Long thinks Iowa should rely more on the running backs in order to help Petras get comfortable.
"I think they have capable running backs," Long said. "Sometimes, games get away from you. I think they're trying to play to the strength of their wide receiver group because it's one of the better groups they have.
"But again, you have to get back to what can your quarterback do? It doesn't matter if you have Jerry Rice out there. What can your quarterback do is how it starts in game planning."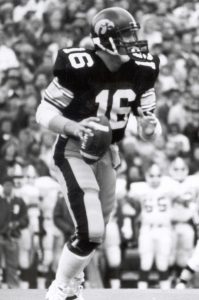 Long was a four-year starter at Iowa from 1982-85, and as a senior, he finished runner-up to Auburn running back Bo Jackson for the 1985 Heisman Trophy.  Long was also the first Big Ten quarterback to pass for at least 10,000 yards during a career.
He then played seven seasons in the NFL after being selected by the Detroit Lions in the first round of the 1986 NFL Draft.
Long was also the head coach for San Diego State for three seasons and a long-time college assistant coach and offensive coordinator.
He also has worked as an analyst for the Big Ten Network, so Long has been around football in some form or capacity for over 40 years, and he knows the quarterback position like the back of his hand.
However, Long never has had to take into consideration a global pandemic, and all the obstacles and distractions that come with it, when evaluating the performance of new starting quarterback at his alma mater.
"Right now, if you're a college football team you want to have a veteran quarterback," Long said. "You want to have a senior quarterback this year because of the Covid situation.
"All the teams that have a young guy, the first starting year, it's going to be a struggle. The fans just need to live with it a little bit, just live with it."
Petras came to Iowa in 2018 after having a standout career at Marin Catholic High School in northern California.
Unlike Long, whose high school team barely passed, Petras threw for 4,175 yards and 50 touchdowns in his senior season alone.
Petras is also in his third-year at Iowa, whereas Long was in his second year when he became the starter in 1982.
"I was not as far along as Spencer coming out of high school," Long said. "He came from the throwing era, so he was a head of the game compared to me.
"I was still learning the game. In 1982, I was still learning to read coverages while I was playing. At his high school, he threw the ball a heck of a lot."
But even with all of that experience in high school, Long thinks it's asking too much for Petras to throw 50 passes this early as a starter.
"They know more than we do, you understand that," Long said of the Iowa coaches. "Maybe there is something to it. But I think moving forward, you're going to see more balance. The fans have to just let this kid grow. There's going to be some pain, and there's going to be some moments just getting used to everything and not having a lot of reps behind.
"And then for Spencer himself, you just have to block out the noise and just bury his head and just get through it because there is going to be some growing pains."
The 6-foot-5, 235-pound Petras is similar in size to his predecessor at quarterback at Iowa, Nate Stanley.
Petras and Stanley were also were blessed with strong throwing arms, but that can be a curse, too, according to Long.
"I didn't possess the big arm that Stanley has and Petras has," Long said. "I didn't have that arm. I had to do it a different way. So it was a lot of touch and timing for me. I had to learn the timing aspect and get the ball off on time because I didn't have that arm where if the timing was off, I could smoke it in there between two defenders.
"Those are things that these guys can do. But sometimes, you rely on that too much, and you think, 'oh, I've got the big arm, even if miss read it I can still smoke it in there and that's where Spencer has to learn you can't do that at the collegiate level, that you could do in high school. As you go up in levels, there's less that you can get away with."
Stanley struggled early in his career with accuracy, and with throwing the ball too hard on shorter passes, and now Petras is struggling with the same thing.
"He's throwing every ball with one speed, and he'll develop that as it goes," Long said of Petras. "He'll develop the touch. He has the tools. He has a big, strong arm. I like his skill set. He can throw it.
"It's just learning all the little nuances of the tough over the linebacker and underneath the safety, putting the air on the long ball. He just hasn't had a lot of time with that this year. So he's learning it on the run right now."
Long laughed at the thought of him throwing 50 passes in his second career start as a Hawkeye.
"That was a whole high school season for me," Long said. "I just knew that I was never going to get to that point under coach Fry just because he was bringing me along slowly and he knew that I couldn't handle that."