By Pat Harty
IOWA CITY, Iowa – One of the most anticipated seasons in the history of the Iowa men's basketball program seems to have everything from a hype standpoint except, of course, good timing.
It isn't often that Iowa is considered a top-five team heading into a season, but this strange and surreal year is an exception.
And if that isn't strange enough, Iowa also has the leading candidate for National Player of the Year in 6-foot-11 senior center Luka Garza, and maybe the top clutch shooter in program history in fifth-year senior guard Jordan Bohannon, who is now healthy after his second hip surgery, and in position to become the Big Ten's all-time leader in 3-point field goals.
Fran McCaffery inherited a mess when he took over as the Iowa coach in 2010, but now a decade later, he has Iowa flirting with elite status.
But sadly, hardly anyone will have a chance to watch the season unfold in person because the COVID-19 global pandemic still is raging and Carver-Hawkeye Arena will mostly be empty due to health concerns.
McCaffery met with the media on Monday with the start of the season in barely two weeks, and he addressed multiple topics, including the incredibly high expectations and the continuing fight against a highly contagious virus.
"We don't address it every day," McCaffery said of the global pandemic. "But we address it pretty consistently because all of the success that we hope to have is going to have to be predicated on the ability to stay healthy."
Should Iowa manage to stay healthy, expectations are as high as they've been for decades, and maybe ever.
Iowa is ranked fifth in the Associated Press preseason poll, which is the highest amongst all of the Big Ten teams, and Iowa's highest preseason ranking in 65 years.
The ultimate goal is obviously to win the school's first national title, but there is another goal that Iowa hasn't accomplished in 40 years that also seems well within this team's reach.
The 1978-79 season marks the last time that Iowa has won the Big Ten regular-season title in men's basketball.
To help put that in perspective, Hayden Fry had yet to coach the Iowa football team in a game.
"I don't know that I look at what hasn't happened in a long time, and I would love it for this group," Fran McCaffery said. "They're a special group of young people that truly love each other, and they put the time in, and when you see a group work as hard as they have, you want them to succeed in a way that's special, and that would be a championship, whether it be a regular season or a tournament championship.
"A run in the NCAA Tournament is obviously what we all want. It's there for them as a possibility, but it's a long journey to make it happen."
The popularity of the NCAA Tournament has sort of made the conference regular-season title not seem as impressive as it used to be.
But you could argue that winning a regular-season title is more difficult than winning any postseason tournament, even the Big Dance.
There's a reason Iowa has come up short for four decades, actually lots of reasons, beginning with the fact that the regular-season is a grind, with or without the obstacles caused by a global pandemic.
But on the other hand, Michigan State has won 11 regular-season titles since 1980, while Indiana and Purdue have won 10 and nine, respectively, during that same time.
Even Maryland has won a Big Ten regular-season title despite only being a member since 2014.
Iowa's drought is beyond getting old. It's embarrassing.
That isn't meant as criticism for Fran McCaffery because he has only been around for one-fourth of the title drought.
Tom Davis is Iowa's all-time winningest men's basketball coach and he led the Hawkeyes to nine NCAA Tournament appearances during his 13 seasons, including the Elite Eight in 1987.
But Iowa never won a Big Ten regular-season title under Davis. The closest it came was in the 1996-97 season when Iowa finished second behind Minnesota.
The Gophers have since had to vacate that title due to rules violations, but history still recognizes Iowa for finishing second that season.
Iowa also finished second under head coach Steve Alford in the 2005-06 season.
Iowa's best finish under McCaffery has been a tie for third place in back-to-back seasons in 2015 and 2016.
Alford also led Iowa to Big Ten Tournament titles in 2001 and 2006, but his teams never advanced past the second round of the NCAA Tournament during his eight seasons as head coach.
In fact, Iowa hasn't advanced past the second round of the NCAA Tournament since 1999 during Tom Davis' final season as head coach.
So that's another goal for the current team to have on its to-do list.
And while Fran McCaffery doesn't pay much attention to what has or hasn't happened in the past, he has a different approach with regard to the high expectations.
"I think you have to embrace it," McCaffery said. "You have to enjoy it. I think they do. But they also understand it and respect it. You see some of the great teams — what did we have, seven in the top 25?
"So I think there's a tremendous respect on behalf of our players for the rest of the conference, but then also there's other teams on that list that we're going to be playing that aren't in our conference. We know what's before us, but I think that's the fun of it essentially."
McCaffery said all of the players are healthy, including 6-11 junior forward Jack Nunge, who suffered a season-ending knee injury in the fifth game last season.
"Jack has been terrific," McCaffery said. "He looks great health-wise. He's in great shape physically. He's been lifting now for the better part of two years, even though he had an injury. His upper body looks really good. Terrific shooter, skilled big guy who can play multiple positions. He's a shot blocker, he's a tremendous low post defender, he's a runner, he can stretch the floor, and he can really pass. We're really excited about getting Jack back."
Fran McCaffery also gave a positive update about his son, 6-9 redshirt freshman forward Patrick McCaffery, who only appeared in two games last season due to health reasons.
Patrick McCaffery has suffered from the residual effects from having had a malignant tumor removed from his thyroid in 2014.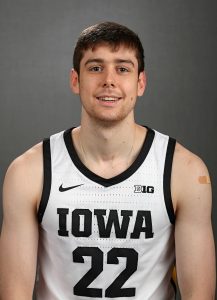 "Patrick is in a good place," Fran McCaffery said. "He's playing well. He had a little pulled muscle, so he didn't practice on Saturday, but he's been out there most of the days shooting it well, playing well, attacking. Physically he looks great. He's up to 205, which has been huge for him. It's hard to play in this league at 182 where I think he played in high school.
"He'll be a major factor for us."
So that just adds another piece to a loaded puzzle.
Under normal circumstances, fans would be getting ready to flock to Carver-Hawkeye Arena to support this nationally ranked team.
But instead, most fans will have to settle for watching on television, while the players and coaches will have to get used to being in mostly empty arenas.
Fran McCaffery already has been preparing for that strange circumstance.
"We're going to have a dress rehearsal on Saturday," he said. "We'll have refs and we'll have the table set up the way it is. We'll have the benches set up the way they are for games. We'll have some crowd noise the way it's going to be. There won't be any cardboard cutouts or anything like that. Maybe that will happen down the road.
"But it's interesting because you have to just deal with whatever comes before you. We've been doing that now for months, and hopefully being a veteran group we'll be better capable of handling that."