By Pat Harty
IOWA CITY, Iowa – It seems fair and accurate to say that Iowa freshman guard Caitlin Clark has the green light when it comes to shooting.
She almost certainly won't score at the incredible rate that she did as a high school superstar.
But unlike most freshmen, Clark will have a significant role as a scorer, and she already has earned the trust and respect from Iowa coach Lisa Bluder without even playing in a game yet.
"I think she's going to have to do it because that's her game, and I think she will be out of sorts if she's not doing that, if she doesn't have the ball in her hands, if she's not looking for that," Bluder said. "I don't think we'll see the best Caitlin unless she is really looking to score.
"But again, I cautioned her and really all of us that she's not going to put up the numbers she did in high school. She averaged 35 points a game or something like that. No, we're a balanced team. She's smart, and she's played with enough good players with the USA Basketball experience that she understands that and she knows this isn't going to be a one-woman show, and she understood that when we recruited her."
Bluder met with the media on Monday and discussed multiple topics.
It didn't take long for Clark's name to come up because there is enormous hype and interest surrounding the former West Des Moines Dowling star.
Clark was ranked as a five-star recruit and the No. 2 point guard in her senior class by ESPN. She also made first-team all-state three times, and she holds two state records, including the 5A record for most points in a game (60) and most 3-pointers made in a game (13).
Bluder was asked Monday what her sales pitch was to Clark.
"Taking us back to the Final Four," Bluder said. "That's really something that we want to do. We want to get back to the Final Four, and it hasn't been done since we've been here. We were one game shy a couple years ago.
"I think wearing the Iowa jersey is also something special for young ladies that grow up in this state, to be able to put on the University of Iowa jersey and walk out that tunnel into our great attendance that we get here. It's pretty special."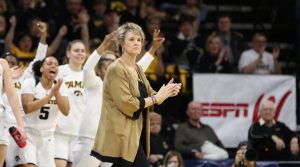 Bluder had some advice for opponents that will have to defend against Clark, whose shooting range, according to Bluder, is incredible.
"You'd better be ready to guard her when she crosses the half-court line," Bluder said. "She's a player that loves to shoot the ball and has tremendous range. I think sometimes her passing gets overlooked. We have had so many 'oh, wow' moments in practice already, highlight-type passes. We had one today, like put that in the highlight film already because it was so unbelievable.
"I think sometimes people overlook how good of a passer she is just because she's such a tremendous scorer."
Clark is among four freshmen on the current Iowa team.
The others are guard Lauren Jensen, who is from Lakeville, Minn., forward and Montezuma native Shateah Wetering and center Sharon Goodman, who graduated from Crestwood.
Bluder spoke highly about all of the freshmen, and especially Goodman, who has performed well in practice while competing against starting junior center Monika Czinano on a daily basis. The 6-3 Czinano finished second in the nation in field-goal percentage last season at 67.9 percent.
"I am so excited about Sharon Goodman," Bluder said. "One of our downfalls was that we didn't have a good backup (center). And now this year, we have two exceptional post players. Sharon is playing as well as Monika in practice. Right now, Monika has the start because of the experience level, but I am not going to hesitate to go to the bench and to use Sharon. To have the comfort of knowing that you have 10 fouls to give down there is tremendous, and us not having to change our game plan so much when Monika needs a break or gets into foul trouble.
"Sharon is strong. She has improved her hands. She runs the floor. She is shooting about 70 percent in practice, the same as Monika. I have been extremely pleased with Sharon Goodman."