By Pat Harty
IOWA CITY, Iowa – My father was a week from turning 92 years old, and in failing health, when he passed away on March 11, 2018.
But even with time to prepare for his death, I was devastated when it happened, blown away by the harsh reality of knowing that I would never see him again, or talk to him again, at least in this life.
I felt numb for several days, knowing that dad was gone.
So knowing what I went through, I couldn't begin to imagine what Jack Nunge is experiencing right now because I at least had time to prepare for my father's death, and my father had lived a long, happy and mostly healthy life.
Nunge's father, Dr. Mark Nunge, died suddenly and unexpectedly this past Saturday morning at the age of 53.
Jack Nunge, a 6-foot-11 junior forward, left Iowa City with his girlfriend immediately after learning about his father's death and is back home with his family in Indiana, and it's uncertain when he will return.
Jack had just spoken with his father Friday night and was optimistic about the season, which starts on Wednesday against North Carolina Central.
Jack Nunge is also healthy and had been playing well in practice, according to Iowa coach Fran McCaffery.
So Jack had so much to feel good about, and to be excited about, until hearing the shocking news early Saturday morning.
"It's just so sad," Fran McCaffery said Monday on a zoom conference. "Friday night he spoke with his dad before he went to sleep and had a great conversation with him. Incredibly optimistic about the season. Jack's playing extremely well, really healthy and strong and really confident.
"And then gets awakened early Saturday morning with the news. So he's with his family now and that's where he should be, with who he loves, and we'll give him as much time as he needs."
The Iowa players all gathered at Carver-Hawkeye Arena early Saturday morning and were told by McCaffery about what had happened earlier that morning.
"They were stunned," Fran McCaffery said. "They were incredibly sad. Saturday was very somber day for us as a family."
Sophomore guard C.J. Fredrick, senior center Luka Garza and senior guard Jordan Bohannon all had zoom conferences with the media on Monday and each of them expressed their sympathy and support for their grief-stricken teammate and friend.
"We were all kind of shocked with the news in the morning," Fredrick said. "Obviously, incredibly sad for him and his entire family. Doctor Nunge was a great guy. It's just awful news. We just have our thoughts and prayers for Jack and his entire family.
"Jack's an incredible teammate, an incredible friend of mine, and I know he's hurting. We just have to reach out to him and whenever he's ready to come back to us, there is no rush. Just do what's best for he and his family."
Mark Nunge was an emergency medicine specialist at Deaconess Gateway Hospital in Newburgh, outside of Evansville.
Mark had previously worked at University of Iowa Hospitals and Clinics. His family lived in Iowa City until Jack was in fifth grade, then moved to Newburgh.
Jack Nunge has two sisters and two younger brothers, and his father played basketball at the University of Rochester and his mother played softball and basketball for Central College.
Oldest daughter Rebecca played volleyball at Notre Dame and is now in medical school. Daughter Jessica is a sophomore volleyball player at Florida State
"Mark was really an amazing guy," Fran McCaffery said. "Obviously, got to know him well. Incredible family."
Family will be a source of strength for Jack Nunge as he deals with the devastation and with the overwhelming sadness that comes from losing a parent, who was in the prime of his life.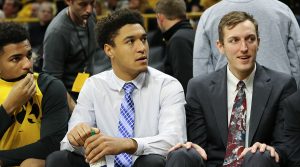 Life can be cruel and unfair, and Jack Nunge certainly knows that, considering his father passed away almost one year after Jack had suffered a season-ending knee injury against Cal Poly in the fifth game last season.
Jack Nunge spent the past year working extremely hard to get healthy again, and is finally healthy and had been performing well in practice. But now he has to deal with a horrible tragedy instead of preparing for the start of one of the most anticipated seasons in years with Iowa ranked fifth in the Associated Press preseason poll.
"I was absolutely devastated for him" Bohannon said. "What he's been through these last two or three years is unimaginable to even talk about. I just don't even have words to say for what he's had to go through and his emotions and how he's feeling now.
"He's with his family now where he should be and he needs all the time that he can have with his family."
Garza and Nunge were both members of Iowa's 2017 recruiting class. Nunge is a year behind Garza in eligibility after being redshirted during the 2018-19 season.
So over the past two years, Nunge has spent way more time practicing and recovering from a serious injury than playing in real games, while Garza has risen to stardom.
"It was horrible news," Garza said. "Coach brought us into a team meeting and told us and Jack was already on his way to Indiana, so we didn't get a chance to see him. But we're going to circle around him and just try and build him up, and hopefully, when he comes back, we can make him feel at home and make him feel a little bit better."
Nunge's teammates and coaches will have a significant role as he tries to cope with this tragedy.
Nunge can turn to them for strength, and for shoulders to cry on because a basketball team in many ways is a family.
Fran McCaffery talked on Monday about the horrible moment in late November, 2014 when former Iowa center Gabe Olaseni learned that his father had passed away in London, England.
Olaseni learned about his father's death during a skype conference with his family.
"We brought Gabe up to the office to speak with his mother and his sister and his brother and she told him, and a phenomenally emotional moment for me and our staff," McCaffery said. "We just kind of put our arms around him as he was sobbing."