By Pat Harty
IOWA CITY, Iowa –With this being such a strange and surreal year, maybe I should have known better than to assume that the Iowa football team would have its way against Nebraska on Friday.
Because that didn't happen at all.
In fact, Iowa was fortunate to escape from a mostly empty Kinnick Stadium with a 26-20 victory.
The same Nebraska team that looked inept and listless at times against Illinois a week earlier, especially on defense, gave Iowa almost more than it could handle.
If Nebraska has sunk low enough under third-year head coach Scott Frost to embrace moral victories, this would certainly be one.
"I told the guys in the locker room afterwards I'm not embarrassed to coach this team, I'm proud of this team," Frost said. "That's a good team we played. We had a chance to win. We've got to button up and do the little things right.
"It was way better this week. The kids approached the game way better. I loved their intensity, loved their fire, loved their fight. That's how they need to play every week."
Iowa extended its winning streak to six games against the Cornhuskers, but Iowa's performance was far from galvanizing, especially on offense where the Hawkeyes struggled in all areas and failed to capitalize on good field position throughout the game.
However, there is no such thing as a bad win, and that seemed to be Kirk Ferentz's message afterwards.
"Proud of our guys," Fewrentz said. "I thought they played resilient. Had some ups and downs during the course of the game. Wasn't 100% perfect obviously. But that's what you expect in conference play.
I think the biggest, most significant thing is just the way we finished the game. They came out and scored on that opening drive in the second half. After that, we settled in."
Keith Duncan did his part by making 4-of-5 field-goal attempts, including two in the fourth quarter, but the fact that Duncan attempted five field goals doesn't speak well for the offense.
Sophomore quarterback Spencer Petras continues to be a work in progress, and some will say a slow and frustrating work in progress, after his performance on Friday in which he made several poor throws and bad decisions, and only had 54 passing yards in the second half.
It now seems abundantly clear that Petras is vulnerable and erratic without having an effective running game, and Iowa's rushing attack sputtered for much of Friday's contest.
For example, Iowa faced a 3rd-and-3 at its own 33 late in the fourth quarter, and could've pretty much sealed the deal, but sophomore running back Tyler Goodson only gained one yard on a running play.
Iowa then had to settle for a 51-yard field-goal attempt by Duncan, but his kick bounced off the upright, giving Nebraska at least one more chance on offense with about 2 minutes remaining.
The Iowa defense then rose to the occasion when senior end Chauncey Golston knocked the ball loose from Nebraska quarterback Adrian Martinez near midfield. The fumble was recovered by defensive end Zach VanValkenburg, and that allowed Iowa to run out the clock, and avoid an embarrassing and costly defeat.
Iowa has won four games in a row and improved to 4-2, while Nebraska fell to 1-4.
And while Petras struggled throughout Friday's game, Iowa has won four games in a row with him behind center, and that has to count for something.
But clearly, Petras has to get better as a passer, and as a decision maker, because at some point the offense will need him to make a big play at a pivotal time.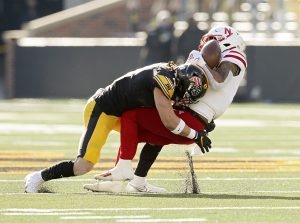 The Iowa defense did a lot of bending in Friday's game, but it also came through big with the game on the line, as did Iowa's special teams.
In addition to Duncan's four field goal, defensive back Terry Roberts also recovered a fumbled punt in the fourth quarter. That led to Duncan's fourth field goal, and the three points meant that Nebraska would have to score a touchdown to win.
Roberts has been a force on special teams throughout the season, and he was rewarded for his effort with the fumble recovery.
Iowa's performance on offense in the first half left much to be desired.
I made the mistake of assuming that Iowa could have success on the ground, even if Nebraska loaded the box with eight defenders, but I was wrong.
Iowa only had 35 rushing yards in the first half on 16 attempts, which is less than three yards per carry.
Petras passed for 139 yards in the first half, which is respectable. But he also made some ill-advised throws, including one that led to an interception in the second quarter.
Petras, instead of just throwing the ball away, kept searching for a receiver downfield before throwing into tight coverage. You would hope with this being Petras' sixth start that he would know better than to force a pass into tight coverage.
"Obviously, you can't do that on the interception," Petras said. "I just forced it. Obviously, very upset because we take pride in taking care of the football. That's my number one job is to limit my turnovers. You can't do stuff like that.
"But really credit to our defense, held them to a field goal after that, and was able to keep us in the game. That's really good team football. When I make mistakes, they have my back. And that's how we play winning football."
Kirk Ferentz agreed that the interception was an ill-advised throw by Petras, but Ferentz also sympathized with his first-year starting quarterback.
"Growth is painful," Kirk Ferentz said. "One thing about Spencer, he's wired in. He's in tune. He knows if he makes a bad play, he knows it probably as much as we do. Probably hurts him more than us, quite frankly, because we've had more experience watching those kinds of things.
"That's part of the growth process. This guy prepares. He works hard. Couple times today… That was a bad decision, then a couple times where he's aiming the football. Just all part of that growth process."
The Iowa defense had been pretty stout in the first half until Nebraska marched 75 yards for a touchdown on 11 plays late in the second quarter.
Martinez bulled into end zone from one yard and Connor Culp made the point-after kick to even the score at 13-13 with 29 seconds left before halftime.
Despite the score being tied at halftime, it still felt as if Iowa was behind because this was the same Nebraska squad that Illinois had pounded a week earlier, winning 41-23 in Lincoln, and with two 100-yard rushers leading the way.
This was the same Nebraska defense that had been allowing more than 220 rushing yards per game, and that hadn't looked very physical at the point of attack.
At least, until Friday's game.
Nebraska then picked up in the third quarter on offense where it left off in the second quarter, driving 70 yards on eight plays for a go-ahead touchdown.
That's when it really started to feel that Iowa was in serious trouble and that an upset was brewing.
But the Iowa offense then answered with a 66-yard scoring drive on its next possession that was capped by a 2-yard touchdown run by senior Mekhi Sargent, who made a great read and cut to reach the end zone.
Duncan made the point-after kick to even the score at 20 with 5 minutes, 47 seconds left in the third quarter.
Goodson finished with over 100 rushing yards, but it took him 30 carries to do it, and he also lost yards on multiple running plays.
You kept waiting for Iowa to pull away in the second half, but it just never happened.
And that's a credit to Nebraska, and maybe a concern for Iowa fans.
But it's also much easier to be concerned after a win.
Nebraska 0 13 7 0 – 20
Iowa 10 3 7 6 – 26
I – Keith Duncan 32 FG
I – Tyrone Tracy Jr. 6 pass from Spencer Petras (Duncan kick)
N – Connor Culp 31 FG
N – Culp 39 FG
I – Duncan 33 FG
N – Adrian Martinez 1 run (Culp kick)
I – Mekhi Sargent 2 run (Duncan kick)
I – Duncan 48 FG
E – Duncan 37 FG