By Pat Harty
IOWA CITY, Iowa – Since entertaining Iowa fans with a scintillating performance in the Holiday Bowl, Ihmir Smith-Marsette has dealt with some difficult circumstances, on and off the field.
The COVID-19 global pandemic was just weeks from creating a new normal when Smith-Marsette scored three touchdowns, including a 98-yard kick return, during Iowa's 49-24 victory over the University of Southern California in the Holiday Bowl on Dec. 27, 2019 in San Diego.
Smith-Marsette and his teammates had a wild and well-deserved celebration on the field.
They had just completed a 10-win season, and did so by dismantling one of college football's true blue bloods.
Smith-Marsette had shown all of his skills as he also scored on a 6-yard run and on a 12-yard reception, earning the offensive MVP for the game. His speed and quickness caused problems for USC throughout the game, and Hawkeye fans had even more reason to be excited about the performance because Smith-Marsette was only a junior.
Unfortunately, a lot has changed since that night in San Diego because of the COVID-19 global pandemic.
Instead of playing in packed stadiums as a senior, Smith-Marsette and his teammates are playing in stadiums that are mostly empty, and they're playing at a time when games are being canceled at a disturbing rate because of the coronavirus.
Iowa (4-2) has been fortunate to have played all six of its games up to this point, and it appears that Saturday's game at Illinois, barring any late setbacks, will also be played.
But the uncertainty and the fear that comes with living during a global pandemic has made this season like no other.
Smith-Marsette is also playing with a first-year starter at quarterback in sophomore Spencer Petras, and it's been a struggle, to say the least.
Petras has struggled with accuracy and with decision making, and that makes it hard for him to throw downfield.
And when that happens, no position is impacted more than receiver.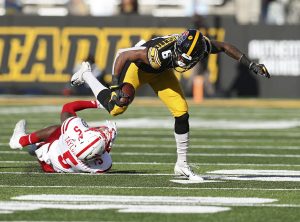 Smith-Marsette only has 14 catches for 173 yards and one touchdown in five games this season. Those aren't bad numbers, but hardly what Smith-Marsette, or Iowa fans, had envisioned for his senior season.
The Iowa running game has also improved considerably over the last four games and is now the focal point on offense with Iowa riding a four-game winning streak.
Off the field, Smith-Marsette was arrested for drunken driving just hours after Iowa's 21-20 loss to Northwestern on Oct. 31 at Kinnick Stadium.
He showed incredibly poor judgment according to the police report, which said Smith-Marsette was clocked at 74 miles per hour in a 30-mile zone near the intersection of Riverside Drive and Myrtle Avenue in Iowa City.
Smith-Marsette was fortunate that nobody was injured and he disappointed a lot of people who care for him dearly.
Iowa coach Kirk Ferentz also suspended him for the Michigan State game.
"I feel like I let the whole team down, the coaching staff, my teammates, my family, myself," Smith-Marsette said. But once it happened, I talked to coach Ferentz about it and we moved past it.
"And that whole week I was just coming back in and just trying to work hard and earn the trust of my teammates again."
The challenge for Smith-Marsette is to show that his poor judgment and careless behavior was an isolated incident.
He has to prove it to himself, to his family, to his current teammates and to NFL personnel because Smith-Marsette's ultimate goal is to play in the NFL.
Only time will tell, but there are signs, on and off the field, that Smith-Marsette is maturing.
"I'm willing to do whatever it takes to prove to NFL teams that I'm ready to play at the next level," Smith-Marsette said. "Grow up, mature a little bit more and be ready to put my best foot forward."
Smith-Marsette at the most has four games left in his Hawkeye career, unless he would choose to return for a fifth season, which he could do under the COVID-19-related circumstances.
This is a critical stretch for the New Jersey native, and my hope is that he rises to the occasion and finishes this season as he did last season.
It's easy to focus on Smith-Marsette's mistakes because there is no excuse for driving drunk.
He also has a tendency to be careless with the football, and that caused former Iowa long snapper Tyler Kluver to recently criticize Smith-Marsette on Twitter for a lack of ball security.
Smith-Marsette fumbled against Nebraska last Friday, but the ball rolled out of bounds.
Smith-Marsette responded on Twitter by telling Kluver to just be happy with the win, and Smith-Marsette took the high road again on Tuesday when asked to comment on Kluver's tweet.
"It is what it is," Smith-Marsette said. "We only worry about really the people that are in this building. I just said something back just because he was a former teammate. So just be happy with us winning instead of adding to the noise.
"I mean it is what it is. He can say whatever he wants, but we're going to continue to go out there and play. I do have to personally fix my ball security. That wasn't acceptable on my part. But I didn't turn the ball over. It's something I'm going to fix. It will get fixed. But he can talk all he wants. He's not in the building. He's done."
It would've been easy for Smith-Marsette to lash out at Kluver, but Smith-Marsette showed restraint and maturity with his answer.
Smith-Marsette also has played unselfishly as evidenced by his willingness to block downfield. He and fellow senior receiver Brandon Smith aren't having big seasons from a statistical standpoint, but they both have excelled as blockers, which is crucial to the running game.
Loyalty is another thing that Smith-Marsette has displayed.
He could've have transferred from Iowa after the accusations of racial disparities by former Iowa black players surfaced in early June.
But Smith-Marsette chose to finish what he started at Iowa, and is now helping to build a new culture.
He still has a ways to go, on and off the field, but Smith-Marsette deserves respect for staying the course, for recognizing his mistakes and for taking the high road.