By Pat Harty
Given what the Iowa football players have been through during this strange and surreal year, both on and off the field, to fall behind by 14 points at Illinois was hardly a crisis, or reason to panic.
Iowa faced that predicament on Saturday in Champaign, Ill. But instead of folding, the Hawkeyes began chipping away at the deficit midway through the second quarter and would go on to prevail 35-21, scoring 35 consecutive points and extending their winning streak to five games, and to seven consecutive games against Illinois. Iowa also has won 12 of the last 13 games in the series.
Iowa quarterback Spencer Petras performed poorly until about midway through the second quarter when he and the offense suddenly started to click.
Combine that with Iowa defensive coordinator Phil Parker making his usual sound adjustments and that was the recipe for a comeback.
"Fortunately, how you start isn't as important as how you finish," said Iowa coach Kirk Ferentz. "Just really, really proud of our guys, the way they handled today's game and the adversity we faced in that first 17, 20 minutes, whatever it might have been, because it was rough there for a while.
"We knew coming in, road games are tough, and Illinois has been playing good football, two straight wins and looked really good last time out. So, we certainly had a lot of respect for them."
Iowa trimmed a 14-0 deficit to 14-13 by halftime, and then the Hawkeyes scored a touchdown on their first possession of the third quarter as senior receiver Ihmir Smith-Marsette scored on a six-yard pass from Petras.
Iowa made the two-point conversion and led 21-14 with 8 minutes, 24 seconds left in the third quarter.
The Hawkeyes had scored 21 consecutive points at that stage, while the Illinois offense, after an impressive start in which quarterback Brandon Peters completed his first eight passes, was starting to unravel.
Phil Parker is a master at making adjustments, and he obviously had a huge impact on Saturday's comeback. Iowa has now held opponents to fewer than 25 points in 21 consecutive games.
The Illinois offense hardly did anything after the midway point of the second quarter, while the Iowa offense just kept getting better as the game progressed.
The same could said for Petras, who struggled to complete even routine passes early in the game.
Petras started making some good throws and looking like a Big Ten quarterback about midway through the second quarter.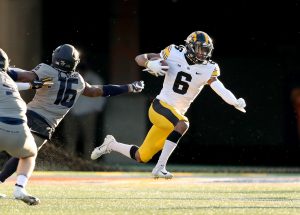 The California native finished with three touchdowns passes, including a nifty 16-yarder in the fourth quarter to tight end Shaun Beyer in which Petras placed the ball perfectly in a tight window in the corner of the end zone.
Iowa had scored 28 unanswered points at that stage and led by two touchdowns, although, the lead felt even bigger because of how well the Iowa defense was performing.
"It feels good to get a win," Petras said. "Anytime you can get a Big Ten win it feels good. And I think, at least I feel like after the slow start we really got to see what this offense can really do.
"We've just got to keep building on it. We've got a big week next week and it starts with a great week of practice."
Saturday's victory improved Iowa's record to 5-2, while Illinois fell to 2-4.
Iowa will face Wisconsin next Saturday in the regular-season finale with a chance to clinch second-place in the Big Ten West Division.
At least, that's the hope because there is no certainly during a global pandemic. Wisconsin already has had three games canceled this season due to the COVID-19 health concerns.
The Iowa players and coaches deserve credit for staying the course on Saturday.
Iowa had balance on offense, excelled on special teams and was dominant on defense for 2 1/2 quarters.
Illinois failed to score on eight consecutive possessions, but then finally scored a meaningless touchdown in the final seconds.
A team doesn't respond to adversity as well as Iowa did on Saturday without being focused, committed and unified.
Iowa had a tumultuous offseason in which multiple former Iowa black players accused the program of racial disparities.
The Hawkeyes then lost to Purdue and Northwestern in the first two games by a combined five points, and that caused some to wonder about the state of the program under Kirk Ferentz.
Iowa has been silencing the critics ever since in impressive fashion.
The Hawkeyes melted the clock in the fourth while protecting a 28-14 lead by running out of the wildcat formation with running back Tyler Goodson taking the snaps. Goodson didn't just run himself, though. He also handed off to Smith-Marsette for a big gain and to receiver Tyrone Tracy Jr. for another big gain.
Iowa offensive coordinator Brian Ferentz deserves credit for having faith in the wildcat because it worked. His father also deserves credit for allowing Brian Ferentz to think outside the box a little bit.
Kirk Ferentz was asked about using the wildcat in the fourth quarter and he showed his sense of humor with his answer.
"I can assure you we are not trying to start a quarterback controversy," Kirk Ferentz said.
Smith-Marsette finally put the game away by scoring on a 13-yard end sweep with 1:56 remaining. Duncan converted the point-after kick to give Iowa 35 unanswered points.
Petras finished with 220 passing yards, but more importantly, he is 5-2 as a starter and he showed some growth in Saturday's victory.
The game couldn't have started any worse for Iowa as Petras was sacked for a minus-7 yards on the second play from scrimmage.
Iowa then called a timeout facing a 3rd-and-14 at its own 10-yard line, but then Smith-Marsette only gained nine yards on a reception, and it was a three-and-out for the offense.
Illinois then marched down the field for a touchdown on its opening drive and led 7-0 after the first quarter as the Iowa offense sputtered throughout the quarter.
Illinois scored its second touchdown early in the second quarter, while the Iowa offense continued to struggle, especially in the case of Petras and his accuracy.
But then about midway through the second quarter something changed with Petras.
He suddenly became more accurate, thanks partly to the play calling of Iowa offensive coordinator Brian Ferentz, and Iowa suddenly found the end zone as Petras connected with tight end Sam LaPorta for a 22-yard touchdown pass with 6:18 left in the second quarter.
Iowa trimmed the deficit to 14-10 on a 40-yard field goal by Keith Duncan with 2:54 left in the second quarter, and the momentum clearly had shifted to the Hawkeyes.
Petras made another nice throw on Iowa's final drive of the second quarter, completing a 21-yard pass to tight end Shaun Beyer, who was tackled at the Illinois 5-yard line with 30 seconds remaining.
However, the drive stalled as Petras threw three consecutive incompletions.
Duncan made a 27-yard field goal with 14 seconds left in the second quarter, cutting the deficit to 14-13 at halftime.
To only be trailing by one point at halftime was a huge development for Iowa, considering how much the offense had struggled.
Petras, despite his struggles with accuracy, passed for 142 yards in the first half, so there was reason to be optimistic heading into the third quarter.
Iowa had withstood Illinois' initial punch, while Petras had flashed at times in the second quarter.
Iowa 0 13 8 14 – 35
Illinois 7 7 0 7 – 21
IL – Daniel Barker 24 pass from Brandon Peters (James McCourt kick)
IL- Josh Imatorbhebhe 12 pass from Peters (McCourt kick)
I – Sam LaPorta 22 pass from Spencer Petras (Keith Duncan kick)
I – Duncan 40 FG
I – Duncan 27 FG
I – Ihmir Smith-Marsette 4 pass from Petras (Duncan kick)
I – Shaun Beyer 16 pass from Petras (Duncan kick)
I – Smith-Marsette 13 run (Duncan kick)
IL – Carlos Sandy 29 pass from Isaiah Williams (McCourt kick)