By Pat Harty
IOWA CITY, Iowa – Kirk Ferentz will pay tribute to his 22nd senior class just prior to Saturday's game against Wisconsin at Kinnick Stadium.
In many ways, it's a typical senior class filled with student-athletes who have stayed on what at times has been a difficult course, physically, mentally and emotionally.
The seniors come from all different parts of the country, and from different ethnic and cultural backgrounds.
Some of the seniors, including offensive lineman Alaric Jackson and kicker Keith Duncan, have been wildly successful, while others haven't contributed as much on game day, but still have played a critical role in the overall development of the team.
But what makes this senior class like no other under Kirk Ferentz is what the players have had to endure off the field over the past nine months.
From the strain and stress of having to cope and deal with a global pandemic to the raw emotion from a tumultuous summer in which multiple former Iowa black players accused the program of having racial disparities, Iowa's 2020 senior class has dealt with so much more than just the typical challenges that come with being a Hawkeye football player.
That will be apparent on Saturday with Kinnick Stadium mostly being empty, and with the Senior Day ceremony performed virtually instead of having each of the seniors recognized on the field with their parents.
"I want to say thanks publicly to our seniors," Kirk Ferentz said on Tuesday. "Twenty-two guys being recognized Saturday, potentially their last day in Kinnick. It's not going to be a normal Senior Day on a lot of levels, the virtual world we're living in. Nonetheless, it will be really good for them to get recognized.
"I'm just sorry first of all that the fans won't be there to be able to salute them, say good bye. To that point, really feel for the fans as much as anybody this year. They haven't been able to be in Kinnick. We've missed them, appreciate their interest. Look forward to getting them back hopefully soon."
Iowa's senior class has been a part of three bowl wins, 32 victories overall and has produced a number of standout players.
Alaric Jackson, who is from Detroit, is believed to be the only player in program history to start at left tackle for four consecutive seasons, while Duncan earned consensus All-America honors as a junior in 2019.
Defensive end Chauncey Golston, receivers Brandon Smith and Ihmir Smith-Marsette, linebacker Nick Niemann and cornerback Matt Hankins also have made significant contributions as Hawkeyes.
"It's always a bittersweet moment," Kirk Ferentz said. "Really happy for them, the growth, things they've done during their career, appreciative. You hate to think about them not being here for another year, but that's college football. That being said, we wish everybody all the luck in the world if they choose to transition on.
"It's just a great group. Like every year, a lot of good stories beyond the football. The football stories are probably more well-known. Fans get to follow guys, especially the guys playing prominent roles. Out of the 22 guys, each guy has a great story, a different story. That's the beautiful thing about team sports. For coaches to have that window, see guys over the course of four years, five years, just how they grow and develop, it's a lot of fun."
What the seniors haven't experienced is a victory over Wisconsin.
Iowa has lost four games in a row to Wisconsin, and seven of the last eight games in the series, so there should be plenty of emotion on Saturday beyond just what comes from Senior Day.
"For us to win this game, it's going to take our best effort, take it for the full sixty (minutes)," Kirk Ferentz said. "We're going to have to earn it, that's for sure, if we're going to get it done. That has kind of been the history of the series. That's what we're looking at right now."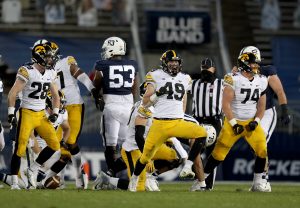 Nick Niemann is the second member of his family to play linebacker for Iowa, his older brother Ben Niemann part of the 2017 senior class and now a member of the Kansas City Chiefs.
Their father, Jay Niemann, is also an assistant coach at Iowa, so Senior Day truly will be a family affair, even with it performed virtually.
"It's definitely unique compared to most everyone else's situation," Nick Niemann said. "I still remember in 2013 when Ben was a recruit coming to games with him, and up until I got here coming to games to watch him play. Being here with him and then my dad coming along, Iowa is near and dear to our family and it's a special place.
"I'm going to miss it when I'm gone, for sure. But my dad will hopefully still be here and give my family excuses to come back. It means a lot to us, every that coach Ferentz has done, all the teammates that we've all had. It's a great place."
The seniors all would have the option of returning next season with the NCAA giving players a free year due to the global pandemic.
But some of the seniors, including Duncan, said this past Tuesday that they're ready to move on and start a new chapter in life.
"It's been great being an Iowa Hawkeye," said Duncan, who is from Weddington, N.C. "I've loved every single second of it and wouldn't trade it for the world. This will most likely be my last home game. Again, it's a very emotional thing to say and it's been great being here, but I think it's time to move on."
The year 2020 has certainly impacted Kirk Ferentz, his legacy forever connected to the racial unrest that continues to reshape the program.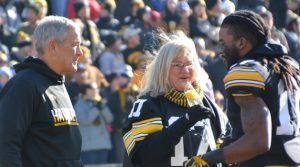 It was just a year ago that Kirk Ferentz, and his wife, Mary, represented Devonte Young at Senior Day because Young's family had a scheduling conflict that kept them from making the trip from his home state of Maryland.
The moment in which Young, who is black, embraced both Kirk and Mary Ferentz at midfield was powerful and genuine.
It showed that Kirk Ferentz is about so much more than just winning games.
Iowa would go on to crush the University of Southern California 49-24 in the 2019 Holiday Bowl about a month later, but then came 2020, the year that will forever be etched in our minds because of how strange, surreal and sad it has been.
Iowa severed ties with long-time strength and conditioning coach Chris Doyle shortly after he was accused in most of the racial accusations.
In just a few weeks, Doyle had gone from being an original member of Kirk Ferentz's staff, and the highest paid strength and conditioning coach in college football, to being unemployed, reaching a separation agreement.
The second most powerful, and most recognizable face of the program behind Kirk Ferentz suddenly was gone, making the 2020 senior class the first under Kirk Ferentz to grind through a season without Doyle.
The 2020 seniors will have a story to tell that is different from all other senior-class stories because this past year has been so different.
The seniors have dealt with numerous distractions off the field that previous senior classes didn't have to deal with under normal circumstances.
Iowa also lost its first two games this season, which caused some to wonder about the state of the program.
But with Iowa now having won five games in a row, the seniors deserve credit for providing the leadership that has been so crucial to the success.
Iowa's 2020 senior class will have quite a story to tell some day.
Iowa vs. Wisconsin
When: Saturday, 2:30 p.m.
Where: Kinnick Stadium
TV: FS1:
Radio: Hawkeye Radio Network
Series: Saturday will be the 94th meeting between Iowa and Wisconsin. Through 93 games,
Wisconsin leads 48-43-2. Iowa is 19-27-1 all-time in games played in Madison. Iowa is 24-20-1
all-time in games played in Iowa City. Wisconsin has won the last five meetings at Iowa. The
Hawkeyes last win over the Badgers at Kinnick Stadium was in 2008 (W, 38-16). Iowa's last win
in the series was a 10-6 victory in 2015.