By Tyler Devine
 IOWA CITY, Iowa – Raise your hand if you had 18 of Luka Garza's 34 points coming from three-point range in Iowa's 105-77 win over Iowa State on Friday.
No? Thought so.
Garza made 13-of-14 field goal attempts, including a career-high 6-of-7 from three-point range to help the Hawkeyes improve to 5-0 and defeat the Cyclones for the fourth time in their last five meetings.
"Every summer I try to work on every part of my game," Garza said. "I definitely tried to work on my three-point shot. We have a lot of guys who can shoot the three-point shot, so I think it was just great for our team to move the ball like we did today. And several guys got hot at different points. We're just that kind of team. When we find the hot hand we keep going to it."
The 6-foot-11 Garza played just 17 minutes but made them count, particularly during a five-minute stretch in the second half where the Washington D.C., native scored 21 straight points, including three-pointers on four consecutive possessions, to extend Iowa's lead to 25.
Garza's 34 points are the most points scored by a Division I player who has played less than 20 minutes in a game over the last 25 seasons, and put him past B.J. Armstrong for fifth on Iowa's all-time scoring list.
It was also Garza's third 30-plus point performance through five games this season.
"You feel like nothing you shoot will miss," Garza said. "I just felt that way down the stretch. I just felt like everything I was putting up with a good shot. I fully expect every shot I take to go in."
While Garza's 21-point burst will rightfully garner much of the attention, the first half performances of sophomore forward Jack Nunge and junior guard Joe Wieskamp cannot be understated.
With Garza in foul trouble and on the bench for the final 12:58 of the first half, Nunge and Wieskamp combined for 27 points on 10-of-13 shooting.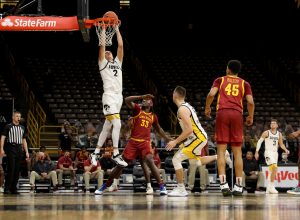 "(Nunge) was awesome," head coach Fran McCaffery said. "But I have been saying it for four years. The kid is really good. That's what he does. He makes jumpers, he blocks shots, he's smart, he's in the right place, he rebounds in traffic, he can handle it and pass it.
"He's just a terrific player, and we needed him. Luka is in foul trouble. He started the game really well but then he gets in foul trouble. Somebody has got to step up and he sure did."
The 6-foot-11 Nunge also was a force in the post at a time when Iowa desperately needed it, totaling eight rebounds in the first half, five of which came on offense.
The Newburgh, Ind., native ended up with 17 points and 10 rebounds for his second career double-double.
"I knew I needed to step up for our team," Nunge said. "And that's kind of been our team mentality throughout the whole offseason. If someone missed a practice here or there, it's the next man up. That's really something that our team has taken ahold of this year and going forward I know if it happens to me, if it happens to anybody, we've got good players on the bench who can come in and step up."