By Pat Harty
IOWA CITY, Iowa – At this time two years ago, Iowa defensive tackle Daviyon Nixon was about to enter the NCAA transfer portal.
Iowa coach Kirk Ferentz said at a press conference on Jan. 17, 2019 that Nixon was taking classes at Iowa, but also "considering his options" for transferring.
"My exposure to him has been extremely positive," Ferentz said of Nixon. "We've liked what we've seen of him on the field. He's a tremendous young guy. And right now he's working through some options and we'll see where it all goes."
We all know where it has gone with Nixon as he resisted the temptation to transfer and has since ascended to stardom as a Hawkeye.
After being a key reserve on the defensive line during the 2019 season, Nixon became a starter this season, and with his promotion came dominance.
Nixon needed just eight games to put himself among the best defensive linemen in the history of the Iowa program.
The Kenosha, Wis., native was named the Associated Press Big Ten Defensive Player of the Year on Tuesday, and is one of three finalists for the 2020 Outland Trophy Award, which goes to the nation's top collegiate lineman.
Though only a fourth-year junior, the 6-foot-3, 305-pound Nixon now projects as a potential first-round pick in the 2021 NFL Draft.
NFL Draft guru Mel Kiper Jr. currently has Nixon ranked 10th on his list of top prospects for the draft.
Nixon has dodged questions about the NFL Draft, but it seems likely that his college playing days are almost over.
You couldn't blame Nixon if he decided as a precautionary measure to skip Iowa's game against Missouri in the Music City Bowl on Dec. 30 in Nashville, Tenn.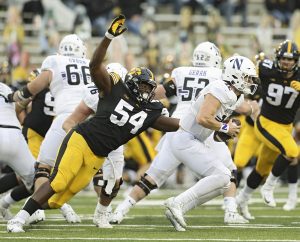 Nixon has little left to prove as he leads the Big Ten in tackles for loss (33), is tied for the conference lead in sacks (5.5), and has the most tackles by a Big Ten defensive lineman (41).
Nixon is also a finalist for the Rimington Trophy and Nagurski Trophy, a semifinalist for the Chuck Bednarik award, and one of 20 players to watch for the Walter Camp Player of the Year Award.
His meteoric rise to stardom this season is kind of similar to what Brad Banks accomplished in his only season as Iowa's starting quarterback in 2002.
Banks went from being the backup quarterback in 2001 to the runner-up for the Heisman Trophy in 2002, leading Iowa to its first undefeated record in Big Ten play in 80 years.
And though Nixon's rise to stardom this season was sudden and spectacular, success didn't happen right away for him in college, or as a Hawkeye.
He signed a letter of intent with Iowa as a high school senior, but didn't qualify academically.
Nixon then spent one semester in junior college in 2017 before transferring to Iowa.
There was some concern that Iowa might lose Nixon the second time around after Alabama coach Nick Saban offered him a scholarship while Nixon was attending Iowa Western Community College in Council Bluffs.
But Nixon stayed loyal to the Hawkeyes and turned down Saban's offer.
Nixon was redshirted during his first season at Iowa in 2018, and it was after that season when he entered the transfer portal.
He flashed at times during the 2019 season, and was expected to be a key contributor this season. But nobody, except for maybe Nixon, could have envisioned this level of success.
Not since maybe Leroy Smith in 1991 has an Iowa defensive lineman accomplished so much in just one season.
Smith earned consensus All-America honors as a defensive end in 1991, and set a Big Ten record at the time with 18 sacks.
Nixon uses his strength and explosiveness to make plays in the trenches. He moves exceptionally well for a player his size, and that was apparent when Nixon returned an interception 71 yards for a touchdown against Penn State. He made the interception near the line of scrimmage and then used a Euro step to avoid being tackled.
Nixon's success shows that transferring isn't always the best option when times get tough. He stayed patient and loyal to Iowa, and Iowa stayed loyal to him, and now both sides are benefitting.