By Pat Harty
IOWA CITY, Iowa – Ihmir Smith-Marsette has played his last game as an Iowa football player, and to think it ended with him launched in mid-air.
It officially ended on Thursday as Smith-Marsette, a senior from Newark, N.J., announced on Twitter that he will declare for the 2021 NFL Draft.
Blessings 🙏🏽✨ #6for6 pic.twitter.com/JiDae3ivdn

— ISM 6 (@_ihmirr_) December 24, 2020
But it actually ended on a play that sort of symbolized his Hawkeye career, a 53-year touchdown catch late in the third quarter against Wisconsin in which the speedy Smith-Marsette blew past his defender before catching a pass thrown by Iowa quarterback Spencer Petras deep down the sideline.
Smith-Marsette then raced towards the end zone, but instead crossing over in typical fashion, he performed a front-flip in a giant rush of emotion.
From a physical standpoint, it was incredible the amount of lift and flexibility that Smith-Marsette showed in those few seconds of flight.
But unfortunately, he also landed awkwardly and missed the rest of game with a foot injury.
It probably wasn't the most practical, or at least the safest, decision to perform a front-flip, but that same moxie, emotion and confidence is what fueled Smith-Marsette's success as a Hawkeye.
And he was successful, one the greatest kick returners in program history, and the kind of deep threat that Iowa doesn't always have on offense.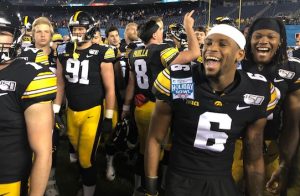 Smith-Marsette's 28.8-yard average on 53 kick returns ranks second all-time in the Big Ten.
He was the Offensive Most Valuable Player in Iowa's 49-24 victory over the University of Southern California in the 2019 Holiday Bowl, scoring touchdowns on a run, a catch and a 98-yard kick return.
Smith-Marsette also caught 110 passes for 1,615 yards and 14 touchdowns, and had 24 rushing attempts for 274 yards and four touchdown as a Hawkeye.
He played with energy and emotion, and wasn't afraid to express himself on the field, or stand up to any trash talk from an opponent.
Smith-Marsette also wasn't afraid to sacrifice his body on those 53 kick returns based on how he always ran so fast and hard looking for the littlest opening. Football is an incredibly violent sport, and returning kicks might be where the violence and risks are the highest, and yet, Smith-Marsette never hesitated or shied away from contact.
So if Smith-Marsette believes that skipping the Music City Bowl on Dec. 30th and declaring for the NFL Draft is in his best interest, then more power to him because he has to do what is best for him.
He could have had an extra year of eligibility with the NCAA granting one to all fall athletes because of the COVID-19 global pandemic.
But Smith-Marsette is ready to move on after giving four years to the Iowa football program, and ready to pursue a life-long dream of playing in the NFL.
His success as a receiver and return specialist, along with his blazing speed, should be attractive to NFL scouts.
Smith-Marsette certainly didn't help his cause with his arrest for drunken driving just hours after Iowa's loss to Northwestern on Oct. 31. But he took full responsibility, apologized to his family, teammates, coaches and fans, and vowed that it would never happen again.
Now it's up to Smith-Marsette to show that it was an isolated incident, and a temporary lapse in judgment, and he has the rest of his life to prove it.
Smith-Marsette is the first Iowa player to opt out of the Music City Bowl matchup against Missouri, but he might not be the last, assuming there is a game. It's uncertain if Smith-Marsette would've even been healthy enough to play in the bowl game, but now it doesn't matter because he's moved on.
Iowa has several players who are considered potential high NFL draft pick, including fourth-year junior defensive tackle Daviyon Nixon and and fifth-year offensive left tackle Alaric Jackson.
On one hand, you hope that both will play in the Music City Bowl and give Iowa its best chance of winning.
But on the other hand, you understand the risk in playing, and what it could cost both of them.
There is no right or wrong decision in these types of cases.
It would've been fun watching Smith-Marsette return a few more kicks and test a sieve-like Missouri defense with his speed and quickness.
But the fun is over for him as a Hawkeye.
Smith-Marsette is ready to start a new chapter, and Iowa fans owe him a big thanks for the chapter he just finished writing over the last four years.