By Pat Harty
IOWA CITY, Iowa – It seems a day rarely passes anymore without Daviyon Nixon being named first-team something.
The Sporting News named Iowa's junior defensive tackle a first-team All-American on Tuesday, and just a day after the Associated Press had bestowed Nixon with the same honor.
Nixon is getting closer to having his picture hang on the wall in the Iowa football facility that honors consensus All-Americans.
His 2020 breakout season was one of the top storylines to Iowa's 6-2 season, which ended abruptly, and prematurely as Iowa's Music City Bowl matchup against Missouri on Wednesday was canceled due to an uptick in COVID-19 cases within the Missouri program.
It was a disappointing ending to a season like no other because the Iowa players, including Nixon, were looking forward to competing in a bowl game, and to trying to win a seventh consecutive game after starting the season 0-2.
I'll be honest, I had expected Nixon to opt out of the Music City Bowl as a precautionary measure since he now projects as a potential first-round pick in the 2021 NFL Draft.
With what he accomplished this season, and with him being a fourth-year junior, I figured that Nixon, a native of Kenosha, Wis., would have announced in the days leading up to the Music City Bowl that he was skipping the bowl game in order to prepare for the draft.
It would have made perfect sense under the circumstances, but Nixon didn't make any announcement about his future.
Senior receivers Ihmir Smith-Marsette and Brandon Smith both announced in the past week that they would skip the bowl game to start preparing for the NFL Draft, and neither came as a big surprise, especially Smith-Marsette's decision because it's uncertain if he would have even been healthy enough to play in the bowl game after he injured his foot while performing a front-flip upon crossing the end zone on a 53-yard touchdown reception against Wisconsin.
I have no problem with an Iowa football player doing what he feels is in his best interest.
Smith-Marsette and Brandon Smith both have poured their heart and soul into being Iowa football players, along with sacrificing their bodies in a violent sport.
Both will certainly have interest from NFL teams, but they both also have some work to do in that regard, whereas Nixon's draft stock continues to rise.
NFL Draft guru Mel Kiper Jr., recently had the 6-foot-3, 305-pound Nixon 10th on his list of top prospects for the 2021 NFL Draft.
To help put that in perspective, former Alabama offensive tackle Jedrick Wills, selected by the Cleveland Browns at No. 10 in the 2020 NFL Draft, signed a contract worth about $19.7 million, including a signing bonus of around $11.9 million.
Needless to say, that's life-changing money.
That's the kind of money that causes some college standouts to skip a bowl game for safety reasons.
No disrespect to the Music City Bowl, but it hardly ranks as a prestigious bowl, while 5-5 Missouri left something to be desired as an opponent.
And yet, Nixon still seemed determined to finish what he started this season with his teammates and coaches, and that speaks volumes about his commitment and loyalty.
My guess is that Nixon will ultimately declare for the 2021 NFL Draft, but that shouldn't take away from the fact that he was willing to play in the bowl game.
There is also speculation that Iowa third-year sophomore center Tyler Linderbaum might consider declaring for the draft after having a breakout season of his own in 2020.
"I told (Nixon) we would pull some information together," Iowa coach Kirk Ferentz said Sunday on a zoom conference. "I'll do the same with Tyler. I have no indication that he's even thinking about it, but it would be silly for me to assume that.
"I think in a lot of cases it's pretty much a forgone conclusion that guys are leaving. But there might be some others where guys are interested in staying and that's great. We've got time in the next week or two to wrap stuff up, but it didn't feel like it was really pressing at this point."
What's incredible is that Nixon could actually play for two more years, and Linderbaum for three more years at Iowa, since the NCAA basically gave student-athletes a free pass for this season due to the global pandemic.
Imagine Nixon dominating in the trenches for two more years as a Hawkeye. It'll never happen, but it is fun to think about unless you're an opponent.
It's also worth noting that fifth-year senior offensive tackle Alaric Jackson was preparing to play in the Music City Bowl, or so it seemed that way.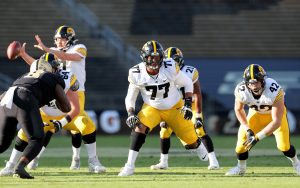 Jackson announced on Monday that he was declaring for the NFL Draft, but I interpreted that as him saying he wouldn't be back for another season at Iowa despite having the opportunity to do so.
Jackson is believed to be the only player in program history to start at left tackle for four seasons. The Detroit native made first-team All-Big Ten this season, and he could be selected within the first two or three rounds of the 2021 NFL Draft.
So Jackson really has nothing left to prove as a Hawkeye, and yet, he still didn't declare for the draft until after the Music City Bowl was canceled.
That just seems worth pointing out.
The Iowa program has been under a microscope since multiple former Iowa black players accused the program of racial disparities over the summer.
Nixon and Jackson, both of whom are black, have emerged as team leaders on and off the field in the wake of the allegations.
And while I don't want to get carried away with praise for two players who put the team first, because countless players do that on a regular basis, Nixon and Jackson are both unique cases.
So many other players in their position would have opted out of playing in a bowl game, and that's fine because there is no right or wrong decision in this case.
It's just kind of refreshing to see Nixon and Jackson buck that trend.