Pat Harty
IOWA CITY, Iowa – Matt Gatens is nearly half way through his first season as an assistant coach for the Drake men's basketball team, and yet, he still hasn't experienced the agony of defeat.
"Yeah, it's pretty easy, you just go out and win every game," Gatens said jokingly.
So far, however, it's no joke.
Drake is 13-0 heading into Sunday's game against Loyola-Chicago, including 4-0 in the Missouri Valley Conference, and is performing at an incredibly high level despite having lost star center Liam Robbins, who transferred to Minnesota over the summer.
As a 1986 graduate of Drake, I was sad to see Robbins leave, but I understood. His uncle is an assistant coach at Minnesota and the Big Ten is arguably the top collegiate conference in the country right now.
Robbins had to do what he feels was in his best interest, and more power to him.
He has made Minnesota a much better team, and there was a while when I wondered how good Drake might be with the 7-foot Robbins surrounded by all of the current players.
I don't wonder anymore, though, because what's the point under the current circumstances?
Drake is riding a wave of perfection, and Matt Gatens, a former all-Big Ten guard at Iowa, and an Iowa City native, is helping to steer the ship as one of Darian DeVries' full-time assistant coaches.
Gatens was a guest on the HawkFanatic/KCJJ radio show and podcast on Friday, and he talked in great detail about the reasons for Drake's success, and about his Iowa career in which he played for both Todd Lickliter and Fran McCaffery.
"The key has been being connected, chemistry, unselfishness and guys that just play hard," Gatens said. "I know it just sounds like coach talk, but at the end of the day, our guys compete and they don't care who gets the credit. We've had multiple guys be the leading scorer, so teams have to prepare for multiple weapons. No one really cares if they're not getting their shots.
"We're an interesting team. We have speed, we mix things up on defense. We press, zone, a couple different presses and kind of just get into teams."
Gatens was promoted from Director of Operations, a position he had held for the previous two seasons, to assistant coach before this season.
DeVries is in his third season as the Drake head coach and the program has thrived under his watch, winning 57 games overall, including 44 in the first two seasons.
Drake is coming off back-to-back 20-win seasons, marking the first time since 1971 the program had won at least 20 games in consecutive seasons.
"It's awesome," Gatens said. "I love it. I was very thankful for the opportunity that coach DeVries gave for myself and my family to stick around here and move into the coaching role. I've loved it being the court with the guys more, growing that relationship with the players in a different way."
The loss of Robbins was a deflating blow for a program that had exceeded expectations in each of the previous two seasons.
He was an emerging star, and he gave Drake a true center who could dominate on defense.
But there was no time for the Drake players, or the coaches, to feel sorry for themselves. They had to move on without Robbins in the post and figure a way to make it work.
And so far, it has been mission accomplished.
But the mission is far from over.
"We played through him a little bit last year just because he was a force in this league and we could take advantage of it," Gatens said of Robbins. "But it changes a little bit how we wanted to play, but it's kind of ended up being how we want to play, more pick-and-roll, more up-and-down, not as slow in the half court and just pounding it inside.
"It changed our plan a little bit when you think you're going to have an all-league center coming back and he decides to leave. First of all, you've got to go find another one, and then kind of work around that."
Gatens gives much of the credit for Drake's success to the 45-year old DeVries, who is older brother of former Iowa All-Big Ten defensive lineman Jared DeVries.
Darian DeVries played basketball for Northern Iowa and was a long-time assistant coach at Creighton before finally landing the Drake job in March 2018.
He led a Drake team that was picked to finish ninth to the Missouri Valley Conference to the regular-season title in his first season in 2019, and was MVC Coach of the Year.
"For us to come in the first year and win the league when you're picked ninth was a fun year," Gatens said. "We kind just threw a team together and it worked similar this year, the unselfishness and the chemistry.
"He's a really good coach. He's awesome to work for. I've learned so much from him. He's really good with the guys, very good at motivating them and being a good mentor to them."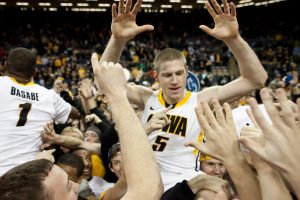 We also spent part of the interview with Gatens talking about the success of his college alma mater, which is currently ranked fifth nationally and coming off back-to-back road wins at Maryland on Thursday and at Rutgers this past Saturday.
Gatens, a former shooting guard, helped spark the resurgence under Fran McCaffery, leading Iowa to the National Invitation Tournament as a senior in 2011-12, which was McCaffery's second season as head coach.
Iowa had three consecutive losing seasons prior to McCaffery being hired, but has since made seven postseasons tournaments, including four NCAA Tournament appearances.
Iowa was poised to make the NCAA Tournament last season before the postseason was canceled due to the global pandemic. And now McCaffery's current team is considered among the elite.
"I always thought he was a really, really good coach," Gatens said of Fran McCaffery. "Obviously, he had success at Siena and his previous stops, and (he's) really experienced. I thought he was a good guy for the job and I loved the opportunity to play for him and the opportunity to continue grow from him now as a coach and a mentor. I always thought he would have a lot of success there."
I couldn't resist asking Gatens about how a matchup between Drake and Luka Garza-led Iowa would unfold.
Unfortunately, the only way that could happen would be in the postseason since Drake and Iowa no longer face each other in the regular season.
"It would be a lot of fun," Gatens said. "I try to catch a lot of their games when I can. They're a lot of fun to watch. It would be fun to get to play them, I know that, and try to figure out a game plan to stop Luka and limit the impact of the other guys. It's tough. Especially last night, I caught some of the game. When they catch fire, they obviously present a really tough matchup. I'm excited for what those guys are doing."