By Pat Harty
IOWA CITY, Iowa – Luka Garza has reached the point in his spectacular career where scoring 33 points isn't always the top storyline.
That was the case on Sunday as Garza scored 33 points during Iowa's 86-71 victory over No. 16 Minnesota, but it was senior point guard Jordan Bohannon who grabbed the spotlight, and deservedly so.
Bohannon had arguably his best all-around game as a Hawkeye, finishing with 19 points, a career-high 14 assists, seven rebounds and zero turnovers.
It was typical Bohannon in some ways as he made five 3-point baskets.
Nobody will ever question Bohannon's status as one of the top clutch shooters in program history. The son of former Iowa quarterback Gordy Bohannon is poised to become the Big Ten's all-time leader in 3-point field goals, and he certainly helped that cause by making five on Sunday.
But it was Bohannon's floor leadership and his unselfishness that helped pave the way to victory on Sunday.
Garza scored 32 points in the first game against Minnesota on Christmas day in Minneapolis, but Iowa still collapsed at the end of regulation before losing 102-95 in overtime.
Bohannon struggled in the first game against Minnesota, and when he struggles, Iowa has a tendency to struggle.
"I think, number one, our guards are really unselfish," Garza said after Sunday's victory. "They push the ball and they're looking for others. When we get out in transition that's when we're at our best and I was trying to run the floor as good as I could today."
Iowa assisted on 27 of its 31 baskets in Sunday's game, and had just 10 turnovers.
Those numbers are a testimony to how well Bohannon handled his responsibilities as a point guard.
"It's always something I pride myself (on), try not to turn the ball over and be the guy that's steady with the ball and look to find guys," Bohannon said.
Iowa coach Fran McCaffery, who also was a point guard in college, praised Bohannon for setting the tone on offense.
"He has always been tremendous in our fast break and our ability to push it," Fran McCaffery said of Bohannon. "From the opening tip today, he was pushing the ball and finding people. And then some things opened up for himself. I thought his decisions – when to shoot, when to drive, when to move it, when to throw it into the post – I thought it was just perfect.
"We always talk about we're a team that wants to move the ball, share the ball. But it starts with the guy bringing it down and getting that thing moving – throwing it ahead, throwing it inside – and then keep doing it."
No. 5 Iowa improved to 11-2 overall and 5-1 in the Big Ten, and has won four games in a row since the Christmas day collapse in Minnesota.
Bohannon has struggled in some games this season, especially in the 99-88 loss to top-ranked Gonzaga, but Sunday's stat-sheet stuffing performance was just what Iowa needed from its veteran point guard.
Bohannon isn't the biggest or the quickest or the strongest point guard in the Big Ten. But he knows how to compensate for his weaknesses, and there is no substitute for experience.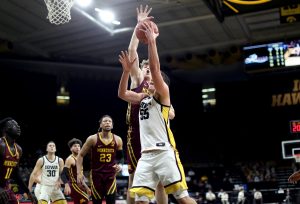 Iowa has benefitted this season from a youth movement led by freshman forwards Keegan Murray and Patrick McCaffery.
But for Iowa to live up to the high expectations and enormous hype, the veteran players will have to rise to the occasion as they did on Sunday.
Garza, Bohannon and junior forward Joe Wieskamp, who finished with 20 points, combined for 72 of Iowa's 86 points in Sunday's game.
The 20-game Big Ten schedule is a mental and physical grind, and it takes the poise and leadership of veteran players to navigate through the rocky waters.
Garza often demands a double-team in the post, but that sometimes leads to open looks for his teammates, and defenses are just asking for trouble if they leave Bohannon open from the perimeter.
But Bohannon also showed on Sunday that he is more than just a 3-point shooter.
He played the point guard position the way it's supposed to be played, and it's no coincidence, that Iowa won by double figures.
"We knew if we could take care of business today and throughout the season, it can be a special season," Bohannon said. "We're taking it one game at at time. Everyone stepped up tonight. Everyone provided a spark."
Luka Garza is without question the leader of this Iowa team, and it's No. 1 option of offense.
But Garza can't do it alone.
He needs Bohannon and Wieskamp contributing on a regular basis.
Bohannon, as a fifth-year senior, is one of the oldest players in the Big Ten. He has overcome two hip surgeries and has played in the NCAA Tournament and in the National Invitation Tournament.
Iowa will be hard to beat if Bohannon plays anywhere close to how he played on Sunday.
The next challenge will come on Thursday when Iowa faces Michigan State at Carver-Hawkeye Arena.
The Spartans know they will have their hands full with Garza, but they were also reminded on Sunday that Iowa is hardly a solo act.
Especially when Bohannon plays as well as he did on Sunday.