By Pat Harty
IOWA CITY, Iowa – I will never forget the first time I heard the name Andre Tippett.
It was at the dinner table with my family in the late summer of 1979 and my older brother was talking about a new member of the Iowa football team.
He wasn't just talking about Andre Tippett, my brother was praising Tippett like I had never heard my brother praise anybody about their ability to play football, especially somebody his own age.
My brother went as far as to say that Tippett was scary, and he mean it as a compliment.
And my brother was hardly a pushover.
He was 6-foot-4 and weighed about 240 pounds and was part of Iowa's 1978 recruiting class, the last recruiting class under Bob Commings.
My brother had switched from defensive end to linebacker and was preparing for his redshirt freshman season, and for his first season under Hayden Fry when we sat down for dinner that day in 1979.
My brother probably doesn't remember the conversation at the dinner table that day, but he predicted that Tippett would be a star at Iowa, and he kept mentioning Tippett's toughness and that he had a black belt in karate.
Sadly, my brother's career ended before it really had a chance to start due to a staph infection in his knee, but his prediction about Tippett was spot-on.
Tippett would go on to become a star at Iowa, one of the greatest players in program history, and one of the key pieces to the resurgence under Hayden Fry.
Tippett also became a star in the NFL with the New England Patriots, and he, along with his former Iowa teammate Bob Stoops, are in the 2021 induction class of the National Football Foundation College Hall of Fame.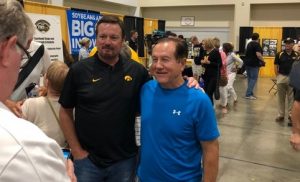 And speaking of Stoops, he was in my brother's 1978 recruiting class at Iowa, and I also remember one of the first times my brother mentioned him.
He said there was a a freshman defensive back from Ohio who looks Opie, but would knock your head off on the football field. He said Stoops wasn't very fast for a safety, but compensated with toughness and with great instincts.
Again, my brother's description was spot on as Stoops would go on to become an All-Big Ten safety despite his physical limitations.
Stoops was a ferocious tackler, and a driving force behind the resurgence under Fry.
Stoops would go on to become an elite head coach at Oklahoma where he won the national title in 2000 and 10 Big 12 championships before retiring in 2017.
Stoops and Tippett both changed the course of their life by playing football for Iowa.
Stoops, a native of Youngtown, Ohio, was recruited by Bob Commings, but he ascended to stardom under Fry, and got his start in coaching under Fry as a graduate assistant.
Tippett, a native of Newark, N.J., attended Ellsworth Community College in the fall of 1978 before signing with Iowa. Tippett helped launch Iowa's recruiting pipeline to New Jersey and New York that flowed throughout the 1980s under the direction of assistant coach Bernie Wyatt.
Tippett and Stoops were part of an Iowa defense in 1981 that helped pave the way to the Rose Bowl, along with Reggie Roby's booming punts.
Tippett and Stoops were part of a defense that allowed only 129 points, the lowest total since 1965 and ninth best in school history and allowed only 86.9 rushing yards a game, which still stands as the school record.
The 1981 Iowa defense allowed 253 total yards a game, the fewest since 1959, making it the fourth best defense in school history in terms of total yards.
Tippett was a two-time first team all-Big Ten selection, and a team captain in 1981. He holds the Iowa record for tackles for lost yardage in a season (20 tackles for 153 yards in 1980).
Stoops made first-team All-Big Ten as a fifth-year senior in 1982, and was also a team captain that season.
Tippett terrorized quarterbacks off the edge, while Stoops patrolled the Iowa secondary with a level of toughness and preparedness that inspired others.
It seems fitting that they are being inducted together because they were together for three seasons at Iowa, and they had a huge impact on the resurgence under Hayden Fry.
Tippett and Stoops helped build a foundation that still is strong to this day.