By Tyler Devine
IOWA CITY, Iowa – Tony Cassioppi lost three matches during the 2019-20 season.
Two of the sophomore Iowa heavyweight's losses came at the hands of top-ranked Minnesota heavyweight Gable Steveson.
On Friday, the third-ranked Cassioppi will get his first shot at redemption against Steveson when the top-ranked Iowa wrestling team takes on No. 14 Minnesota.
"It's important," head coach Tom Brands said. "It's the next match in the schedule, and that's why it's the most important match for everybody, really. Nothing to lose. He has nothing to lose. I don't know when we're going to step up and compete with this guy, but I would definitely be in the minority of the wrestling community when I say that we can go with this guy.
"I've said it before, I'll keep saying it. I believe in our guy. But he's going to have to do some things that are – ballsy. That's just how you're going to turn the tables here."
Steveson beat Cassioppi 7-5 in a dual meet last season and 9-4 at the Big Ten Championships.
Steveson went on to win the Big Ten heavyweight title, while Cassioppi finished third.
Brands said Tuesday that he hopes Cassioppi, with a year of experience under his belt, will turn the pressure of facing one of the best pound-for-pound wrestlers in the country into motivation.
"It's a tall task when you go up against somebody like that," Brands said. "When they're trying to beat you as bad as they can beat you in front of a live television audience, you've got to step up. Does that put pressure on Tony Cassioppi? I hope so. I hope so. Are we up for it? Without speaking for him, I believe in our guy."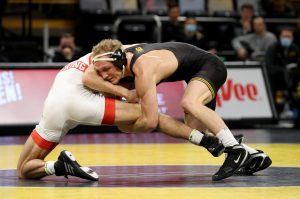 Senior 157-pounder Kaleb Young is looking for his own kind of redemption against Minnesota.
Young, a native of Punxsutawney, Pa., is coming off of a disappointing end to last season in which he lost his first two matches at the Big Ten Championships and failed to qualify.
The sixth-ranked Young's senior campaign got off to a good start with a 17-5 major decision over Nebraska's Caleb Licking in Iowa's season opener.
Now, Young faces fifth-ranked redshirt freshman Brayton Lee of Minnesota in the only other match between top 10-ranked wrestlers.
"I think that every time I step out on the mat I want to represent myself the best I can," Young said. "And I just want to put my best wrestling out there. We wrestle in the Big Ten conference, so I'll probably wrestle a lot of guys that are in the top 10 in the country, top five in the country. So, I think every time I step out on the mat I can just represent myself to the best of my ability and put my best wrestling forward and I think that will get me where I need to be."
Brands said he looks at key matches going into a dual meet, and this week Young's is one of them.
Brands also said that Young has put last season's disappointing finish in the rearview mirror.
"It's one of those things where you either grow because you don't like where you're at," Brands said. "Or you continue to suffer and you still don't like where you're at. So, you don't really have a choice. You can talk a lot about the end of last year for him, but he never really got a chance to maybe redeem those two losses at the Big Ten's, and really it was three in a row there with the Oklahoma State thing.
"But, he's moved on and I just dwelled on that right there. But we moved on and it really comes down to what's he going to do with this opportunity coming up here Friday night."